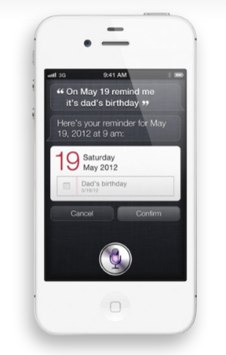 Friday, the newest generation of the iPhone busted out in sparsely decorated Apple stores nationwide. You can probably see a line winding its way from an Apple store to where you're standing. Last week, when Apple's dapper new CEO Tim Cook took to the stage, we'd thought we had collectively dreamt the iPhone 5 into reality. Unfortunately that wasn't the case, and we were left with a lackluster announcement of the iPhone 4S, a modest update akin to the iPhone 3GS. Of course, Steve Jobs passed away at the age of 56 the following day, and we all mainly forgot about the iPhone as the web went into a weird grieving pattern that no amount of Shiny New Things could cure…at least not right away.
Like the iPhone 3GS before it, the iPhone 4S is a nominal upgrade; as the smartphone equivalent of keeping up withe the Joneses, Apple has decided to boost processing power and keep its camera on top while Android marches ever forward. It might not blow you out of the water, but in the true tradition of a great many iPhones before it, the iPhone 4S will be the best smartphone available on the market — for the average consumer at least. Android still offers more choice, and a vast breadth of customizable menus, options, and widgets, but with iOS 5 (available for the iPhone 4S, iPhone 4, iPhone 3GS and new generations of the iPod touch). And unlike the iPhone 4S, iOS 5 is definitely something to get excited about. Apple has snagged one of Android's best features and rolled it up into its own Notification Center, killing incessant pop-ups once and for all.
iPhone 4S feature overview:
+ Improved camera sensor/bumped resolution
+ A5 processor, same as iPad 2 (gaming will see this improvement)
+ 1080p video capture
+ Sprint is a new iPhone carrier (and Sprint still offers truly unlimited data plans, unlike its competitors)
+/- Siri voice controls: This is another Android-esque update, one that is perhaps only interesting for Siri's ability to parse extremely weird requests.
– No physical redesign (boring)
– It's not the iPhone 5 (also boring)
Full feature list/tech specs from Apple.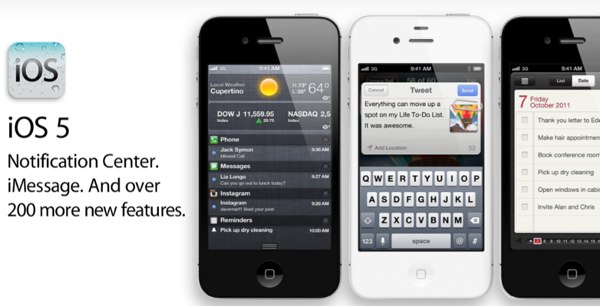 iOS 5 goodies:
+ Notification center (It's a drop-down shade at the top of the screen!)
+ iCloud syncing
+ Multitouch gestures (iPad 2 only)
+ Location-based reminders
Apple's full iOS feature list
Should you buy an iPhone 4S if… 
You have an iPhone 4 and aren't a hardcore mobile gamer/mobile photographer: Probably not – wait til next year.
You've got an aging 3GS: Sure! Why not?
You want to switch to Sprint for unlimited data: Yes, this makes sense depending on your ETF with your existing carrier.
You have a dumbphone and want a smartphone for the first time: Yes.
You have an Android phone and it irritates you because you just want a smartphone that is simple and works out of the box: Yes
You like a lot of customizability and love to tinker: No. Get an Android powerphone! Check out the super sexy Galaxy S II lineup and keep an eye out for next week's Nexus Prime announcement.
You use iTunes for everything and maybe even had a MobileMe account: Yes
You just bought the iPhone 4: Probably not, unless a specific new feature is really important to you.
Your camera is your fave feature of your iPhone 4 and you have so many cats to take pictures of you just don't know what to do: Yes.
You want to see how many profane things you can get Siri to say to you: Yes
You are terrified by Siri and know the singularity is nigh: No. Stick with your busted Nokia.
You are a power user/power bottom: No, get an Android.
You just have to be different: Join the single digit count of proud Windows Phone 7 owners!
Irony is important to you: Get a Jitterbug.