Welcome to the Friday Televisionary where we discuss shows that were on Wednesday and Thursday!
+
Community
"Remedial Chaos Theory"
by Brittani
Community was perfect. I don't even want to talk about it because everyone should just watch it and be amazed and in awe and kiss Dan Harmon in the mouth. It's so straight forward and counter intuitive at the same time. When your characters are fleshed out and developed, they're supposed to do things because they have to…because it's the only way they would react to a situation. They're like a real person with thoughts and feelings and motives. They have to be predictable but surprising at the same time. Community takes that and stretches it to the end of the earth by doing what you never do in writing–leaving something to chance.
Whatever part of Dan Harmon that is Abed wrote this episode. The episode is the same couple of minutes played out based on one factor: who goes to get the pizza. It's genius, really. It pushes the writers, it pushes the characters, it pushes the audience. This is the Community episode I've been waiting for. It uses the bottle episode formula but in a new off-campus setting. There was even some Chekhov's gun action going on.
Troy: Uh guys, what does a pregnancy test look like?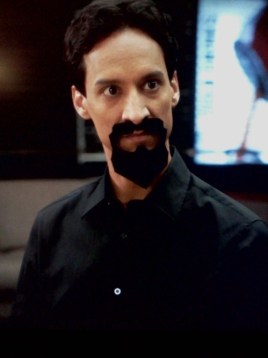 Jeff: It's like a thin piece of plastic with a thing on the end of it.
Troy: Okay. So this is definitely a gun.
The alternate timelines all produce different outcomes but delve deeper into the characters' development…except for the dark time line in which everyone gets fucked and Pierce ends up dead. This episode was fun. I had fun watching it.
Britta: You've got a bowl full of olives next to the toilet. I eagerly awaited the next timeline and I didn't want the episode to be over.
Troy: It's a fancy party, Britta.
You probably enjoyed the Star Trek references because you're a nerd. I must admit, I hope there's an evil version of me with a goatee. I wonder if evil me can pull it off. Maybe there's even a straight me in one of those universes. Nah, probably not. Do you ever wonder if there's an alternate universe you out there? Do you agree with the rest of the world that this episode of Community was "Modern Warfare" good?
Big Bang Theory
by Lizz
Okay. Is it just me, or when a TV show advertises to "get ready for back to back episodes next week" do you assume that both episodes will be new? Right? Well that wasn't the case– still, Big bang Theory was fun anyways. Really! Look! Sheldon and Leonard bought a sword and everything!
The Meaning of Life:
Stuart: okay if you're going to question the importance of an actors signature on a plastic helmet from a movie based on a comic book then all of our lives have no meaning!
Obviously this was down at the comic book store, which means that Stuart (the comic shop owner) and Wil Wheaton (as Wil Wheaton) made their semi-annual appearance. As you may recall, Wil Wheaton is one of Sheldon's mortal enemies, but Sheldon handles it pretty maturely when Leonard considers attending a party Wil has invited them to. Just kidding– Sheldon acts like a giant baby invoking the principles of Schrödinger's cat. Until Leonard makes up his mind about the party, he is simultaneously still Sheldon's good friends and his mortal enemy.
The List is Stored on a Floppy Disk:
Amy: Sheldon I know you're a bit of a left handed monkey wrench, but you really have a mortal enemy?
Sheldon: In fact I have sixty-one of them. Would you like to see a list?
Leonard decides to go to the party and basically drags Sheldon along. The party is a sausagefest, but all is mended between Wil and Sheldon when Wil gives Sheldon a signed action figure. In a split second Wil becomes Sheldon's "close personal friend Wil Wheaton." It turns out, at least in a sitcom, you can actually buy friends.
The secondary plotline this week was about Howard. He bores the hell out of me. He gets the chance to go in to space, he tells all his friends, everyone's excited, Bernadette doesn't want him to go, they fight, she tells his mom. You get the picture, right? How was space exploration ever this boring? Either way, they make up because they're soulmates (coughlamecough). I suspect we'll have to wait to see how this plays out in the next few episodes, since Howard's mother still insists his "tukas is not leaving this planet."
The only other noteworthy moment was that Amy continued her streak of making a pseudo-sexual comment about Penny every week. While, as I've mentioned, I suspect this is supposed to be more like how younger girls really like to brush their babysitters' hair, this would still be the most hilarious shipping ever. I vote yes on bisexual Amy.
Amy's Gay Moment of the Episode:
Amy: Homespun stories, knowledge of physics and bosom that defies it. You're the whole package aren't ya.
+
Parks and Recreation
"Pawnee Rangers"
by Brittani
Five years ago a girl couldn't get into the Pawnee Rangers spurring Leslie to start an opposing group, the Pawnee Goddesses. She is hell bent on proving that her group is better than Ron's. This episode, as Parks and Rec usually does in such a slick manner, tackles an actual societal issue that comes up all the time. Are homosocial spaces outdated? What do we stand to gain or lose from dividing groups like the Girl Scouts and Boy Scouts? Does dividing these groups only instill and reinforce gender norms?
Ron "doesn't have a problem with strong women." He says the group was formed so that young men could "go out into nature and learn traditional survival skills without being distracted by girls." Is he not giving kids enough credit? I mean they already want to wear ugly uniforms and sleep on things that aren't beds. Possibly even sing this song. Are they really on track to piss off Smokey the Bear if there are girls running around?
Ron: On principle, I never say anything that another person is obviously trying to get me to say. My first wedding ceremony took two hours because after the priest said, "Repeat after me," I fell silent.
The Pawnee Rangers are gifted a canvas sheet and a box to make a shelter within ten minutes. Meanwhile, the Goddesses are having craft time in their newly refurbished cabin.
It's Treat Yo'Self 2011 and Tom comes to pick Donna up from the office. Honestly, I think Donna should have more screentime. Donna and Ann at the Snakehole last season? Hilarious. Donna and Jean Ralphio interacting at any point? Gut-busting. Retta, along with Aubrey Plaza, may not get that many storylines but when they do, it's well worth the wait.
Donna: Needles in yo' face, pleasure in yo' base.
In case you've never experienced Treat Yo'Self Day (pretty sure it's a National Holiday), it involves going to the spa and the mall to buy things you normally would have no way of justifying. You also make everything you say into a jingle. Donna is concerned that Ben has been down lately. He has been. He misses Leslie and is wondering what he's doing in Pawnee now that they can't be together. Tom is worried Ben will ruin their day because he doesn't know how to relax. He sees how sad Ben truly is when they come across Ben eating soup, alone, on a bench.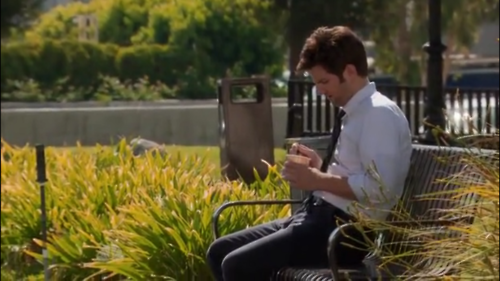 The Goddesses are feasting on Korean food while they plan the rest of their day. Capture the Flag, a S'mores off, a puppet show about the Bill of Rights set to "Party in the USA." The boys and Brother Nature aren't so lucky.
Ron: We have one activity planned: Not getting killed.
As Leslie is giving away the pillow fight awards, Darren knocks on the door. He has defected and wants to join in on all the girly fun. The mini-Leslies point out valid arguments to support accepting and rejecting Darren as a member. There's clearly only one way to solve this–a public forum. Then the puppies show up for the Puppy Party and you'd have to be heartless to deny anyone entrance to a puppy party. Ron admits defeat and that he is out of touch with the new generation. With their focus on fun and communicating, it's just not the Swanson way.
Ben has found his version of treating himself. It's a Batman costume. He breaks down when he realizes he really did need this day. Batman cries. If that were a Bible verse, it would be right up there with Jesus wept.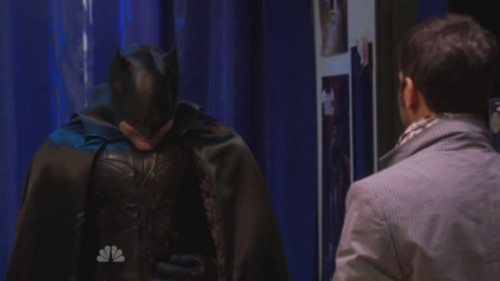 Ann has been taken for granted by the girls so when she has a chance to impress the boys, she jumps at the opportunity. She plants a fish on her hook and waits for the perfect moment to reel it in. The perfect moment takes 30 minutes. She saw this on an episode of I Love Lucy and I think we can all agree that any strategy gleaned from that show is foolproof.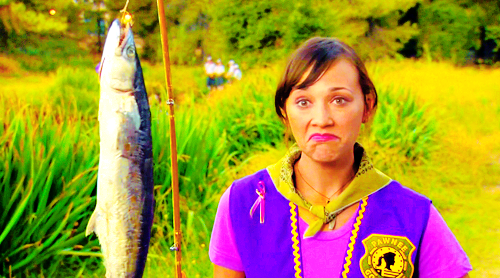 Ann: Feels pretty good to have a bunch of little boys be super into me. That came out wrong.
Back to the office Monday and Ron has a group of no nonsense kids awaiting his arrival. Leslie put an ad in the paper to bring in kids more like the Ron prototype for a new outdoors group: Swansons. It's one of those silly yet touching moments Parks and Rec has mastered. I would be a Swanson. They probably get to eat a lot of bacon.