Happy Sunday Funday! This week was important because National Coming Out Day happened, and boy was the world a gay place.
Seriously y'all – I have gay people conventions, super-cute gay marriages, a bunch of people saying, "I'm gay" on camera and to concert audiences, and even the Harvard Wrestling Team talking about how cool being gay is. Right here, right now. It's Sunday Funday. Put on your military boots and be ready for some rainbows.
Gay People in the Military Find Community, Go to Vegas
DADT's repeal has made life as a gay soldier / student in military school / person a lot nicer. For gay people who have just discovered a life of being out at work or at school, it's certainly an amazing legal victory. And it's creating more community and changing life for people from all different parts of military life:
+ On Friday, over 200 military gays came together for the first-ever convention for active-duty gays and lesbians. It was – where else? – in Las Vegas:
"I love the military," said [Kristy] Wolfmayer, 27, of Bridgewater, N.J., a pharmacy specialist. "I love serving my country, and I love the fact that you can do that no matter who you love.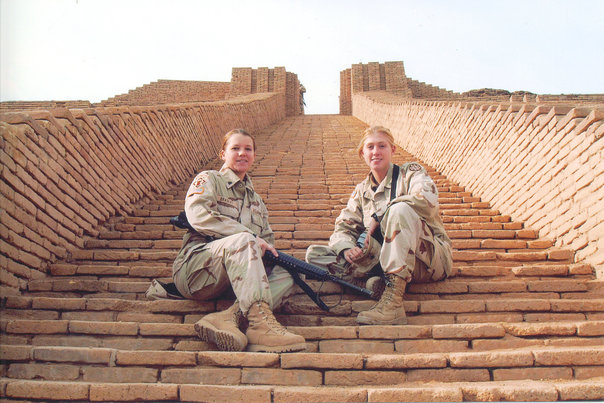 + Gay military students at Norwich are finally out of the closet and in the meeting room:
At the inaugural meeting of Norwich University's post-"don't ask, don't tell"-era LGBTQ Allies Club, Josh Fontanez raised the blinds in the student union's fishbowl-style room. He was sending a message: we're here, we're visible, we're active and we'd welcome your company. 
Harvard Wrestling Team Goes Gay
On National Coming Out Day I updated my status about being a lesbian and commented on a post on Autostraddle with my feelings. But the Harvard Varsity Wrestling team topped my efforts at expanding equality that day. The entire team wore LGBTQ friendly shirts and pins instead of their uniforms on Tuesday:
"Sometimes it's difficult to be very vocal as an ally," said Harvard College Queer Students and Allies copresident Emma Wang, "We want them to feel included because they play such an important role."
North Wales' Police Respect the (Pride) Flag
Police are hoping rainbow stickers placed on the window of every police station desk in North Wales will make LGBT people in that community feel "less apprehensive" about resporting crime to the police, especially homophobia-related crimes.
The rainbow is, of course, being selected as a "recognised symbol of acceptance." In other words the gayest thing ever.
A Marriage After 52 Years
These will never get old: with the coming of gay marriage in fits and starts, there also comes the deservingly adorable love stories:
In his Syracuse house on a recent afternoon, he pulled the book from 1959 out of his basement. He was 39. Marvin flips to April 22. Halfway down the page, amid details about his travels, is this: met Ernst Schuh. It was a meeting that would change his life. […]
They have been together ever since. Now, 52 years later, the music lovers with matching hearing aids are getting married.
DIY Project: Got a T Shirt?
I once took all of my really boring, got-these-for-free-at-new-student-orientation tees and cut them into super-gay looking tank tops. But unless you've cut all of yours into crop tops, too, chances are you could use a new pillow and you have a t-shirt that, look!, can easily be one:
Coming Out on MTV: 10 Years Later
Joel Relampagos wanted to come out to his family – and then he found a casting call for MTV's "True Life: I'm Coming Out."
Call it a sign or call it a fortuitous meeting of life milestones and reality TV. Either way, it happened – both on MTV's accord and his own:
Not long afterward did the crew fly back to New York.  I remember feeling so disappointed, especially since I didn't want MTV to put text on the screen that read, "Joel tried to come out to his mom but was unable to." So I took matters into my own hands. I grabbed my home video camera, set it on the dinner table and hit "record."  At that table my mother and I had our most honest conversation ever.  
"When did you realize you were like that?" she asked. "I mean, your kind."  
"What's my kind?" I responded. 
My mother at this point grew angry and said, "You know what I'm talking about.  You're afraid to say it."  
"I'm not afraid to say it.  I'm gay.  I'm gay.  I'm gay and I'm happy to be gay."
Ricky Martin Speaks Out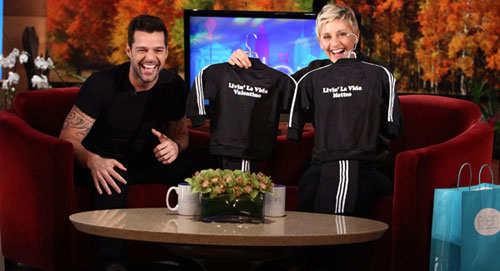 Religious leaders in Honduras tried to stop Ricky Martin from coming to Nicaragua, and didn't succeed. So he confronted their opinions on his lifestyle at his concert there:
"Yes, I am a gay man, and I'm looking for my rights," the 39-year-old Martin told reporters on Friday, Mexican news agency Notimex reported.
Although, "there are two or three people who are uncomfortable by my nature, I have no control over how they feel. I simply want to live in peace and continue singing," he added.
Livin' la Vida EVERYTHING IS SO GAY.
HBO Planning A Lesbian Drama
The Kids Are All Right – yes, the lesbian moms film – is coming to HBO as an hour-long weekly drama series.

Celebs Work to End Gay Bullying
GLAAD and the American Federation Teachers are working to promote the Amplify Your Voice campaign, an effort to stop gay bullying – and they're bringing on the celebrities.
Chaz Bono, Amy Poehler, and the Shaq – GUYS THE SHAQ – are all featured in PSA's for the project. They feature the slogan "No matter who you are, you have the power to make a difference."
EvOn is Revolutionary
EvOn is a rapper performing at this year's GFEST – London's "LGBTQ art fest for all." And she has a lot of gay feelings about it:
Q: How do you see your own music ?
A: I see my music as a way to relate to others in the lgbt community through personal emotions and beliefs. […]
Q: How would you like yourself or your work to be known?
A: I'd like myself and my music to be revolutionary.
No, seriously.
Little Pig, Big City
You ain't never seen a pig this cute. And to think – she lives in New York City!