There's a whole ton of news on news right now—how to stem the torrent of fake news sweeping Facebook, for instance, which is more complicated than one might expect. Or the secret meetings at Facebook to combat said fake news. Or the Macedonian millennials who, to make a quick buck, influenced Voldemort's rise to power. That kind of thing. News about fake news, and how technology gives rise to it, is everywhere.
While I do agree that our social media platforms and our technology sector need to combat the problem with every algorithm it can muster, I also believe that we as individuals can work faster (and more morally) than companies. We are responsible for what we share on social media.
The thing is, we all fuck it up sometimes. I'm guilty of posting the occasional meme with a misattributed quote. Like the one of Donald Trump calling Republicans the stupidest block of voters, that never happened and I totally shared it. I never thought I'd find myself advocating critical reading (and thus, critical sharing) to a group of adults simply because I eff it up too. But from now on, here are the guidelines I'm holding myself to. Every blog post, article, meme, and infographic that I share will pass through the following criteria to determine if (and how) I share it.
Where does this come from?
If it's a well-known and respected news source you trust, pass it on.
If it's from an individual or a news source you don't know, STOP. You may still want to share this because individuals and small publications move faster than large publications sometimes, but do your research. Can you find corroborating evidence? Are two different eyewitnesses saying the same thing, or is a publication local to the event covering it? If you can, great! If you can't, say so in your post if you choose to post anyway.
If it's from a known source of fake news*, STOP. Don't post it, even if this fact, meme or article happens to be real. Find a more respectable source to direct your valuable clicks to; remember, in this world we've built for ourselves, clicks are money and links are endorsements.
* It's worth noting that conservative blog RedState believes this list unfairly targets conservative opinion because they and two other sources of conservative aggregate news and opinion are on the list. So I clicked through to their homepage to do my research and their first headline at the time of my writing this is calling someone at The Southern Poverty Law Center an idiot. I decided to stand by linking to this list after that.
If it's from Andy Borowitz, STOP! If you post this, please indicate humor in your post, or don't post at all. The Borowitz Report is a satirical column in The New Yorker, and I watch a lot of people mistake it for real news.
If it's from Breitbart, STOP! This is a Nazi publication that believes women naturally suck at STEM and the answer to online harassment is for women to log off. Look at your life, look at your choices.
When was this published?
If it's recent, post on.
If it's more than a few days old, STOP! The information might not be relevant anymore. If the information remains relevant and you wish to post anyway, please indicate the publication date in your post.
Have I read all the way to the end?
If yes, post on!
If no, STOP! It is never, ever a good idea to post something you haven't read. If you mean to save it to read for later, please use a service like Pocket, book mark it or email it to yourself.
Does the headline match the content?
If yes, post on friend!
If no, STOP! Rewarding clickbait headlines teaches press and bloggers that their content doesn't have to be well-researched and thoughtfully written as long as the headline is catchy. Try to find another piece with an ethical headline that says the same thing, and share that instead.
What two lines do a good job at summarizing the piece?
How do you feel about those lines? Do you agree with the thesis of the piece or disagree? Do you have anything to add to those two lines, such as additional information that can be cited elsewhere? Or do you have a reaction to those two lines that might contextualize why you are sharing the piece? While it might be tempting to simply share with no commentary, it's not always an effective thing to do. Try to demonstrate critically engaging with the piece in your accompanying comment—it'll help you clarify why you think this piece of news important in your own head as well!
Bonus: Is this content sponsored?
If so, you may want to share it anyway. But please indicate that someone paid for this content to show up on your feed. Where do their interests lie?
Want a quick way to decide if you should share this news? Anna Bongiovanni has summed up this entire process in a handy, shareable guide!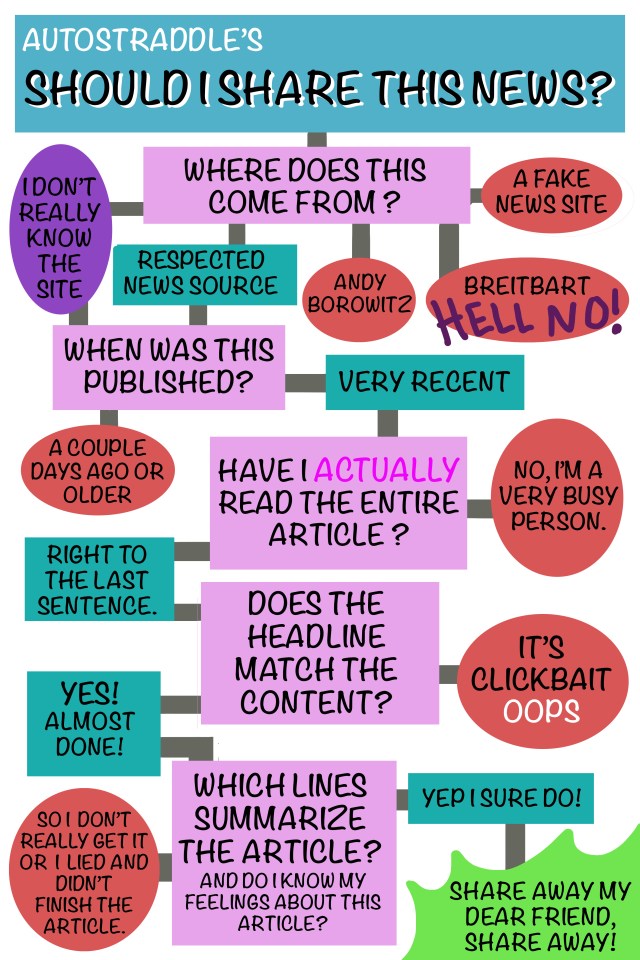 Author's note: we originally shared an infographic with a typo in it! It's been fixed now.