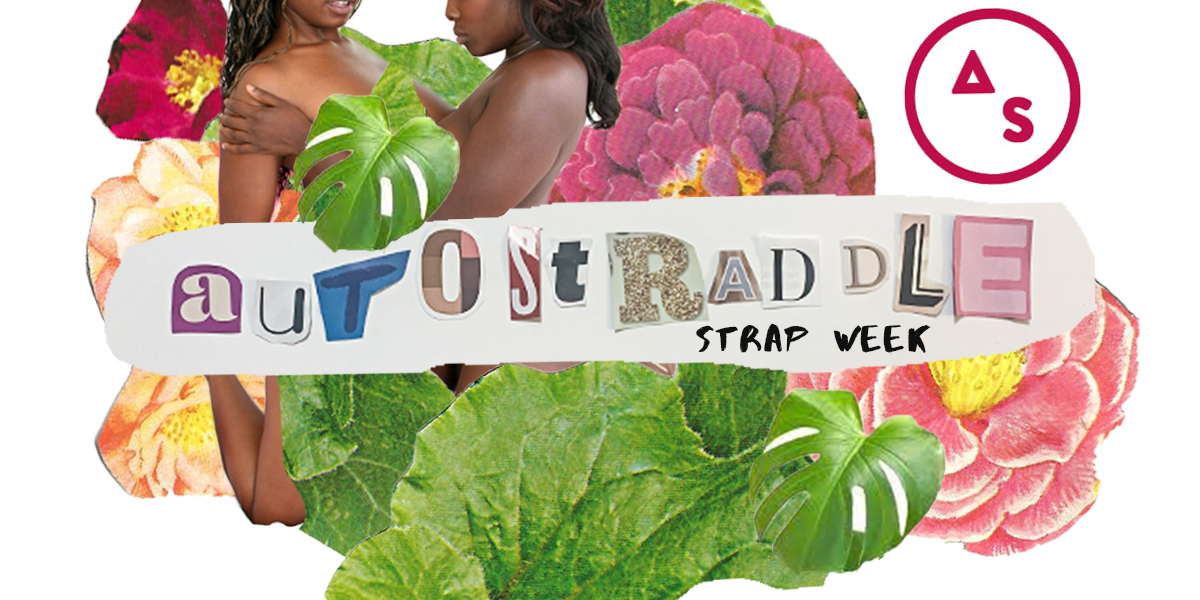 Autostraddle Strap Week 2021 – All Images by Demetria.
In this series, two babes chat through both sides of one strapping topic — sharing personal narratives with you on their perspective at this point in their queer story. Next up — Do you get a new strap for each partner or do you say "Baby…just boil it"?
---
New Babe, New Strap
"Oh NO, that doesn't look comfortable!"
My girlfriend cringes as I tilt my laptop towards her. On the screen, there's a fuchsia suspender harness. One of the thin nylon straps wraps around the mannequin's waist, while another tucks under the cheeks. She winces at the thought of altering those straps with the provided metal buckles. "I know we need it to be adjustable because we're different sizes, but can we choose one that's functional and doesn't make us chafe?"
Right up there with kissing goodnight and sharing calendars, picking out a new sex toy together has always been one of my favorite relationship markers. It's intimate in every sense of the word. What sensations you want to feel, how you expect it to be used, the material it's made from, whether it has remote functionality—everything's up for discussion.
Sure, if you've been intimate with your partner before then you've probably (hopefully) had some of these chats. That said, there is something notable about having an object to center your discussion around. This object doesn't exist in your world yet. It takes away the pressure of having to disclose desires at random and instead gives you an outlet to communicate what you want. Plus, being able to laugh in a changing room over the absurdity of sporting a dildo over your jeans helps cut the tension for when you're later describing what sexual positions have been tainted by trauma.
In my relationship, being able to choose a strap-on together also meant that we were going into this sexual experience with a blank slate. There were no pre-existing associations to be distracted by, no memories that could unexpectedly creep back when you slip into a new position. The only emotions tied to our strap-on are the ones we have for each other. While our experiences using strap-ons in general varied, neither of us had used this particular one before. In that moment, we were navigating through the experience together. There was an element of curiosity when discovering each new vibrator setting or the hidden pockets in our harness. The work we've done to develop open communication in our day-to-day proved useful when neither of us could figure out how the velcro straps were meant to lay on our hips.
Finding a new strap-on with my girlfriend allowed us to cultivate an atmosphere primed for exploration. Being forthcoming with our boundaries, and explicitly noting that they could and would likely change, added a warm sense of safety. The anticipation of knowing exactly what would make her body quiver, but not being able to immediately act on it, was thrilling. Even more exciting to me was how with each decision we made, I learned something new about the woman I love.
Seemingly small interactions can tell you a lot about the person you're with. Our earlier discussion around the hot pink chafing hazard taught me that my girlfriend is just as pragmatic in the bedroom as she is when creating a Notion board of her daily tasks. And while perusing through our local sex shop, she learned that I have the same preference for dildos as I do books—whimsical and outlandishly fictional.
Figure out what you both want and what your expectations are. Make a list of questions to explore. Idly spend time browsing options the next time you're both sitting on the couch. There are no rules for this. You set the pace and decide where you go together. By the end, hopefully, you'll end up with a closer connection—or at the very least, a fun new toy.
---
Baby, Just Boil It
"…but for queer people with a list of casual sex partners, it makes more sense to share."
As a person who has engaged in lots of sex with a number of strap-on dildos involved, the thought of who else they could have been used on has crossed my mind a number of times. Not only because of my personal hygiene but because I tend to get a little jealous. Sex to me is intimate and so should the toys that bring me pleasure be. A year ago, I thought that it was downright disrespectful to use an old strap on a new partner. Nothing spelled rebound like fucking with a toy that provoked intimate memories for your partner.
I am no longer of that opinion and this has happened as I very slowly embrace polyamory. A year ago, the thought of me having multiple sexual partners was unheard of but as that rings true for me now, sharing toys with more than one partner is unavoidable. I was rigid about this at first but I have had to work through that by taking a step back and realizing that my partner's past has nothing to do with me.
I am not willing to compromise on my sex life and I was heading in this direction by letting jealousy get to me. I love having multiple sexual partners and I began to love it, even more, when I realized that I needed to get out of my head and let myself truly enjoy the moments I shared with these partners. Apart from addressing my jealousy, I came to a number of other realizations that aided me in letting go of my inhibitions with using one strap-on for multiple partners.
Top of the list is that sex toys are extremely expensive. No seriously, the first time I went online in search of a vibrator, I had to take a step back and ask myself if orgasms were worth the steep price that stared back at me (hint: they are). I understand that this might not apply to others but as a queer woman living in a country that's undergoing an economic crisis — sex toys are really not a priority when I get the monthly check.
Being in a committed relationship really blinded my eyes to the price point of strap-ons because my partner was more than happy to provide the toys we used. One strap for one partner works if you're a queer person who is not all that interested in hookup culture but for queer people with a list of casual sex partners, it makes more sense to share. As long as they are clean of course.
Unclean strap-ons aid the transmission of STIs, you could also get a Urinary Tract Infection from having sex with a poorly disinfected strap. For this reason, it is important that we take the necessary precautions needed to take care of and disinfect our toys after each use. Marsha Jackson, who's a sex counselor, says that taking care of strapons involves knowing how to use them properly and how to keep them clean.
"Strapons come in different shapes and are made from different materials. Understanding what your strapon is made from helps you figure out the best ways to keep it clean. If your dildo is made of silicone, glass, or stainless steel and doesn't have an internal vibrator, then you can boil it for three to four minutes in hot water or hand wash it with a sex toy cleaner. If your dildo has a vibrator, then you can wipe it down with warm water and a toy cleaner. Make it a habit of washing your strap-on after you're done using it and store it."
There are some people who believe that sharing sex toys with multiple partners is bad karma and doesn't bode well for spirituality. I have to admit that I don't necessarily care about stuff like that. My spirituality is a work in progress and people who know me would argue that I am a firm skeptic. I equate spirituality with religion and the latter plays a hand in the laws that criminalize my existence as a queer woman living in Nigeria.
I was born into a Christian family and for a long while, I had no choice but to regurgitate every harmful ideology that was drilled into me, even to the detriment of my personal identity. It took a lot of work to unlearn these ideologies and in order for me to wholly embrace myself, I had to walk away from that part of my life entirely and I haven't looked back since.
I do not believe that I could get cursed to a lifetime of bad relationship fortune because I shared a strap with two people, but I realize that they are people who do. So for when I'm getting into a sexual relationship with a new partner, I make sure to communicate that my toys have been shared with others and talk about where they stand on that issue. I've found that most of them don't care and the ones who do either opt-out or bring their own toys. This way, no one has their trust violated, everyone gets orgasms and we all go home happy — The Holy Trinity.
Good on you, if you can afford to get a new toy for every new sexual partner but if you are someone who can't or won't —for whatever reason—and you've been thinking about sharing your strap-on with different partners, go right ahead. Taking the first step and letting go can be extremely difficult but reminding yourself of what you're working towards helps. I considered the fact that my pleasure would outweigh my anxiety and that helped ease me until I got to a point where I was totally comfortable. So if you're ready to have sex and feeling a little nervous about having to share, I say, baby — just boil it.
---