We have finally collected all of your #wheniknew stories and tweets and they're ready for your enjoyment: "When Did You Know? Reader Edition." Also perhaps Sunday is a nice day to catch up on When Did You Know Part 1: Riese & Laneia, When Did You Know Part 2: Carly, Stef, Tinkerbell, Robin & interns, and When Did You Know Part 3: Brooke, Alex, Crystal, and interns!

+Arts & Culture

SEX IN THE CITY CASTING: "I could just pull my hair back and put some shorts on and I could just become a lesbian?" – Sex and the City casting in NYC calls for models, celebrity types, upscale socialites, urban clubgoers, gays or lesbians, international types & professional soccer players. Video from the casting call:
CYBERCULTURE: A party where Twittering is forbidden: "You are cordially invited to Protocols NYC, an off the record, no tweeting, no blogging, no photos, salon.wp_posts(@nytimes)
SMACKDOWN: Comic Confrontations: Judge Judy Vs. Glenn Beck (@jezebel)
GAY BOOKS ON MY MIND: Out & About: Gay Teens Live, Love and Learn in Young Adult Fiction. (@the school library journal)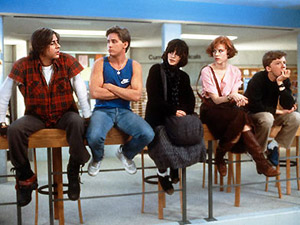 RIP JOHN HUGHES: Who Was The Ideal John Hughes Heroine? (@jezebel)
Tales of a Neo-Maxi-Zoom Dweebie: Everything I needed to know about love, I learned from John Hughes. (@nerve)
LADY GAGA: Is she fucking with us? I can't tell anymore! "It's not something that I'm ashamed of, just isn't something that I go around telling everyone. Yes. I have both male and female genitalia, but I consider myself a female.": Is Lady Gaga the World's Most Famous Intersexed Pop Diva? (@queerty)
SHARK WEEK TV: Unhappily implicit in "Shark Tank," the title of a new reality show from producer Mark "Survivor" Burnett, is the promise that viewers will, metaphorically speaking, see contestants gobbled up and devoured — or at least suffer public humiliation: Mark Burnett's "Shark Tank" Premiering august 9th on ABC.
MOVIES: Julia & Julia director Nora Ephron addresses claims that Julia Child expressed pity for lesbains and called gay men "fags," "homovipers" and "pansies." (@advocate)
+Politics
PROP 8: Gay rights groups attempting to intervene as full-fledged platiffs in a federal gay marriage lawsuit are rebuffed by the lawyers in charge of the suit. (@on top magazine)
POLAND: A polish court has banned a woman from using terms like "queer" or "fag" to describe her young gay neighbor.
ISRAEL: Israeli President Shimon Peres says gay center shooting hurt all Israelis: the shots fired at the beginning of the week at the gay and lesbian community hurt all of us – as people, as Jews, as Israelis. (@haaretz)
FLORIDA: Out with the old anti-gay senator (Mel Martinez) in with a new one (Governor Crist)? (@advocate)
My south Florida neighborhood is inhabited largely by loving gay couples. My own street has five couples alone. They are lawyers, real estate agents, chefs, animal rights activists and all of them are wonderful, stable people. All of them have no rights as couples. All of them cannot adopt. Get your act together Florida!—Intern Lily

LGBT VETERANS: On Wednesday, the first ceremony to honor LGBT veterans took place at Daley Plaza in Chicago. (@go)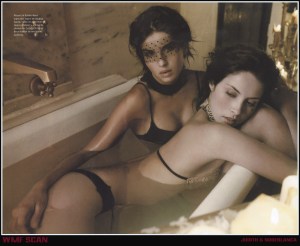 Check out Mary Gaitskill's fantastic & famous short story, Secretary, the inspiration for the film starring Maggie Gyllenhall, in the nerve archives.
Interview with Christine Phillips of The Erotic Lesbian Coloring Book, described as "Part art, part cultural commentary, part playful, and part plain old hot." (@geekporn girl)
Sex Advice From Goths: " Is wearing all black emblematic of a gloomy love life? " (@nerve)
WEBSITE TO WATCH: "The goal of Real Queer Porn is to create a comprehensive online directory and history of queer porn. We're not talking about the fake "girl on girlwp_postsstuff you can find just about anywhere – we're interested in creating the ultimate destination to find your next truly authentic, feminist, and honestly QUEER  porn source."

Intern Lily: It is well known that Kate Gosselin of "Jon and Kate Plus 8wp_postsfame has one of the worst haircuts on television. Her hair looks a lot like porcupine living in the hair of a middle aged lesbian circa 1994. This is why this is the most incredible thing ever. I know what I'm going to be for Halloween! (It is so popular that it is already out of stock!) (@buycostumes)