Maria Chappelle-Nadal and Missouri Dems Filibuster 39 Hours for LGBT Rights
+ In an inspiring attempt to keep a bill from passing that would make it legal to discriminate against LGBT persons on the basis of religious conviction, eight Missouri Democrats led the longest filibuster (intentionally delaying the vote on a bill by taking time to talk about it on the floor until the time for the vote has passed) in state history. Republicans ended the filibuster after 39 hours with an obscure procedure, "moving the previous question," and the vote passed the bill. Much of the filibuster was led by Sen. Maria Chappelle-Nadal, who discussed the filibuster on Twitter with the hashtag #NotInMyState.
Chappelle-Nadal was elected to the Missouri House of Representatives in 2004, and was elected to the Senate in 2010, where she's focused on education, only resigning from the University City School Board in 2015 to spend more energy addressing the Westlake Landfill fire near St. Louis, which is inching dangerously close to radioactive waste. She took part in the Ferguson protests after Michael Brown's murder in 2014, and has maintained a commitment to the issue, reassuring constituents over Twitter that she won't allow people from outside Ferguson to swoop in and think they're solving the district's problems themselves.
The bill that was passed after the end of the filibuster protects religious groups and businesses from having to perform same-sex weddings, and supersedes any local laws or ordinances that protect LGBT people from discrimination. Chapelle-Nadal says that Dems will continue stalling and opposing Republicans this session — traditionally, "moving the previous question" is a decision that provokes a lot of enmity in legislature, deepening the divides between legislators and sometimes inciting legislative retaliation.
Election
+ It's been yet another week of votes and primaries and states and more! Trump took Michigan, Mississippi, and Hawaii; Cruz took Idaho; Hillary took Mississippi's Democrats. What most people are talking about, though, is that Bernie took Michigan, something which no polls or predictive analysis saw coming.
Is that because this election is so bonkers — a democratic socialist running against a former First Lady! a wannabe demagogue who used to have his own reality show! — that it's impossible to predict with our usual approaches? Maybe. It's also maybe possible that our usual approaches just don't work that well, generally, at this point. Prediction mogul Nate Silver says that "Voters are becoming harder to contact, especially on landline telephones. Online polls have become commonplace, but some eschew probability sampling, historically the bedrock of polling methodology." Jezebel adds that "response rates are terrible — in the '90s, about 35 percent of those contacted would complete a survey, in 2014 that number had dropped to 10 percent."
+ There was also a Democratic debate on Univision last night. We talked about Bernie's upset in Michigan, Hillary's emails again, whether Trump's values are American, the candidates' voting records on immigration bills, how to make college affordable, and more. You can read a transcript here.
+ Carly Fiorina has endorsed Ted Cruz, saying she's "horrified" by Trump.
+ At three recent rallies, Trump has asked attendees to raise their right hands in the air and pledge to vote for him for president "no matter what," and also says that he has no idea why this would seem alarming or off-putting to anyone, which is just so absurd it makes me feel like my eyes are bleeding.
"As a Jew who survived the Holocaust, to see an audience of thousands of people raising their hands in what looks like the 'Heil Hitler' salute is about as offensive, obnoxious and disgusting as anything I thought I would ever witness in the United States of America,wp_posts[Anti-Defamation League director Abe Foxman] told The Times of Israel. "We've seen this sort of thing at rallies of neo-Nazis. We've seen it at rallies of white supremacists. But to see it at a rally for a legitimate candidate for the presidency of the United States is outrageous."
+ The co-chair of Ted Cruz's Michigan campaign says that being gay should be a crime, saying that it's both a state rights issue and "a proven threat to public health and safety." What a gem.
Crime & Punishment
+ Elliot Morales has been convicted of the murder of Mark Carson as a hate crime, which especially notable because Morales identifies as bisexual. Morales also tried to leverage his sexual relationships with trans women in his defense, arguing that sleeping trans women meant he couldn't have anti-gay bias against Carson. That attempt may have backfired for him; it was pointed out that Morales "never took transgender women he slept with on dates or walked in public with them," and this was argued to indicate "self-loathing" that could have fueled his bias against Carson.
+ Mitchell Grobeson, a former LAPD police sergeant who campaigned for better treatment of gay and lesbian police officers has been charged with assaulting his husband. He faces a felony count of assault with a firearm and criminal threats.
+ A new lawsuit against Oklahoma City and the Oklahoma City Police Department says that Daniel Holtzclaw was kept on active duty after he was accused of sexual assault, knowingly putting other women at risk. While this has been said before, the new lawsuit, which has seven plaintiffs, says that the date Holtzclaw was first accused was earlier than previously claimed — November 5, 2013.
For their part, the Oklahoma City police department has argued that Holtzclaw was suspended as soon as there was enough evidence, pointing out that he was taken off duty hours after Ligons filed her complaint. The lawsuit, however, contends that Ligons's complaint was only taken seriously because she had a "familialwp_postsrelationship with the department.
+ Verizon is being fined $1.35 million by the FCC for because it was responsible for collecting information about its customers without their knowledge or consent. Specifically, it has been using "supercookies" to track customer data, something which sounds like it would be delicious and fantastic but is in fact scary.
"Supercookies,wp_postsknown officially as unique identifier headers [UIDH], are short-term serial numbers used by corporations to track customer data for advertising purposes. According to Jacob Hoffman-Andrews, a technologist with the Electronic Frontier Foundation, these cookies can be read by any web server one visits used to build individual profiles of internet habits. These cookies are hard to detect, and even harder to get rid of. These cookies go by many names, and none are particularly flattering. Hoffman-Andrews called it the "perma-cookie,wp_postsdue to the level of difficulty required to remove it. According to ProPublica, an online advertising clearinghouse called Turn called them "zombie cookies,wp_postsbecause they "re-spawnedwp_postsif a customer deleted the cookie. After ProPublica profiled the difficulty of opting out or removing the "zombie cookiewp_postsearlier last year, the clearinghouse announced it would stop using it to track data.
+ A gay music director is filing a lawsuit against the Catholic Archdiocese of Chicago for firing him after he announced his engagement. While the Archdiocese may try to argue that the firing was legal because a "ministerial exception" allows religious institutions full control over who they employ for ordained clerical positions, Colin Collette "was not responsible for planning the liturgy or selecting the music played during masses and services at Holy Family Parish," which means that legal framework shouldn't be applicable in his case. However, in 2012 the Supreme Court expanded what the ministerial exception applies to, so it will be interesting to see how this goes!
+ An Ohio Planned Parenthood was vandalized this week, with graffiti calling it a "satan den of babykillers" and referencing a violent Bible verse.
Law & Order
+ An updated, more recent rundown on candidates the White House may be considering for a SCOTUS seat.
+ Colorado Dems are trying to pass a bill that would prohibit gay conversion therapy being performed on minors, but Republicans are opposing its passage, saying that the bill could limit free speech rights.
+ Although Phoenix, AZ councilman Mike Nowakowski supported marriage equality in 2014, he was documented telling a group of Latino pastors that he opposed it, and also trans people's access to the correct bathrooms.
"I never thought I would see the day that men and men would be married," Nowakowski said. "Or that people were allowed to go into the same bathroom as my daughter. This world is changing and it's time for us to take the leadership and change it back to the way it should be."
Understandably, LGBT activists like Rebecca Wininger, co-chair for public policy at Equality Arizona, and others are not pleased.
"We are very disappointed, hurt and shocked at the comments made by Councilman Nowakowski in this video. He has previously stated himself to be an ally to the LGBTQ community. The comments made in this video are not reflective of his district or the City of Phoenix. The councilman needs to be held accountable to his constituents and we look forward to hearing his explanation for these hurtful words."
+ The Florida Senate has passed a bill severely restricting abortion access, and it's likely to be signed by Governor Rick Scott. It requires doctors who perform abortions to have admitting privileges at a nearby hospital, an unnecessary and difficult privilege to earn, and also redefines the timeframes of pregnancy trimesters, making the second and third trimesters begin earlier than doctors generally say they do, to expand the time when an abortion isn't legal.
+ This is fascinating (and bad), especially in light of how religious freedom (or "religious freedom") is being discussed elsewhere in the country: in Arizona and Utah, towns largely controlled by a polygamous sect of Mormonism, formerly led by the now-incarcerated Warren Jeffs, have been found guilty of discriminating against citizens who aren't members of the sect, "[denying] water, police services, and housing to non-believers." Despite the guilty verdict, the Department of Justice still isn't totally sure how it will force the towns to actually stop doing this, since the FLDS influence is present in so many levels of government and civic leadership. Sort of puts the alleged Constitutional liberty to refuse selling a gay couple flowers in perspective.
+ Tennessee's legislature is considering a bill aimed at hurting trans students similar to South Dakota's, but even more far-reaching — it would also apply to public universities, not just grade schools.
"I understand parents who feel fearful around gender issues,wp_posts[Gretchen Peters] wrote. "The hardest thing I've ever had to do is accept that the child I raised as a girl for 26 years was, and had always been, a boy.wp_postsShe decried the bill, because it would amount to "telling teachers that these kids are somehow not who they know themselves to be. We are telling children that the world cannot be trusted to believe them. When we institutionalize this kind of discrimination, we force transgender kids deeper into the closet, shut them off from the support they so desperately need, and very possibly inch them closer to suicide. I don't like to think about how close my son came to ending his own life. I don't believe this is what we want for any of our children."
Research & Data
+ A new study from Australia finds that online harassment of women is becoming the established norm, especially for women under 30. In another survey of 1000 women working in Australian media, more than 40% had been harassed on social media.
+ Unplanned pregnancies are at a 30-year low because — get this — of a shift towards more and more effective contraception, like IUDs.
+ While it's not news that we have a race gap within the gender gap, with Black and Latina women earning significantly less on the dollar than white women, but the gap between white and Black women is actually growing.
The researchers examined U.S. Bureau of Labor Statistics median weekly pay data for full-time workers and found that wages generally increased for American men and women. While women earned $726 a week (a $6 increase from 2014), men saw the largest hike, going from $872 to $895. Of all the groups studied, only Black men saw their weekly wage decrease, from $681 to $680.
+ A new poll finds that 61% of respondents think "continued immigration into the country jeopardizes the United States," a truly amazing position to hold considering why and how the United States is the United States. The sentiment was observed to be felt most strongly among baby boomers and least strongly amongst millennials. Perhaps most alarming is that these numbers are way, way up from 2015, when only 34% of respondents for Gallup wanted to decrease immigration and 53% of respondents for the Pew Research Center thought immigration strengthened the country — it suggests that these beliefs are the result of the strong anti-immigrant political messaging we're seeing in the US right now.
+ New research finds that while among white people, attitudes about environmentalism are likely to line up withp arty affiliations, that correlation doesn't necessarily hold for communities of color. People of color are also less likely to label themselves environmentalists, although "their climate beliefs were nearly identical those of white communities."
+ According to a study from the Ruderman Family Foundation, up to half of people in the US killed by law enforcement have a disability of some kind, a statistic that can't be ignored.
Freddie Gray was a victim of lead poisoning, which can cause developmental disabilities (a fear that's become more widespread in the aftermath of Flint, Michigan's water crisis). Sandra Bland had epilepsy, and being jailed without her medication may have unleashed depressive side effects some say lead to her alleged suicide. And officials claimed Eric Garner "almost definitely…would not have diedwp_postsif he hadn't suffered from serious obesity — seeming to blame Garner's disability for his death.
Grab Bag
+ There's perpetuating harm at the institutional level by not taking action against injustice… and then there's actively trying to stop anyone else from doing anything about it, and punishing them when they do. Anyways, Georgia state rep Earl Ehrhart thinks the administration of Georgia Tech is taking assault reports too seriously, and that it should instead give men accused of assault the benefit of the doubt and also just have law enforcement handle it — the same stuff that most other universities do and that allows campus assault to remain a virtually unchecked epidemic.
"It's such a great school, but the president and the administration are just clueless when it comes to due process on that campus and protecting all those kids,wp_postshe said, according to the Marietta Daily Journal. "If I have to talk to another brokenhearted mother about their fine son where any allegation is a conviction and they toss these kids out of school after three and a half years, sometimes just before graduation, it's just tragic."
+ In a true Congratulations You Played Yourself moment, Kentucky governor Matt Bevin videotaped himself walking through Kentucky's (empty) House chambers at 11 am to try to show that Democrats weren't coming to work or doing their jobs. But, as Jezebel quotes reporter Nick Storm as explaining:
"Bevin's video and commentary misses the fact that lawmakers work from the Capitol Annex next door to the Capitol in committee meetings and behind the scenes working groups, and not gavelling into session in the chambers in both the Republican led Senate and the Democratic led House until 4pm on Monday."
Dems say they've actually been working into the nights on Bevin's proposed budget — and that what's actually holding it up is that Bevin's own office is refusing to answer questions or give clarifications on the budget plan. At best, Bevin has an overly optimistic understanding of citizens' basic civic literacy and how viral video works; at worst, he himself does not know how laws are made in the state of which he is governor.
+ You should read the letter that activists of color and advocates for racial justice wrote to Apple about why it should keep users' information private from the FBI.
As Rev. Jesse Jackson recalled last week, one need only look to the days of J. Edgar Hoover and wiretapping of Rev. Martin Luther King, Jr. to recognize the FBI has not always respected the right to privacy for groups it did not agree with. Even the FBI now agrees COINTELPRO amounted to a violation of the First Amendment. And many of us, as civil rights advocates, have become targets of government surveillance for no reason beyond our advocacy or provision of social services for the underrepresented.
+ StepForward, a new website from the We Belong Together campaign, aims to help undocumented women in the US know and exercise their rights. The interactive website features immigration news, a guide to legal rights, and a directory of nonprofits that offer legal services, as well as the personal stories of immigrants. Right now it's offered in English and Spanish, with plans to add more languages.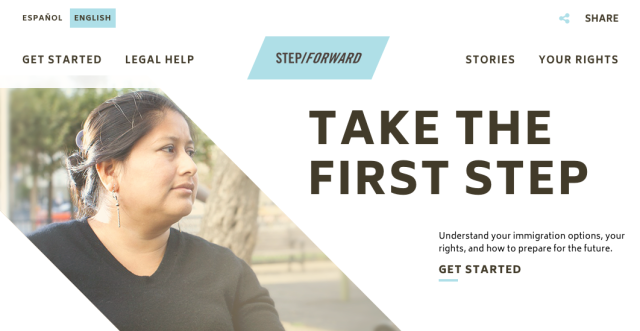 + On how women are the ones, around the world, on the front lines against climate change and environmental destruction.
+ Does it just ever let up for residents of Flint, MI? No, reader, it really doesn't. Although a bipartisan group has been working on an aid package of funding to send to the area to help it recover, it's being held up by asshole Senator Mike Lee, who says that "federal aid is not needed at this time,wp_postsand that "the people and policymakers of Michigan right now have all the government resources they need to fix the problem.wp_postsSo far the state of Michigan has only provided $2 million towards replacing the poisonous pipes that the people of Flint receive their drinking water through, when the project is estimated to take at least $55 million.