Remember when PostSecret was a big thing? Well apps like Secret and Whisper let you peek in on everyone's dirty laundry, and the stakes are higher since secrets can be filtered by your social circle, your friends' friends, and your location.
So let's talk about Internet secret sharing, and walk through these two popular mobile apps. Don't forget to bring your flashlights and hold hands, because we're gonna be wandering through some deep, mysterious territory.
---
Why We Need Masks
What's so special about anonymous posting anyway? Is it possible that we yearn for the Old Ways of the Internet, before social media Single Sign On protocols tied our names to every little thing we do. It seems like every time I go to buy cat litter, a vendor is urging me to connect via Facebook. In a digital world that constantly wants to authenticate your identity via social media, I can definitely see the appeal of anonymous secret apps.
---
Out of the Closets, Onto the Screens!
Immediately after I downloaded Whisper and Secret and threw on my invisibility cloak, I noticed that there seemed to be A LOT of posts about queer desires and issues.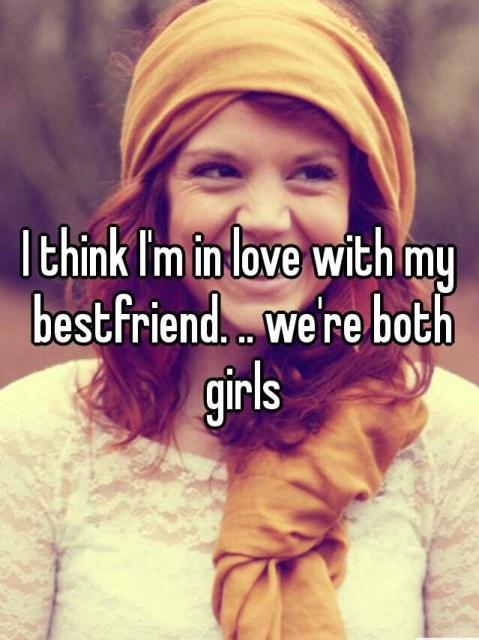 It's possible that secret sharing apps might help some folks take the first timid steps toward exploring their gender and sexuality. And maybe even help us vent and work through issues that are difficult to bring up in with our peers.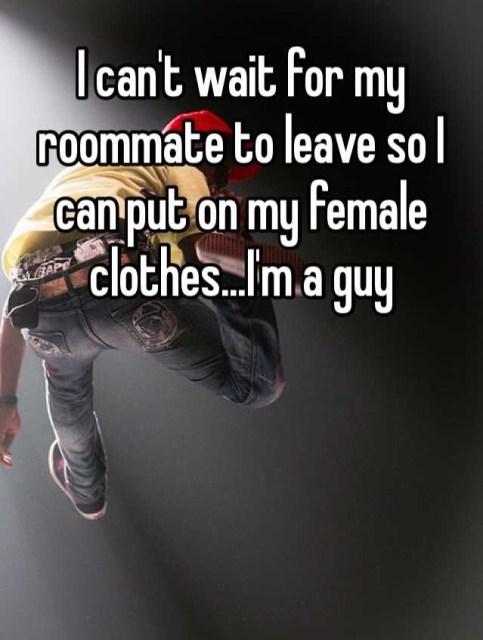 But keep in mind, both platforms let people anonymously post comments. Which opens readers up to hateful comments. Just like venturing into the danger zone of YouTube comments, you might want to be careful while sifting through the comments on these secret sharing sites.
---
Who Can You Peep On?
The Secret app ups the ante by populating your feed with secrets from your friends and their extended networks. Even freakier – the "Friends" section includes contacts from your Contacts app, instead of the people from your social media network, which makes things way more intimate. To prevent people from gaming the system, Secret will only show you posts if three or more of your contacts are currently using Secret. That means you can't take a device with a handful of contacts and spy on those people. And the folks at Secret insist that your data is totally encrypted.
Whisper takes a much broader approach to displaying secrets. The feed organization is kinda like Reddit, where you can view everything based on popularity (likes) or newness. However, Whisper tries to bring you some intimacy with strangers in your area. The result is kinda like Craigslist, full of hookup requests and confessions, but in meme form.
---
So Which App is "Safer?"
Overall, I'd say that Secret wins the anonymity contest, mainly because of Whisper's username feature. All of your posts on Whisper are tied to a traditional username. This increases the chance that someone will figure out your identity, especially if you're in a low population area (with location services on), and if you post multiple unique stories. Also people can contact you directly with public replies or direct messages.
On Secret, people can't access a trail of your posts. There are no user names and no karma to earn. When you comment on things, you appear as a generic icon that rotates between conversations.
But of course, we all know that web service security systems are fallible. Boy, do we know. So be careful what you spill online, you never know if it'll come back to haunt you. Or as the Whisper legalese says, "You understand that any message and/or information that you transmit to us might be intercepted and read by others."
---
Inherent Risks
1. Libel
You know, I didn't really consider this one until I listened to a recent This American Life episode, Tarred and Feathered. They ran a story about how someone's reputation was destroyed by hateful anonymous posts on Topix, a gossip message board that is apparently all the rage in small towns and rural areas where everyone knows everyone.
I started wondering about the potential for libel on Secret and Whisper, especially since they have custom picture options. You could totally screw someone over by posting a picture of them along with some gossip.
Looks like Secret and Whisper thought of this too. They have warnings and features to discourage slanderous behavior. You'll get the ban hammer if you do these things.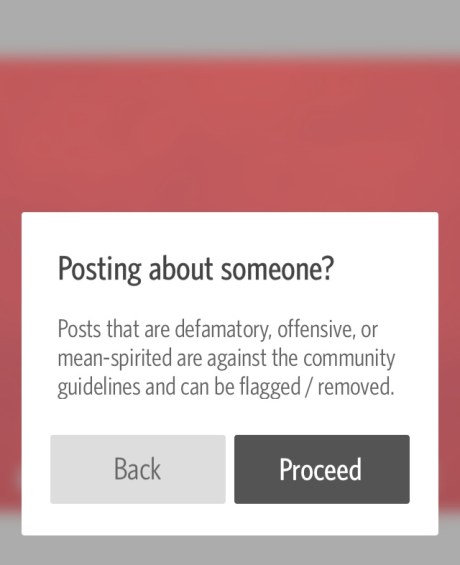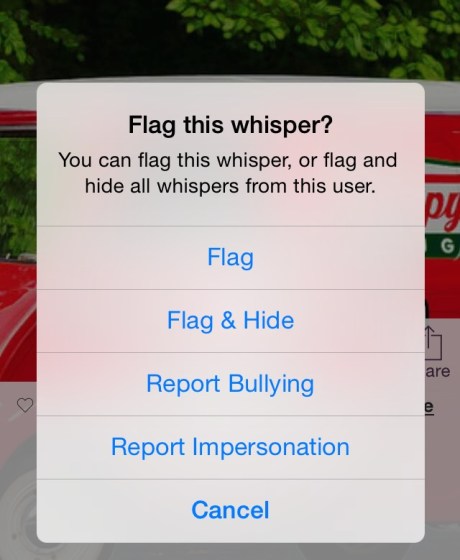 So far, it doesn't look seem like personal cases of libel have been cropping up. Instead, the big problem seems to be….
2. Spilling Company Secrets
And fake company secrets! Turns out, Secret and Whisper are a wet dream for anyone working in corporate espionage. Or people who just hate their jobs in general. Employees are tossing their NDAs out the window, spilling their guts with speculation, shit-talking, and trade secrets. And some very worrisome stories about the risks of startup culture.
The New York Times likened posts like these to cyberbullying. It's bizarre to see this type of behavior manifest itself in Silicon Valley, of all places. It makes me wonder if breaking news journalists are peering around Secret and Whisper like lemurs, waiting to verify the hottest new rumor. I wonder if we'll see a future where stuff like this influences stock prices. How weird.
---
What's Your Secret?
Will our yearning of anonymity usher in a brand new era of secret sharing apps? Or will this trend eventually fizzle out? It's hard to tell, especially since there seems to be a market of casual voyeurs willing to read these things. According to Whisper, users check the app up to eight times a day, on average. That's a lot of peeping.
So what do you think? Are secret sharing apps good for catharsis and personal development? Or are they just destructive rumor? Do you think we'll see more secret-sharing apps pop up, or are these just a fad? Are you using a secret app right now? What's the most interesting secret you've ever found in an app?
---
This has been the eighty-sixth installment of  Queer Your Tech with Fun, Autostraddle's nerdy tech column. Not everything we cover is queer per se, but we talk about customizing this awesome technology you've got. Having it our way, expressing our appy selves just like we do with our identities. Here we can talk about anything from app recommendations to choosing a wireless printer to web sites you have to favorite to any other fun shit we can do with technology. Feature image via Shutterstock. Header by Rory Midhani.