Welcome to This Is How We Do It, a series wherein we'll be discussing projects both inside the home and out and explaining, you know, how we do it.
---
I believe a good sharp knife is the most important tool in a kitchen. In this article I'm going to explain how to select a good knife, how to keep it sharp, how to clean and maintain it, and how to use it properly.
What kind of knife should I get?
You absolutely do not need a knife block or an entire set of knives for regular everyday cooking. Instead, take that money you'd spend on a set and buy just one good knife.
A nice knife, if well maintained, will last you decades and is well worth the money. I've had my Shun santoku knife for 15 years and it's still in great condition. Popular brands I'd recommend are Wusthof, Henckels, Global, and Shun.
I recommend either a Western-style chef knife or a Japanese-style santoku knife. A Western chef knife is typically heavier, its handle usually has finger grooves, the point of the knife sticks straight out and is not angled down, the curve of the blade is more rounded to allow for a more rocking style of cutting, and the blade is ground evenly on both sides to a V shape. A Japanese knife is typically lighter, its handle is often flat, the point angles down, the blade is less curved for more chopping style of cutting, and the blade is often ground offset and not even. To be able to maintain that thinner edge, Japanese knives are made of a stronger steel and often hold their sharpness a bit longer too.
Here are some chef knives I'd recommend (click through!):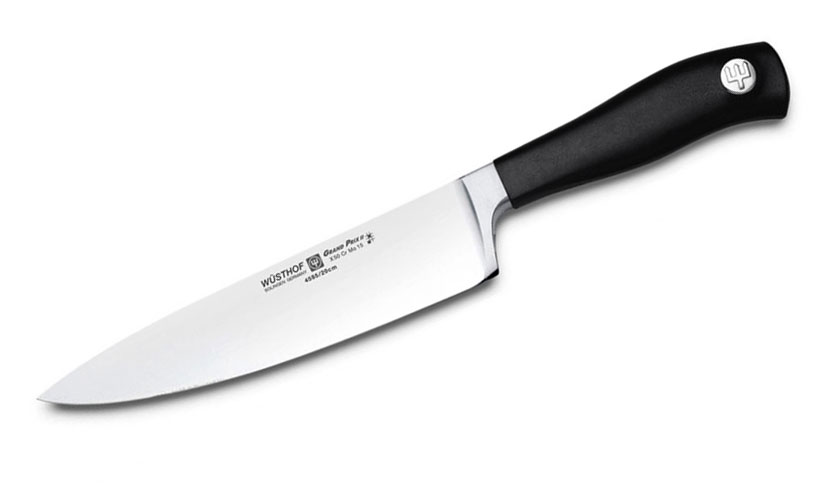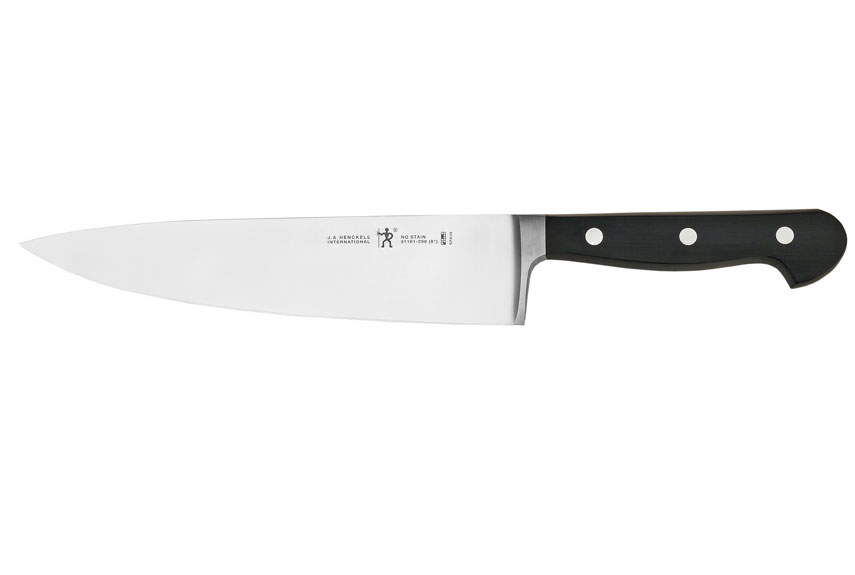 And some santoku knives: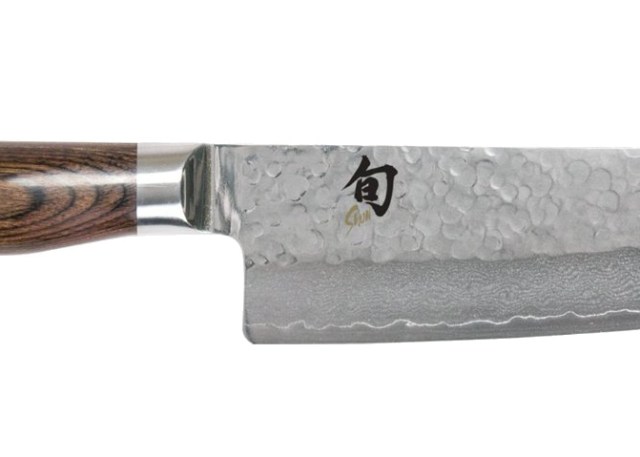 I've also found decent knives at Goodwill which just needed to be sharpened, so keep a look out for these brands there if you're on a budget.
Is your knife sharp?
When a knife is sharp enough, you should be able to cut through a held-up piece of paper with very little pressure or slice through a tomato without squishing the fruit or ripping the skin. A brand new knife will be very sharp — try to remember how sharp that is so you know what your baseline should be and you'll know when it's dull. While this sounds counterintuitive, a sharp knife is a safer knife. It doesn't slip, and if you combine that with good knife skills, you won't cut yourself while preparing your meal. It also makes prep so much faster, less frustrating, and more satisfying.
Keeping your knife sharp
If you have a nice knife, you also absolutely need a decent honing steel. A honing steel doesn't sharpen your knife, but it trues or straightens the edge of the blade. Often when a knife feels dull the very edge has curled from the pressure of use. Dragging the edge along the steel straightens that edge back up. I use my steel almost every time I cook. To use your steel, either hold it freely in your hand, or place the tip on a cutting board or cloth. Drag the full length of your knife from the base to the tip along the steel at a 15-20 degree angle, away from your hand, or down towards the cutting board. Do each side of the knife, alternating evenly several times. You should hear a high pitched ring if the angle is right.
Here are some steels I recommend: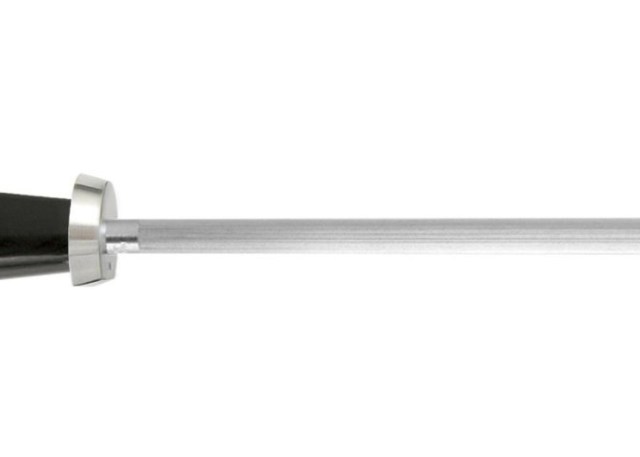 If your steel isn't cutting it anymore it's time to take your knife to a professional sharpener. Don't use one of those home sharpening tools that you slide the blade into. A professional sharpener will only charge you a few dollars and it will be much sharper. You should take it in at least once or twice a year, or when your knife feels dull.
Oil the handle
If your knife's handle is wood, you'll need to oil the handle every year or so. You can use linseed oil, danish oil, mineral oil, or even vegetable oil. Any oil is better than nothing.
Cleaning and storing your knife
If you're feeling lazy after you've cooked and don't want to clean up right away, at least clean your knife and put it away. Wash your knife in warm soapy water, dry thoroughly, and put away right after use. I use a magnetic knife strip and love how easy it is to store my knives. If you do use one, make sure your knife is really dry before putting it back so it doesn't rust.
Do not let your knife soak in the sink, as it will rust the blade and ruin the handle (and create a potentially dangerous situation if you reach into your sink forgetting you left the knife there). Don't ever put your knife in the dishwasher. If you have to store your knife in the drawer, get a blade protector for it, so it doesn't get dull banging around in there.
Using your knife
If you want your knife to remain sharp, don't cut on a dish, plate, pan, glass cutting board, or a stone counter. The only thing you should cut on is a wooden cutting board. I recommend stabilizing your board with a wet towel underneath so it doesn't slip. Often, slippage of the cutting board is how folks cut themselves with their knives.
Hold your knife by pinching the blade with your thumb and forefinger, and curling your remaining three fingers under the handle, with your middle finger touching the back of the blade.
Use your other hand as your guide hand. Hold the food you want to cut with your in the "clawwp_postsby placing your thumb behind and curling your fingers under. This keeps your thumb and fingertips out of the way of your blade. Use your knuckles as a guide for the side of your blade. Always make sure what you're cutting is flat side down and not a wobbly (dangerous) rounded edge. If you're cutting something round, slice it in half first, and put the freshly cut flat sides down on the board and go from there. It's much more stable that way, and will greatly reduce accidental slicing of your guide hand.
Homework
Practice holding your knife correctly and using the claw method with your other hand. It takes a lot of time to unlearn other methods, but it's worth the learning curve. Take it slow until you're comfortable, then try gradually speeding up like you see cooks doing it. You may find that your dinner prep is a lot faster once you learn this method. And go get your knife sharpened professionally — it's so worth it.