Judge Rules Lesbian Parent Has the Right to Custody
+A Virginia Beach judge ruled both women in a same-sex marriage are legal parents of their child, even if they separated. Lauren Poole and Karen Poole were married in Maryland in 2013. Karen became pregnant through a sperm donor and gave birth in the summer of 2014. The two separated less than a year later and Lauren was looking for custody of the child in court. Karen's attorneys argued it was Karen's decision to choose a second parent. Judge Steve Frucci said both women decided to bring the child into a their marriage and it was clear Lauren intended to be a parent. Judge Frucci wrote in his ruling, "The conscientiousness of a divorce does not mean that Plaintiff is no longer a parent because the Defendant, as the gestational parent, no longer wishes her to be one."
"I never thought we'd be here, but we are…It was crazy, actually. It felt amazing, to finally hear what I already knew and what I already felt…It was great,wp_postsLauren said after the ruling.
"We're seeking joint legal and shared physical custody, so shared parenting arrangement, so that the child can have the complete and full benefit of two engaged and involved parents,wp_postssaid Lauren's attorney Barbara Fuller, who called it a landmark ruling.
Bills, Bills, Bills
+ Wow, California's got a shit ton of LGBT-friendly laws going into effect this year. I'm giving the lawmakers, who made these bills and actually give a damn, a standing ovation. Here's a rundown:
A bill called the Lesbian, Gay, Bisexual, and Transgender Disparities Reduction Act requires four state agencies to start collecting demographic data on gender identity and sexual orientation. Departments of health care services, public health, social services, and aging must to collect voluntary information from LGBT people in order to assess and understand disparities that impact them.
Senate Bill 703 "requires out-of-state companies bidding on state-funded contracts to offer their transgender employees the same benefits other employees receive."
Senate Bill 731 requires state officials to consider gender identity when placing youth in foster homes.
AB 87 "prohibits peremptory challenges during the jury selection process of a prospective juror based on an assumption they will be biased because of his or her gender identity, gender expression, ethnic group identification, genetic information, or disability."
AB 830 allows victims of violence due to their gender identity or sexual orientation to sue for damages against the responsible party.
The California Healthy Youth Act requires comprehensive sex education for middle school and high school students that includes information about LGBT people.
AB 827 "calls for the creation of a training program to help teachers combat bullying and support LGBT youth who are coming out of the closet or being targeted by other students."
AB 960 protects families using "assisted reproduction methods." Sperm donors are not considered parents and unmarried people using assisted reproduction methods have the same rights as married couples.
+ Of course, states can't all be gay utopias! There's a "religious freedom" bill that tried to pass in the Georgia Senate in the last session but was ultimately tabled, although it has the possibility of being resurrected in the 2016 session. The bill has the same language we've been hearing about in other states; basically it would allow individuals, companies and religious organizations to discriminate against LGBT people because their religion says so. There might be another discriminatory bill that we could also see in Georgia's legislative session. Sen. Greg Kirk says he's working on a bill that would "protect" government employees who believe marriage should be between a man and a woman. He hasn't filed it yet but he said it should be filed soon since Georgia's legislative session kicked off yesterday.
Law & Order
+ An appeals court has temporarily stopped the start of Caesar Goodson Jr's trial. He's the second police officer charged in connection with the death of Freddie Gray. CNN reports: "The stay concerns the question of whether another of the charged officers, William Porter, can be compelled to testify in Goodson's trial." Goodson was the one driving the police van carrying Gray, who suffered a fatal spinal cord injury after he was shackled without a seat belt in the van. Goodson faces the most severe charges out of the six other police officers. He could face up to 30 years in prison if convicted.
+ FedEx claims that one of their longtime employee's spouse isn't entitled to her pension because their same-sex marriage doesn't count. Think Progress reports: 
"Taboada-Hall died six days before United States v. Windsor, the Supreme Court's decision invalidating the anti-gay Defense of Marriage Act (DOMA). Because Taboada-Hall died just a few days too soon, FedEx now claims that Schuett does not count as her wife.
In the eyes of the law, Schuett and Taboada-Hall are married, and they were married as of the day of their wedding ceremony. Although California law did not permit new marriage licenses to be issued to same-sex couples on the day of their wedding, Schuett successfully filed a "Petition to Establish the Fact, Date, and Place of Marriagewp_postsin state court, and the court responded with an order declaring that she and Taboada-Hall were married effective June 19, 2013, the day of their wedding."
International LGBT News
+ In an interview with the Fiji Sun, Fiji's Prime Minister Frank Bainimarama called same-sex marriage "rubbish" and said lesbians who are interested in getting married "should go and have it done in Iceland and stay and live there." His comments were made in response to a statement by the head of the Fiji Women's Crisis Centre, Shamima Ali, who was calling for marriage equality. Fiji banned same-sex marriage in 2002 and it was only six years ago that they decriminalized gay sex.
+ A gay couple from Israel found out their surrogate child born in Nepal isn't actually theirs after genetic testing. The surrogacy agency made a mistake. The men were forced to give up the child after being with the baby for a month. Israeli law requires couples using a foreign surrogate must prove the child is biologically related to one of the parents. Only heterosexual couples in Israel can use surrogates.
Grab Bag
+ A new report from the Centers for Disease Control and Prevention finds that more men are identifying as bisexual. Two percent of men who took their survey said they were bisexual compared to 1.2 percent in 2010.
+ A recent Center for American Progress and the Equal Rights Center study found transgender woman face discrimination and even more obstacles when seeking housing from a homeless shelter. In the study, out of a 100 shelters across four states, only a fraction of shelters were willing to accommodate trans women. These are some of their findings: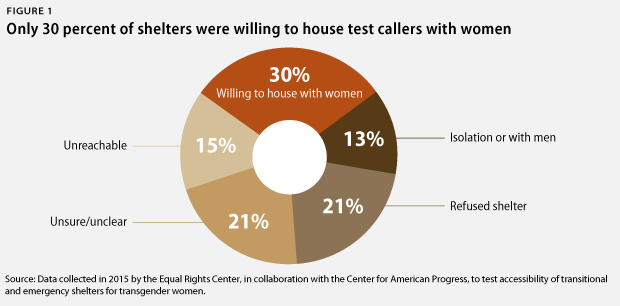 + After several immigration organizations joined forces to pressure the National LGBT Task Force and the Creating Change conference to take action, the conference announced on Facebook it cancelled a session with presenters from Immigration and Customs Enforcement (ICE). The National LGBT Task Force also issued a statement calling the Obama administration to put an end to recent ICE raids of undocumented families. As many of you might know, Creating Change is a conference aimed at empowering LGBT people and building an intersectional social justice movement. But Creating Change already failed its mission and queer/trans undocumented people when the organizers of the event invited ICE to speak in the first place. It wasn't till Familia: Trans Queer Liberation Movement, GetEQUAL, Not1More, the Transgender Law Center, and the TransLatin@ Coalition/Florida stepped up and demanded the conference to not allow ICE to speak at the conference and instead allow undocumented trans and queer people to lead discussions on immigration. "ICE has no place at a conference that, at its basic principle, should be about providing a safe home for all LGBTQ people," a Not1More petition said. Creating Change did the right thing by uninviting ICE to the conference and hopefully they'll redeem themselves at the conference and when planning for future conferences.