HELLO HAPPY PRIDE MONTH did you need a photoshoot of Samira Wiley looking extremely hot and gay as hell with visible armpit hair to celebrate?! Well it's your lucky day because I am here to present to you the June cover of NYLON magazine, which happens to star Samira Wiley posing like the powerhouse that she is, along with an extensive photoshoot to go along with the cover story!!! Each photo is hotter than the next! The entire story was written and photographed by lesbians! Samira! Wiley! Looks! So! Good! Praise Lesbian Jesus, happy Pride month to us all!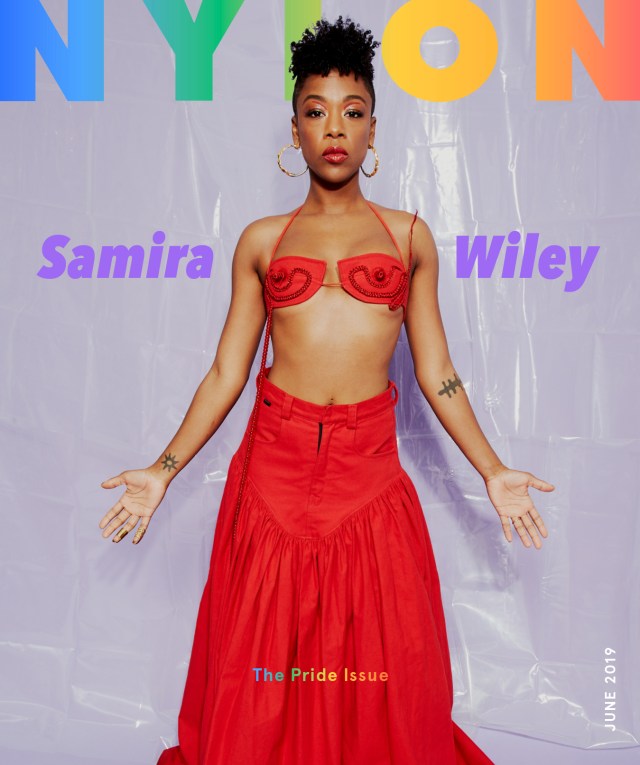 This breaking news happens to arrive as 95% of the Autostraddle editorial staff make our way to Ojai, California to staff our annual A-Camp, so while usually we're all working remotely from coffee shops and home offices today I have the honor and the privilege to be writing this from Terminal 6 at LAX, surrounded by my fellow queers as we wait for a shuttle to transport us to our home away from home for one week. As such I checked in with some of our staff members in person to hear their thoughts on this important gay development.
"These are sexy. That goes without saying," said Taylor Hatmaker, Former Autostraddle Editor and Current A-Camp Photographer.
"Yuuuhuum," said Kaylah Isis, A-Camp Dance Team Captain and YouTube Influencer, then proceeded to spell the word "yuuuhuum" for me so we would report it exactly as she intended, with the correct amount of u's before and after the h.
"Woooooooooooooow," Associate Editor Carmen Phillips exclaimed, while clutching her heart and shaking her head.
"Wow wow wow wow," added Staff Writer and Thirst Trap Expert Kayla Kumari Upadhyaya.
To conclude, Staff Writer and Noted Gemini Al(aina) Monts said: "What does she need? How can I give it to her? I want to do everything for her."
Thank you Samira Wiley for helping us start our Pride month off right. We are, as always, extremely grateful.