The grand finale of every Acrocats show is a performance by the Rock Cats, an all-cat rock band. Yes, that's right: an all-cat rock band. Not people in cat costumes, but actual warm-blooded living furry kitty cat musicians. There's a cat haphazardly strumming an electric guitar, another one playfully wailing on snare drums, and the star of the show (R.I.P. Tuna) nonchalantly tapping at a cowbell. I know because I saw them perform live in 2013, in a cozy community black box theatre in Rochester, NY. I was so moved that I proclaimed it the best live show I'd ever been to ever on Instagram. It was life-affirming!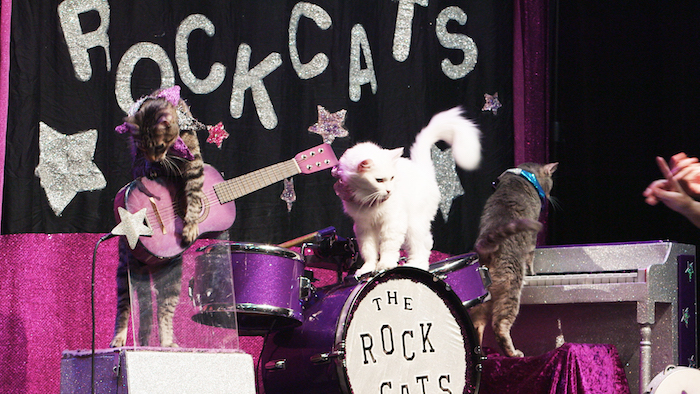 I remember seeing their "tour bus" in the parking lot after the show and wondering, "How does one become a circus cat trainer and how does one get a private tour of the cat bus?" Director and filmmaker, Jacob Feiring, had the same reaction when he stumbled upon an Acro-Cats show in his city. He set out on a five-year journey, following Chicago-based Samantha Martin and her cast of adopted cats around the country with a camera.
Samantha's Amazing Acrocats, Feiring's first feature-length film, is the answer to my questions and a lot more. It's an unflinchingly earnest documentary about a woman who could easily be portrayed as a circus performer herself — funny, eccentric, a parody of herself in leopard print gloves and sparkly cat ears. Feiring took a more sincere route and this documentary delivered so much more because of it. Yes, there are plenty of clips of cats doing amazing and not-so-amazing tricks and sometimes refusing to cooperate. It's fun. I laughed. The heart of the film, though, was the intimate making of the cat circus in all its gritty glory — or more truthfully, the making of Samantha Martin.
As Martin says to the camera in one of the final scenes, bedazzled black cat ears perched on her head: "The show is about my life and what my life is with these cats… I'm the only one that can do the show — no one else. Because it's my story."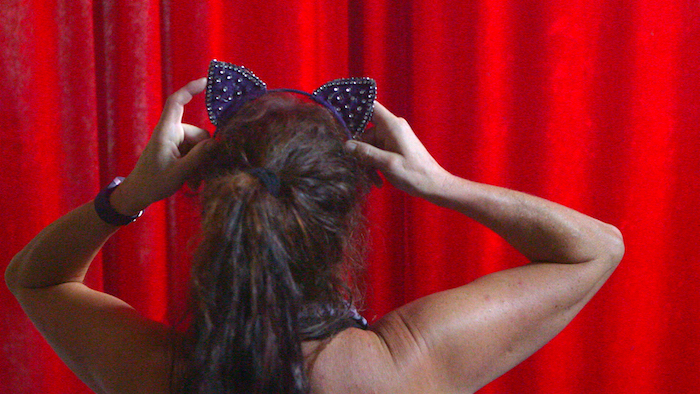 If I know anything about the Autostraddle community, it's that we have a higher-than-average number of cat fanciers. Some ("normal," boring) people might find Martin's devotion to her cats odd and certainly, when she created the Acrocats show in 2005, cats had yet to take over the internet. Queers, however, were devoted cat lovers way ahead of the trend. There's something about choosing the companionship of a cat that feels inherently queer and I think that's why Martin's decision to quit her day job to tour 200 days per year with a bus full of cats sounds, honestly, amazing.
Chasing your dreams is always a double-edged sword, though, and Samantha's Amazing Acrocats makes it clear just how UNglamorous the cat show life is. Martin is often on the edge of poverty, sleeping on the bus, putting everything she has quite literally into her cats and their show. At one point, she says that they need to make $3000/week just to break even. She dreams about "making it" and not struggling to make ends meet. She also loves her cats fiercely, and believes in the show.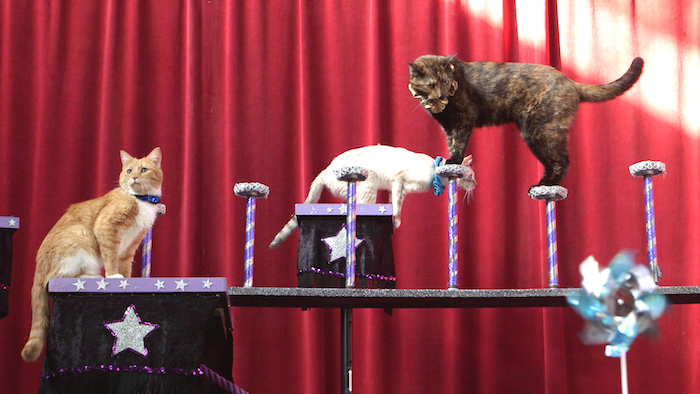 Martin's devotion to her cats goes beyond a trainer-animal relationship. When not on the road, the cats live in her home as companions. Her love for her cats comes through in the show itself, during which she talks about the enrichment benefits of cat training and promotes shelter adoption. It comes through in the gentle way she handles the cats, who sometimes choose to perform and sometimes choose to wander into the audience seeking ear-scritches.
It's all very charming and funny and proves that cats best react to positive reinforcement. When a circus cat actually does push the grocery cart or complete the obstacle course or leap through the hoop or play the drums, the crowd erupts in a frenzy of joyous applause. It's 100% clear the cats actually want to do the tricks.
That's what hits most about the film, for me, as an avid animal lover and a big dreamer. So few of us choose the life path where we want to do the tricks, where we leap through the hoop because we want to. It's a luxury most can't afford and, especially if you can't afford it, it's a path that involves discomfort and exhaustion and living with uncertainty. This very website was founded on that type of follow-your-arrow passion, not without hardship and deeply personal sacrifice. It's the leap we all dream about: What if I quit my job and followed my bliss? What if I quit my job and traveled the country in a bus full of circus cats?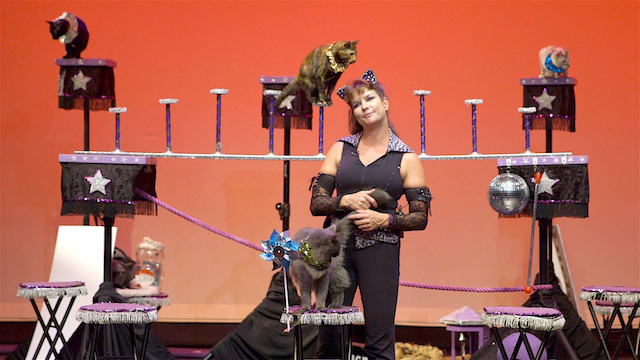 For a documentary about a circus cat show, the film is so much more about the human relationships that shape Martin and about the choices she makes for her love of her Acrocats. It's about staring down rock bottom and finding your way back up. It's about human flaws and the way our animals love us despite all the ways we're messed up. It's about human and feline potential and how us strays and weirdos put the glitter eyeshadow on because we know we're actually superstars in waiting. It's about claiming the autonomy to choose to leap through the hoop instead of being forced through by someone else's normative narrative.
As Martin notes in the film, cats are "a good investment right now," with cat cafes opening in the U.S., cat videos taking over the internet, and the crazy cat lady trope evolving to be a millennial badge of pride.
The film, in many ways, couldn't have come at a better time to immortalize Samantha and her loving legacy. Samantha Martin was diagnosed with Stage III colorectal cancer and also broke her foot earlier this year. The Acrocats and the Rock Cats show is currently on hiatus as she takes time to seek treatment and heal. You can support The Acro-cat Mom's Cancer Fund at GoFundMe to help Samantha take care of herself and her cattery during her treatment and recovery or donate items from the Acrocats wish list.
Follow Samantha's Amazing Acrocats on Facebook, Twitter, Tumblrand Instagram and check the film website for more film news!
Samantha's Amazing Acrocats is currently playing the film festival circuit and you can find them at the San Francisco Documentary Festival May 31 – June 14. See the website for more details and ticket info as it becomes available. Upcoming screenings will be announced on the Samantha's Amazing Acrocats website.