Well, here we are in 2018. There is a car in space, but more unbelievably, a masculine of center black lesbian wrote and directed porn for PornHub. As part of the website's Visionaries Director's Club, Young M.A's directorial debut is shy of 50 minutes, heavily features her discography, and includes whipped cream in a butt. It's fun!
"The Gift" opens with our protagonist, a studious and pretty femme of color, working at her desk. Her girlfriend, also a beautiful femme of color, drops by to wish her happy birthday and gifts her an envelope. When studious femme opens it, she finds only an address, and our adventure begins.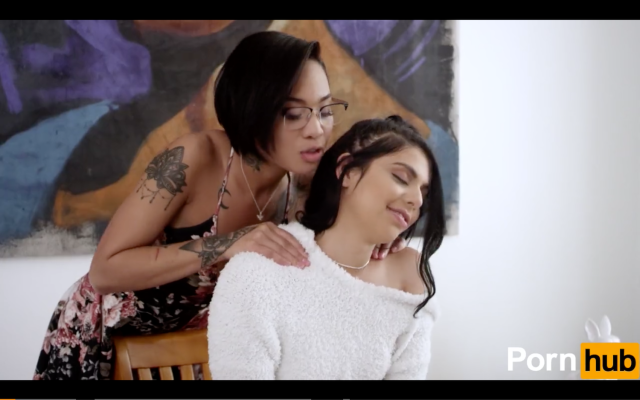 The night I learned about the film I luckily had someone cute staying over, and we decided to watch it together. My beau found the two main character's non-sexual interactions to be unconvincing. "Does she even like her? She seems like she thinks her girlfriend is annoying," was her reaction to the two's first encounter.
It gets… better, though? So of course, once the birthday girl reads the address, she ends up at this house and walks into a world of sexual fantasies. A couple is finger-fucking on the kitchen counter (this is where whipped cream comes in), with another couple on a bed and another in a hot tub with a rose quartz dildo until finally, the birthday girl finds her girlfriend, and they have 30 minutes of loving sex.
Other than a few moments where I found myself taking notes and turning my head sideways to figure out just how someone got their hand to move that way, or a moment pre-hot tub climax that my viewing partner found especially exciting, "The Gift" felt very straight. Or at least exactly the way you'd expect a straight guy to direct porn. Lots of little details — like how people with vaginas typically know that hot tub sex isn't great for vaginas, stiletto heels were very close to eyeballs, and the fact that in a movie full of long-haired women, there wasn't a single hair tie used to hastily put someone's hair up when it finally got too in the way of their ability to give head — were just a little overlooked.
There were at least 10 minutes where the main couple was having sex with a strap-on, but like… they weren't having sex. Anyone who has ever had sex with a strap-on could spot that they were faking it from a mile away. While we both yelled in confusion at the screen, I felt like I was 17 again, watching softcore porn on Cinemax.
I had also hoped, that with Young M.A. at the helm, we might get to see a stud having sex! Everyone in the film was femme, and that was fine, femme-femme sex is beautiful. But damn, I feel like this could've been a really cool opportunity to see some butch-femme sex! But maybe that's just not what the director wanted and that is fine, too.
I did love how racially diverse everyone was. The main couple was two women of color, the first couple we see getting busy in the Sex House were women of color, and almost every other woman in the house is a woman of color. And there wasn't any weird racial fetish-y stuff attached to it! Thank you, Young M.A. I needed that.
Overall, I'd give it a 6/10. But y'all, I don't ever go to PornHub expecting anything more than a 6/10, so honestly, it exceeded my expectations. "The Gift" is not queer porn, so don't expect that. This is porn made for PornHub by a lesbian. And honestly, that's enough for me. I'm happy a black stud/AG lesbian got to direct porn for a major porn company. I'm proud of her. Screen it at your next orgy!