Of the many disparaging terms that have been applied to the 1970s women's liberation movement, perhaps the most damning, in our contemporary "sex positive" culture, is "unsexy." "Puritanical," "moralistic," "anti-sex": even lesbians sometimes fling these terms at the second wave. If appellations like "prudish" or "anti-erotic" sound to you like apt descriptors of second wave lesbian feminists, then Jeanne Córdova's memoir, When We Were Outlaws (Spinsters Ink, 2011), will make you rethink what you think you know about feminist history.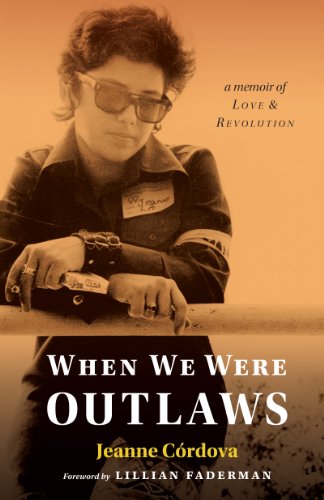 If you're not familiar with the name Jeanne Córdova, this is a measure of the extent to which contemporary historiographies of queerness have erased, or revised beyond recognition, the world-changing political work of lesbian feminists. Córdova was the founder and News Editor of the Lesbian Tide, a widely read newsmagazine that was the first periodical in the U.S. to boast the word "lesbian" in its title. She was also a key organizer of the National Lesbian Conference at UCLA in 1973, which at the time was the biggest gathering of lesbians in history. And she worked as an investigative reporter for the radical Los Angeles Free Press; her assignments for the Press included interviews with Angela Davis (Córdova accurately intuited that Davis was a lesbian and pressed her, unsuccessfully, to come out), the Weather Underground (whose members led Córdova, blindfolded, to their secret meeting place) and Emily Harris (Harris was a member of the Symbionese Liberation Army, the kidnappers of Patty Hearst; after her capture by the police, she granted Córdova her first interview from jail).
"Being an activist leader brought dozens of women to my bed," Córdova recalls. "Power seemed to attract people, and my political life put me at the center of the action." Córdova was far from the only lesbian feminist who was getting lots of action. Monogamy was passé and patriarchal, so lesbians juggled primary and secondary lovers, who were squeezed into schedules crammed full of political and social events — women's meetings, marches, kiss-ins, concerts, collectives, dances, and protests — which were pulsing with erotic energy. Think the second wave was all vanilla, all the time? The sex scenes in When We Were Outlaws shatter that misconception. Although the lesbian feminists of the 1970s are often caricatured as dour and dull, Córdova's exciting book shows that these were sexy, powerful, creative, daring, and passionate women.
They were also a far more racially and ethnically diverse group than the familiar cliché of the second wave as a "white woman's movement" suggests. The stereotype of 1970s lesbian feminism as a white movement obscures the important contributions that women of color — including Córdova, who is Chicana — made to second wave political activism. When We Were Outlaws details the ways that the women's movement unfolded alongside, and in alliance with, numerous other social justice movements, such as Black equality, Black nationalism, and Chicano liberation. These alliances are illustrated in Córdova's memoir when, at a strategizing session convened to teach lesbians how to resist the surveillance and interrogation techniques of the FBI (who routinely spied upon political activists), Córdova chats with a lesbian feminist friend who participates in both the women's movement and "solidarity work with Central American causes."
Today, lesbian feminists of the 1970s have a reputation for having been transphobic. This charge does not take account of the very different conceptions of gender identity that prevailed in this earlier era. As Córdova explained in an interview with me:
In the 1970s the terms "trans" and "transgender" were unknown — except for a few entertainers like Christine Jorgenson and small groups of mostly African American sex workers, who related to the "drag queen" parts of the gay and lesbian movement and called themselves transsexuals. There were a very few lesbian activists who called themselves transsexuals. The one I was closest to was Sue Cooke, a Lesbian Tide photographer for many years. Anyone who called herself a woman was welcome to serve on our staff. The National Lesbian Conference of 1973 at UCLA was the first time I heard that the issue of transsexuals in the lesbian feminist movement was controversial. A transsexual woman had intended to sing during a talent show, but she was surrounded by a major controversy over whether she, as a trans person, should be allowed on stage at a lesbian conference. A vote was taken on this question, and the vote was something like 740 to 765. I don't remember who got the majority, but the vote stays in my mind because it was so evenly split.
Clearly, second wave radical lesbian feminist opinion was not monolithic in regard to the issue of trans inclusion. Although this topic does not come up in When We Were Outlaws, Córdova, who herself is a gender nonconforming woman and a longtime trans ally, has published numerous essays in support of trans activism.
Córdova's memoir also gives lie to the oft-repeated claim that it was rigid identitarianism on the part of second-wave feminists that led many lesbians to shun working with men. Córdova recounts her betrayal by her "political godfather," Morris Kight, a prominent figure in the Gay Liberation movement who had helped the young Córdova acquire the political organizing savvy that she would put to use throughout her lifelong career as a political activist. Unfortunately, Kight proved to be as sexist as Córdova's real father, who, when Córdova was nineteen, physically threw her and her lover out of his house and onto his front lawn (nearly breaking Cordova's lover's knee in the process) when he realized they were lesbians. As the director of the powerful Gay Community Services Center, Kight illegally fired eleven of the center's feminist employees, including Córdova; the "Gay/Feminist 11" and their supporters then took the desperate — and for Córdova, very ambivalent — step of going on strike against a gay organization. In the midst of formal negotiations with the strikers (whom he insisted on calling "dissidents"), Kight stated bluntly, "GCSC is about gay liberation. I can see in retrospect that we shouldn't have hired you feminists in the first place." Los Angeles lesbian feminist activists' split from gay men, Córdova explains, was part of a nationwide trend, as lesbians across the country were repeatedly confronted by many gay men's intractable hostility toward feminism.
In the hands of a less skillful storyteller, the minutiae of decades-old political controversies and intra-movement conflicts could easily become tedious. But Córdova's "novelized memoir" is riveting. The book segues between an account of the author's adventures as a dynamic and highly accomplished activist and a portrayal, both comic and poignant, of her not-so-smoothly-conducted romantic affairs. Unsparingly honest in her rendition of what she now describes as her "sexist training," Córdova depicts her younger self as a twenty-six-year-old "baby butch-looking dykelet" who does not always treat the two femmes in her life with honesty and respect (for example, after professing her love to her secondary lover, she comes home to a dinner prepared by her live-in girlfriend, to whom she insists that the other relationship is only a casual affair). I alternated between laughing and fuming at Córdova's buffoon-like behavior, which provided a striking contrast to the integrity and commitment that characterize her political work. At times, I wanted to halt the flow of the fast-paced narrative, reach inside the book, and shake the young lesbian Córdova was in 1974 — and after shaking her, make her sit down and listen to a lecture inspired by the principles (such as "The personal is political") that her generation of feminists taught mine (I was in nursery school and kindergarten during the crucial years of the women's movement that When We Were Outlaws brings to life).
Eventually, Córdova suggests, she will learn these feminist lessons herself. During one of the pivotal moments in her story, a heartbroken Córdova, embroiled in the controversy with the Gay Community Services Center, seeks advice from the influential Los Angeles Radical Feminist Therapy Collective. Radical feminist therapy, which grew out of the anti-psychiatry movement, asserted that ordinary people could solve their problems without the help of mental health professionals; in "problem-solving" groups, radical therapists taught that being truthful about one's emotions and identifying political oppression as the source of psychic pain were key to living an honorable life and effecting radical political change. "What do you need, Córdova, to get centered today?" asks one of RFTC's members, initiating a session in which the radical feminist therapists guide Córdova in getting in touch with her pain, her feelings of powerlessness, and her rage — and, from that place, help her craft a better political strategy. This is one of many scenes in When We Were Outlaws that vividly illustrate the brilliance, the inventiveness, the energy, the courage, the dedication — and yes, the sexiness — of the women's liberation movement. Córdova's remarkable history of a life at the center of a world-transformative social movement should be read by all lesbians, feminists, and political activists — and indeed by anyone who wants to know, as Córdova asks, "How does one recognize a social movement when it comes calling at your door?"
---
Anna Mollow's essays on queerness, feminism, fat politics, disability, and chronic illness have appeared or are forthcoming in Bitch, WSQ: Women's Studies Quarterly, Social Text Online, The Journal of Literary and Cultural Disability Studies, MELUS: Multi-Ethnic Literature of the United States, and the Disability Studies Reader. She is the coeditor, with Robert McRuer, of Sex and Disability (Duke UP, 2012). Anna is a Ph.D. candidate in English at U.C. Berkeley, where she is the recipient of the Andrew Vincent White and Florence Wales White Scholarship.