I've always had a bit of a thing for bad girls, and I don't think I'm alone on this one. Who doesn't love gals with switchblades hidden in their beehives, girls with killer smirks who drink the tears of their enemies, and ladies that enact revenge without smearing their lipstick? And why do we love them? Is it the clothes, the hair, the make-up? Or is it more about attitude, manipulation, and that pesky sexual ambiguity? For slightly shy girls like me, bad girls let us live out our wildest fantasies. All those things we wish we could have done to that one girl in high school who made our lives a living hell. For these reasons, this column, "Rhymes with Witches" will be a weekly piece dissecting our love for the fictional mean girls that make it hurt so good. Every week, come take a walk with me on the wild side (switchblade not included) to explore the evil women we love on TV and in film and why we love them. Heroes and damsels in distress be damned.
---
In the adolescent battlefield known as high school, friendship bracelets mark allegiances and social hierarchies are just as ruthless as any medieval monarchy. In the book Queen Bees and Wannabes: Helping Your Daughter Survive Cliques, Gossip, Boyfriends and Other Realities of Adolescence, author Rosalind Wiseman even goes as far as to compare female teenagers to a platoon of soldiers who have banded together to survive adolescence.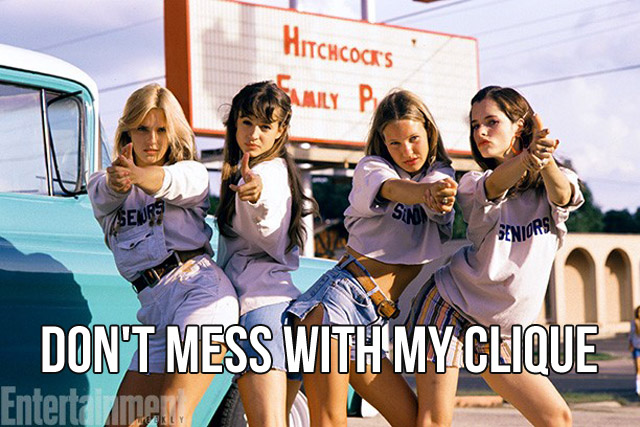 They even develop an entire chain of command complete with a Queen Bee and elaborate rituals such as the famous hazing scene in the 1993 cult classic Dazed and Confused, which introduces us to none other than Darla Marks (played by Parker Posey) and the subject of this week's column.
While the rest of the senior class takes part in the hazing ritual, no one takes quite as much pleasure in it than Darla. With the word SENIORS emblazoned on their white sweatshirts, Darla's crew rallies up the incoming class of freshman girls for the annual hazing which includes lying down on the pavement pretending to be bacon (fry pigs, fry!), getting covered in condiments then being driven through a car wash (to get them clean obvs!). Geared with fruity roll-on lip gloss and knee high socks, Darla works at the helm of the barbaric ritual with such ferocity it's hard to believe she's just a teenage girl.
She embodies the role of mean girl with such glee, as if she is finally taking her rightful place in the high school social hierarchy. You can tell she's been dreaming of this moment since she was a freshman, though it's hard to imagine anyone spewing mustard on Darla without getting a black eye afterwards. While other characters in the movie feel tied down by their assigned stereotypes and social standings, Darla appears freed by hers. There's jock Randall 'Pink' Floyd who feel constrained by his football star image and nerdy Mike Newhouse who starts a fight because he doesn't want to be perceived as weak, and these are just a few examples. Darla, on the other hand, is completely comfortable with herself and takes her role as "Torture Queen" seriously and threatens those who disrespect her position.
Psychologist Carol Gilligan describes in her book, Meeting at the Crossroads: Women's Psychology and Girls' Development, a phase called "The Tyranny of Nice and Kind" when girls, as they strive to become women, vow to and become more interested in pleasing their friends, parents and teachers than in discovering their own thoughts, feelings and abilities. Once we start worrying about others and how they perceive us we become vulnerable to things like low self-esteem and peer pressure. What I find so interesting about Darla (other than being a bad ass) is how she is completely void of this phase. For example, there's a scene when she finds out one of her friends called her and Simone (another girlfriend) bitches. Yet, while Simone becomes visibly irritated and reacts spitefully back, Darla is completely unfazed by it and even seems to wear this title as a badge of honor. She has no interest in pleasing anybody, not even her friends, and I can't help but respect and admire her for that.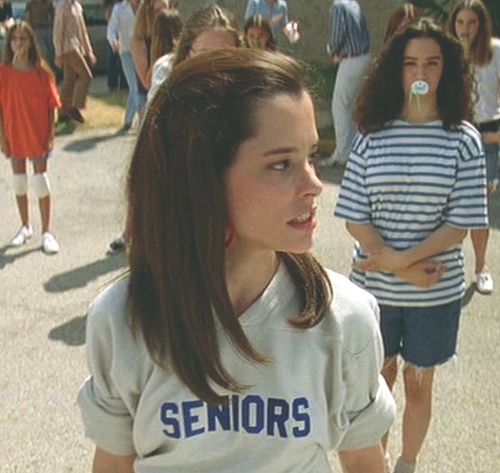 Darla knows who she is, what she wants, and especially what she hates and she isn't going to change for anyone. In between torturing younger classmates and dating older guys, Darla has little time to feel insecure. I wish I could say that about my own high school experience.