For many of us, the best thing to happen at the Grammys last night was our introduction to Kacey Musgraves. Welcome to the club, I have been here for some time. Here are the top reasons I am unashamedly in love with Kacey Musgraves!
1. She placed fifth on the Reality TV Show Nashville Star in 2007 (remember that show? me neither) and still came in FIRST PLACE at The Grammys (remember that show? YEAH YOU DO).
2. She co-wrote all of the songs on Same Trailer Different Park, the show Nashville, and Miranda Lambert's "Mama's Broken Heart" (you should watch her version!).
3. Her songs have depth. Actual depth. And for the most part, every song's message is "Be Yourself And Be Happy."
4. As Contributing Editor Audrey said, "I like Follow Your Arrow so much because it's not an ally song in the overbearing 'look at how progressive and ally-like' I am way. It's just 'you do you' you can two-step to."
5. When was the last time you heard a country song positively reference smoking pot, atheism, premarital sex, and kissing whoever the fuck you want? Maybe this will start a new progressive movement in country music!
6. Kacey could be a super successful crossover artist in the same way that we're really only seeing from Taylor and Carrie at the moment, but you don't have to feel guilty about enjoying her songs like you do whenever you put on the Taylor Swift Pandora station.
7. She has never posted a food picture on her Instagram — but did post about Lisa Frank, Hocus Pocus and how much she loves using baking soda as an exfoliant which I'm wholeheartedly behind.
8. This Outfit really takes "No/Minimal Pants" to the next level: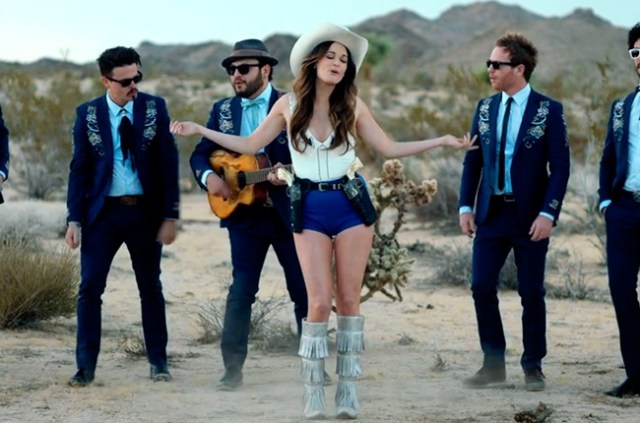 ---
Before you go!
It takes funding to keep this publication by and for queer women and trans people of all genders running every day. We will never put our site behind a paywall because we know how important it is to keep Autostraddle free. But that means we rely on the support of our A+ Members.
Still, 99.9% of our readers are not members.
A+ membership starts at just $4/month.
If you're able to, will you join A+ and keep Autostraddle here and working for everyone?
Join A+