Pride month is nearing, and I thought it might be fun to look at on-screen depictions of Pride through the years. It turns out…there aren't that many? I thought perhaps there was just a gap in my knowledge, but even when I tapped other queer film/tv critics to assist with this list, it didn't get much longer! I thought surely there'd be DOZENS? Where is the 200 Cigarettes-esque multistory, sprawling cast Pride comedy we deserve?! Actually, don't take that idea. I might wanna do that idea.
Also, I'm hoping the Billy Porter-directed teen comedy set at Pride being made by Gabrielle Union's production company is still in the works, but I feel like I haven't heard any new information about it in a couple years.
I do think part of the reason it's rare to find Pride scenes is because of budget reasons! It'd be expensive and difficult to film a Pride parade or major event in a way that feels realistic. It makes sense to me that Sense8 is on this list twice given the sheer size of that show's large-scale production budget! Also, it makes sense to me that a lot of Pride scenes film at actual Pride events rather than staging them. Some shows have referenced Gay Pride even if they don't explicitly show Pride events, like Pose and Generation Q.
Here are some of the (rare!) moments from film and television that explicitly depict Pride celebrations. I'm sure I missed some though, so be sure to shout them out in the comments!
---
Pride docuseries
Okay, this is an obvious one to include, but the 2021 FX docuseries Pride documents LGBTQ+ resistance and activism from the 1950s to the 2000s. It's worth a watch! I'm skipping over some documentaries on this list, because I'm going to do a separate Pride piece that centers docs, but this series feels right to include on this list as a starting point.
---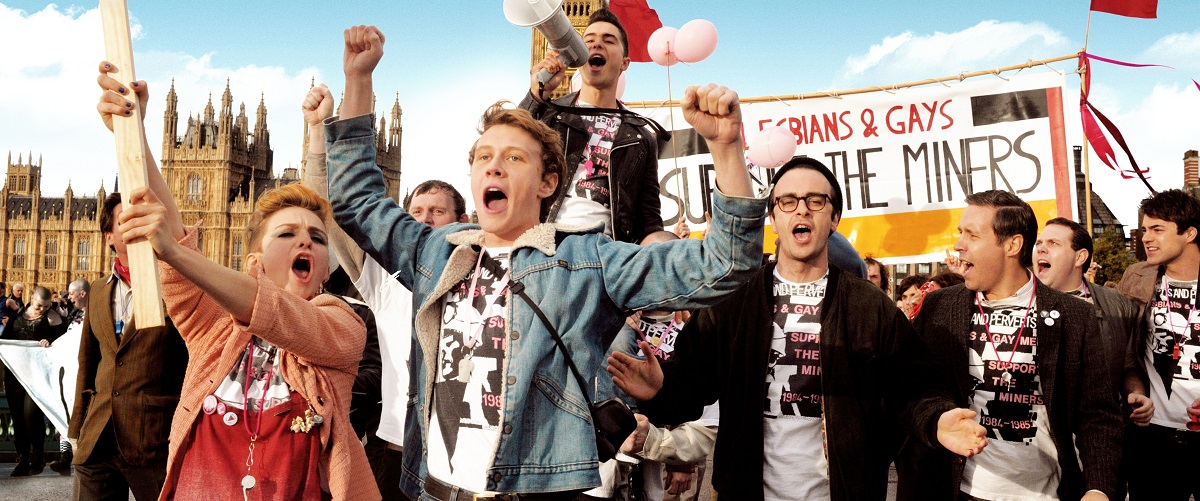 This movie really captures the political and activism aspects of Gay Pride, focusing on the group Lesbians and Gays Support the Miners, which advocated for a Welsh mining community. Collective action! Protesting! Being loud and proud and fighting the system! This is what Pride's all about.
---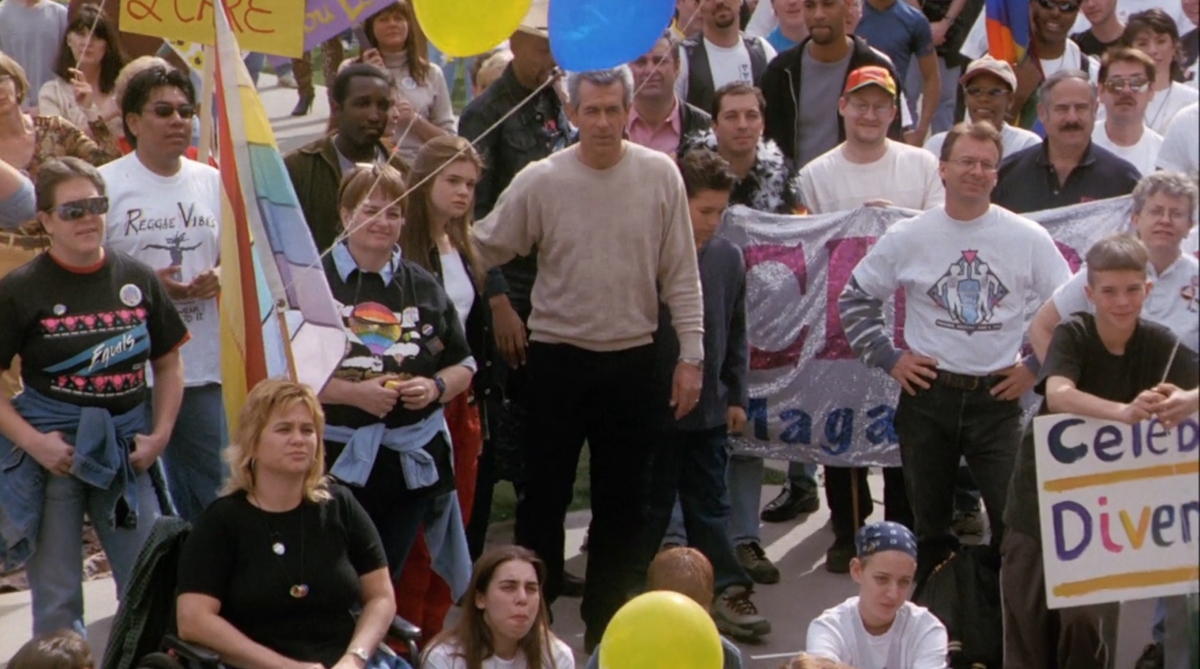 Ah, yes, the time Stockard Channing plays mother to a teen lesbian coming out the closet and does not take it well but then eventually goes to a Pride parade as she learns to accept her gay daughter! I wish this very 2000 movie hadn't made me cry when I watched it the first time, but ALAS!!!!!! We get to see the parade from young Jane's POV, and it got me. She's taking it all in — the signs, the shirts, the smiling and cheering queers living out and proud. The movie is free to stream online.
---
BPM (2017)
Set in 1990s France, the French movie BPM follows ACT UP Paris activists. There's a lot to love about this movie, and I in particular am drawn to the tension within the group about how to best show up for Pride. Some members want to take a more serious approach to mourn lives lost, but some of our central characters want to take a more joyful and cheerful approach to celebrating queer lives. I think this tension and plurality ties very well into the theme of Autostraddle's Pride package this year, which will be revealed soon 👀
---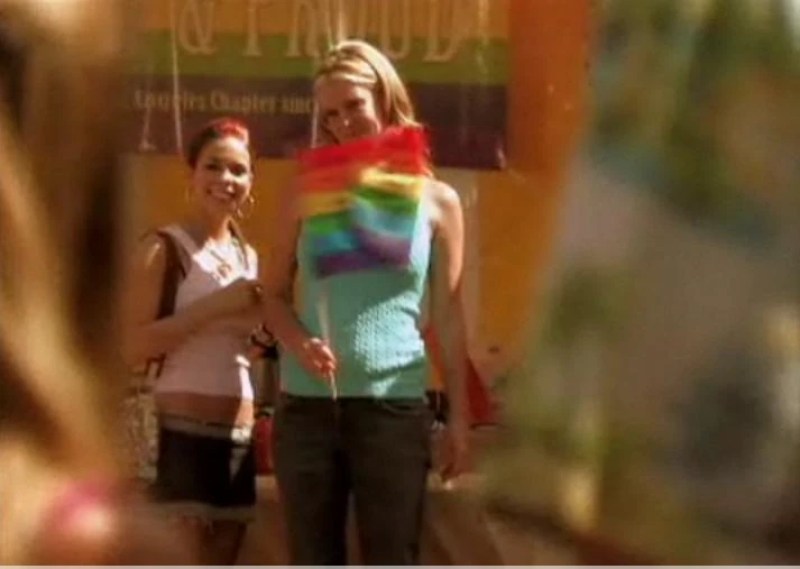 The third season of South of Nowhere indeed featured an episode literally called "Gay Pride," which saw the return of the show's popular ship "Spashley." Just typing "Spashley" awakened something dormant in me.
---
The Pride episode of Queer as Folk aired in 2002 and is centered on the characters attending Pittsburgh's Gay Pride parade. It has it all! Pride ex drama! Baby gay first Pride fears! Dykes on bikes!
---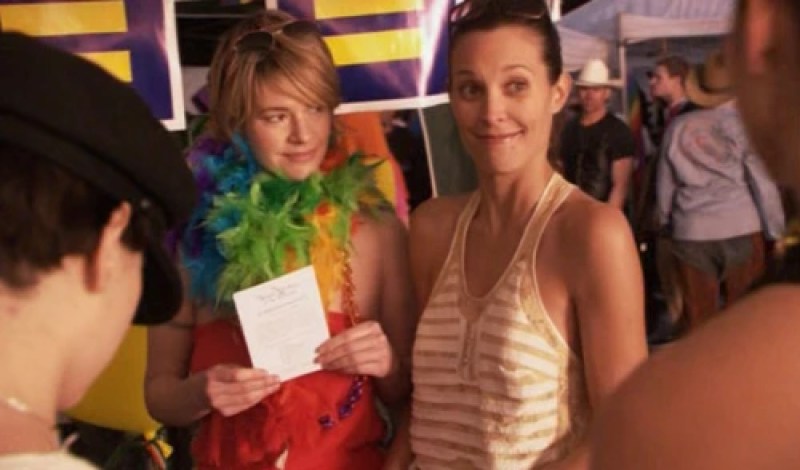 Given the subject matter and scope, it's a little surprising we don't have like…75 episodes of The L Word to choose from when it comes to on-screen depictions of Pride. Instead, we pretty much just have season two, episode 11, "Loud & Proud." We head to West Hollywood Pride in the episode, and I'd say that the most Pride thing about this episode are the outfits that make you experience a full spectrum of reactions. Alice at one point is in a red terrycloth romper and a rainbow boa, and it all makes you go "huh" but also "could be cute?" What is Pride if not perplexing fashion-wise!
---
In Harlem's second season, Tye takes Quinn to her first Pride after coming out — she comes dressed wig-to-toe in a homemade outfit! —  and the comedy of errors of one of the longest days on the queer calendar is not quite what Quinn expected. Meanwhile, Tye ends up on a journey of self-discovery, confronts her past, and grapples with what her legacy means as a queer small business owner in service of her community. It's joy-filled but also nuanced look at the range of feelings queer people have about Pride, and is also one of the only depictions of Black community celebrations of Pride on television.
---

Like Harlem, Lena Waithe's Boomerang stands out by focusing its depiction of Pride on voice and celebrations that are often otherwise left at the margins — this time on Atlanta's annual Black Pride festival. This is what Carmen had to say when the episode first aired in 2019:
"Most striking is that we not only see Tia and Ari comfortable in their own Black queer skin, but that the director chooses to highlight – via portrait style close ups – a variety of festival goers. Black trans women and men, Black studs and butches, Black femmes of all genders, Black drag performers, Black masc gay men – the whole family is accounted for. And we're happy, we're smiling, we're…. Proud. There is not a single second in the episodes 22 minute run time where Black queer folks are asked to check any part of ourselves at the door. It's unforgettable and, quite frankly, revolutionary."
---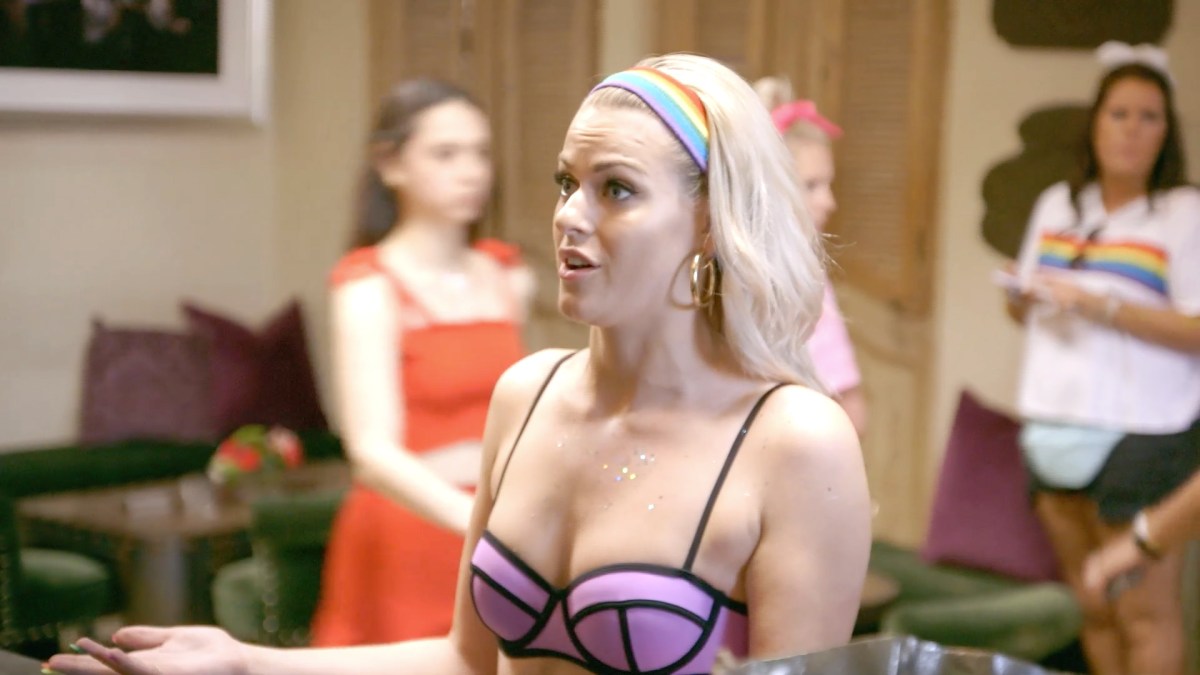 While I won't include every single Bravo Pride moment (because a lot of them center straight women!), this Vanderpump Rules episode from season eight is important, because it was the first Pride episode of VPR that main cast member Ariana Madix was out as bisexual for. In fact, I wrote about it when it first aired. Newer (and short-lived) cast member Dayna (pictured above) also came out as bisexual at Pride that year. Now is when I must confess that my fiancé Kristen and I have a deranged annual Pride tradition — that we do on the morning of Orlando Pride, which doesn't happen until October — of watching all the Pride episodes of Vanderpump Rules. Yes, Pride episodes are an annual tradition for this show (though they've sadly stopped doing them recently), and yes they often focus way more on the straight cast members' drama than the actual queer ones, but they still just really capture the vibe of Pride.
---
Real Housewives of Atlanta, "The Float Goes On"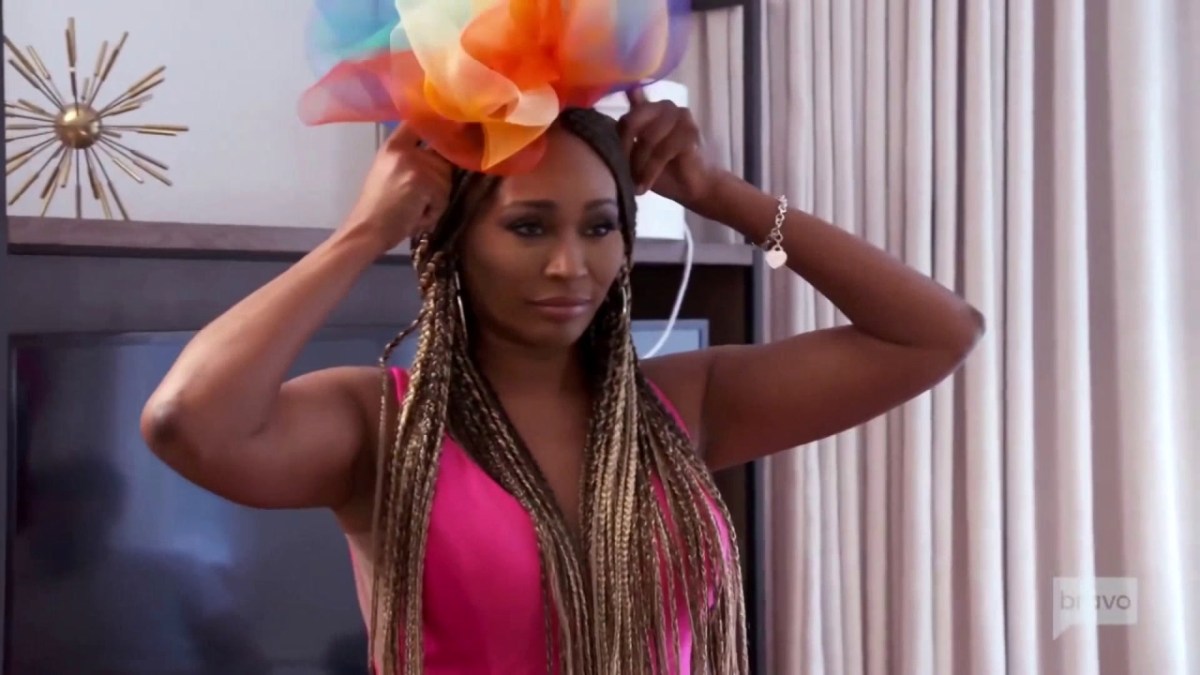 My favorite thing about this episode is that it airs one episode after Cynthia Bailey's daughter Noelle opens up about being sexually fluid to her mom in a really sweet scene. Then just one episode later, we get to see them going to New York for World Pride together! There are some classic Housewives shenanigans that go down on the float unfortunately, but I like that it's also a touching mother daughter moment between Cynthia and Noelle!
---
Southern Hospitality, "Pride and Peanut Butter"
This is one of my favorite Pride episodes on Bravo, because it's the one that manages to center LGBTQ+ cast members the most. There are still some straight shenanigans (I won't even explain what the "peanut butter" in the title means, but you can Google it"), but for the most part, this episode really is about Mikel and TJ, the show's queer main cast members — who also are kind of frenemies but still come together in this episode to throw a killer Pride party. Mikel's coming out journey is documented across the season as he reckons with his religious upbringing and familial relationships. TJ opens up in the episode about how he never really formally came out to his parents. It's a really moving depiction of a range of queer experiences in the South, and the whole time I was watching it, I was mumbling "Vanderpump Rules could never."
---
Sense8, "Isolated Above, Connected Below"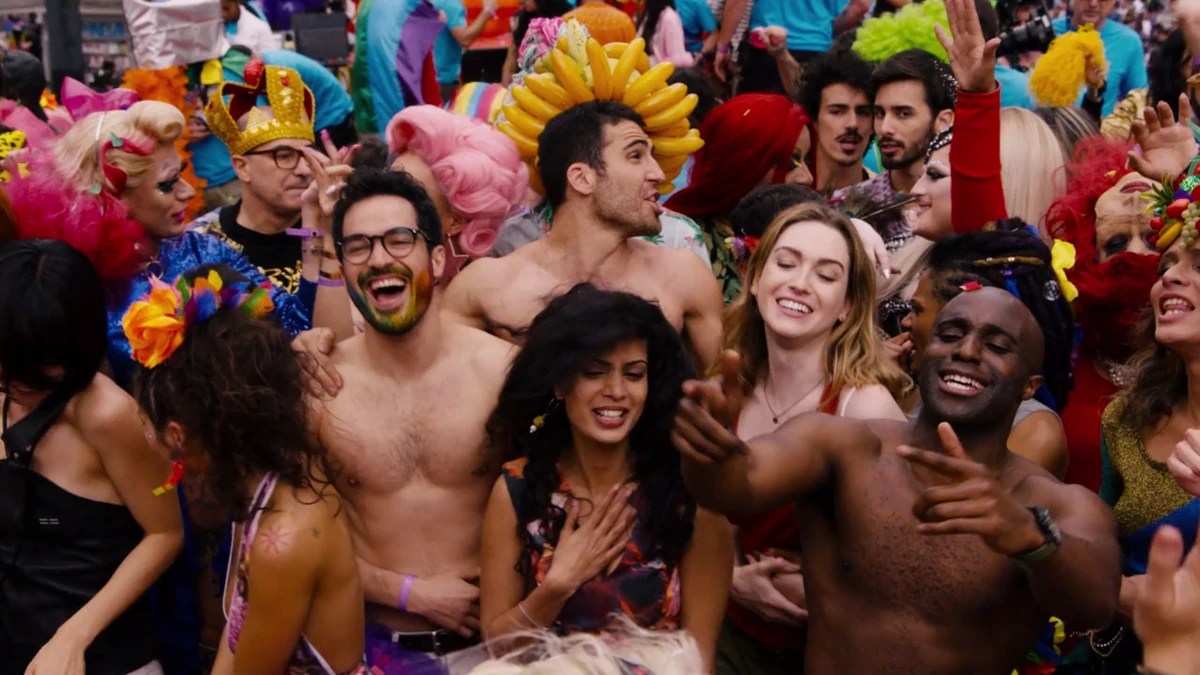 The sixth episode of Sense8's second season features the previously closeted Lito making the boldest public declaration of his own queerness by participating in São Paulo's Pride parade. The scene was filmed at São Paolo's actual Pride celebrations!!!!! It has all the hallmarks of a big, spectacular Sense8 set piece while also being…real! It's such a celebratory and fun scene that it would easily be one of my favorite on-screen Pride moments of all time if it weren't for the fact that Sense8 had already topped it a season before, which brings us to…
---
Sense8, "Limbic Resonance"
I have saved the best for last. This is easily my favorite Pride scene of all time as well as the moment I first fell in love with Sense8. It happens in the first few minutes of the show's pilot. Amanita fucks Nomi with a rainbow strap-on, takes it off, and wishes her gorgeous girlfriend a happy Pride. It's a lovely, hot, wet scene of intimate and joyful queer and trans sex. Happy Pride indeed!!!!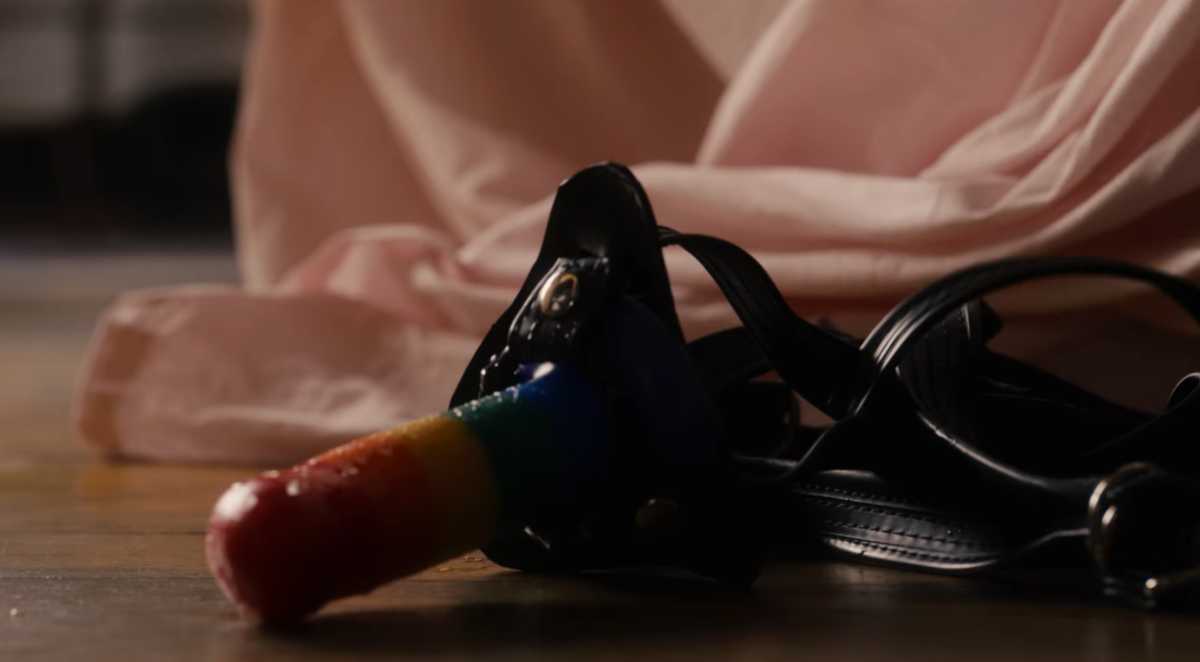 Later, we see Nomi and Amanita out and about celebrating Pride, and they reflect on their first Pride together. It's really sweet and sweetly real! This is why I'm surprised Pride doesn't crop up in film and television more often! Sure, there are plenty of individuals and couples who don't make a point to attend designated Pride events on the regular, but it's a big part of a lot of queer people's lives! Even just complaining about [corporate] Pride is a big part of being queer! Nomi and Amanita always felt like a strikingly realistic lesbian couple to me, and the fact that we meet them on Pride and they reflect on their first Pride together actually heightens that!