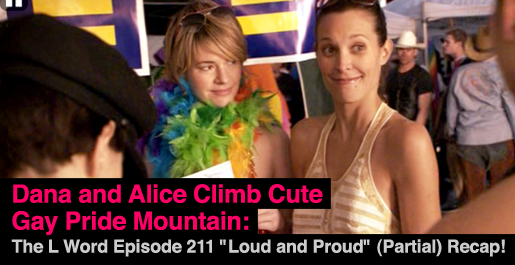 In honor of New York City Pride Week, our kickass First Annual Rodeo Disco Pride Party & our amazing Pride raffle (enter here, and read Laneia's piece about women in small business here), we were putting together a Top Ten Gay Pride Moments from all Television & Film Ever … but it was taking too long and I began expounding upon the only element of said list I'd already started writing and ta-da bada-bang one thing lead to another and here we have ourselves a RECAP of (a little bit of) Episode 211 of The L Word, "Loud and Proud." I'm aiming to do this in 5% of the time it takes to write an actual recap. Come out this weekend and get drunk to further the "Recapping Seasons One & Two" Cause. Also, any ideas for that top ten list? We'll run it next week.
Before I get in too deep, I was told by Co-Event Master Stef (Stef & Carly are the ones making Rodeo Disco happen, obviously I'm better at throwing parties for Sims) to push it [the Party], push it good. This is what that means: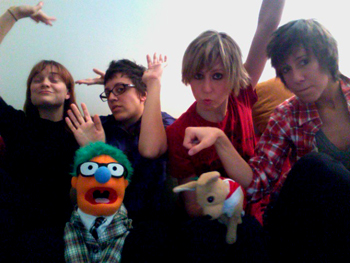 Alright so! Consider this recap the "White Castle" version … and this is the part of the White Castle experience where you're sitting in your car, wondering when exactly you'll be getting that little tiny cheeseburger you ordered.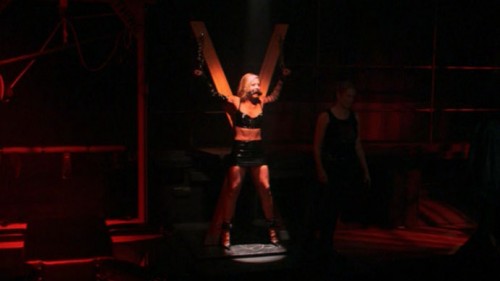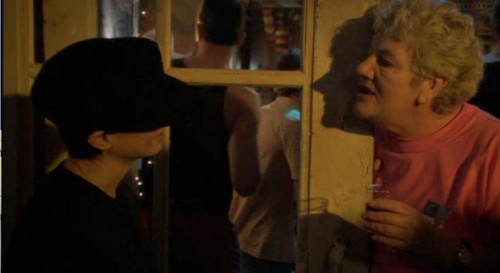 If you forget the whole child-rape-flashback thing, the Papa Porter dying thing, the Helena-wasting-time-Tina-could-be-with-Bette thing, the paper-dolls/Baruch Atah LaLa Hoolehay Heeyhoooo thing, the Marc pantsing himself thing (when he really should just write "fuck me" on his chest) (Confession: I actually thought that Jenny/Marc fight scene was brilliant, applauded when Jenny yelled, "Yeah! You stupid fucking coward! Then you'll know what it feels like to be a woman!") and the Jenny/Random Elder thing, Loud and Proud is one of the series' best episodes. It's about gay pride in West Hollywood. How topical.
Let me rephrase this: if The L Word was The Dana & Alice Show guest-starring Shane & Carmen, Loud and Proud would be one of THAT show's best episodes. So that's what I'm gonna recap.

We start off in the grassy meadows of cuteness, where Alice & Dana's romantic role-playing game (Dana is Steve Urkel, Alice is The Saucy Maid/Laetitia from The Old Maid and the Thief, a role once played by Haviland Stillwell on a video she showed me back in the heydey of our love affair) is interrupted by a surprise visitor — who could it be? Oh, it's Howie! Howie Fairbanks!
Alice isn't happy to see ol How-How, especially after he remarks that Mama & Papa Fairbanks can't stop talking about how Dana let Tanya go for that loser Alice. Clearly he's never seen the music video for Common Reaction.
Alice informs Howie that she and Dana are "out and proud" and will be participating in activities for other out & proud people, which means that he and Clay Aiken are not invited. (This was in 2005.)
I'm already getting a tear in my eye thinking about the incredible comedic chemistry between Erin Daniels & Leisha Hailey which unfortunately died along with Dana Fairbanks. I'm really gonna lose it when Shane tells Carmen she never had a hamster.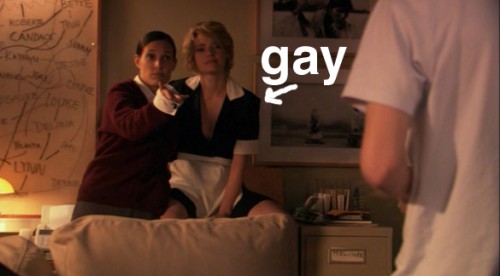 "Gay pride, Howie, is for gay people," Dana and Alice explain. (It doesn't really matter who says what exactly, as they are both so cute and in sync they may as well start a band and call it The Jonas Brothers or "Sister Sister.") They demonstrate this homosexuality by pointing at themselves as "gay" and Howie as "not gay."
He says "alright," which means that he's gay, but probs confused about when exactly his sister registered at Hogwarts.

Durr durr durrrrrr durrr durrrr!!

Later that evening the happy trio is getting ready for bed and our unity is suddenly clear as crystal: whether we're black or white (RIP MJ) or gay or straight, we're all the same underneath it all, because we all have nipples!

Dana makes amazing faces. This one means "maybe they'll let you ride on the float with me!"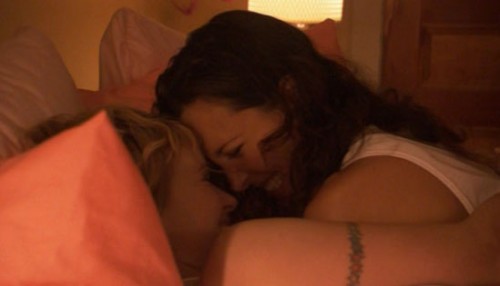 Despite how cutey-cute-cute they are together, Dana once again gives Alice stone cold silence in response to Alice's "I love you." Is this the part of the show when y'all started thinking this relationship was gonna break like Shay's arm in the schoolyard and I started thinking "I want more raisins in my rice pudding"? Probs.
Instead of "I love you," Dana says, "I'm gonna set the alarm," which isn't what you're supposed to do to people you love. For example, every morning when A;ex's iPhone sings (every seven minutes, ten times in a row) "I'm on a mission, and it involves some heavy touching yeah," I do not feel that she loves me, and I suspect she feels similarly about me when my fire alarm-esque alarm starts in on its morning rounds. This is especially fun now that we're both unemployed starting a business.
Pages: 1 2 3 4 See entire article on one page