We have a new feature coming later this afternoon. In the meantime; lick your computer screen 'cause Kim Stolz is on it! Lick your teevee set, 'cause Carly did! OMG time is running out if you wanna buy a ticket online to the party and get two free raffle tickets or you can just donate $5 and get a raffle ticket! Are you coming to the party? The dykes on bicycles are!


R.I.P 37-year-old Belgian lesbian celebrity  Yasmine (real name Hilde Rens) has committed suicide. In addition to her well-known music and TV career in Belgium, Yasmine was known for her 2003 marriage to Marianna Dupon, the first high-profile celebrity wedding in Belgium after same-sex marriage was legalized there. The couple separated in April.
+

R.I.P Firstly, no-one's totally at ease with that thing we do now — that thing where the internet collectively hyperactively memorializes someone so quickly that the media becomes a kind of grief/shrine superlative festival which ultimately diminishes the reality & personal nature of death itself (as well as diminishing the importance of more large-scale tragedies also happening right now) Perhaps you also feel, as many of us do, that we've been mourning Michael Jackson for quite some time now. This is well-said here.
But it's also cool that when someone dies, we're permitted, briefly, as humans, to express pure, earnest appreciation of the good stuff they did while alive. ("Good stuff" is clearly an understatement in this case.) While a performer is still performing and a person is still living, we aren't able to look at what they've done. We can only look at what they're doing. We admire or we criticize or we follow or we defiantly dislike. We have opinions, which obvs seem relevant (rather than pointless and cruel) 'cause a life-in-progress is a life open for "constructive" criticism or praise.
Today is that one day in a person's lifecycle where discussion of greatness is encouraged. Here's one of five bajillion examples of why pop music can sometimes save your mortal soul and why Michael Jackson is an unsurpassed iconic superstar, legendary King of Pop and the most important & influential & successful singer/dancer/performer ever :
I'm Starting with the Man in the Mirror:
Sidenote; the first time I saw Black or White my head totally exploded!! That morphing shit? om-effin-GEE!
THE RIPPLE EFFECT:
+ Dorothy Snarker talks about her Weekend Crush. (@dorothy surrenders)

+ Ana Marie Cox, journalist/confuser of gaydars, takes some heat for expressing her feelings via Twitter. (@gawker)


WOMYN: All-Female Networking: The women I know in networking clubs are eager for inclusion, not exclusion. They are striving for diverse circles, not ones made of people who look/act/think like they do. (@npr)
Our
TAMPONS: Zach Wakes Up With a Vagina: Is there is a trans friendly message to be found buried here? (@feministing)
GAY BOOKS: Border's Books celebrates gay-themed novels for young adults in honor of pride. This being a male-only field, apparently, none of our faves were present. But still, awesome. (@mediabistro)
ALSO:Our National Attention Span Reaching Crisis-Level Brevity
STONEWALL: How Should Stonewall Be Commemorated?: "The campaign's website encapsulates Stonewall in a nostalgic distant light; a movement of the past now best found in a culture of style, restaurants and hot new clubs that are profiled in the ad campaign. Further denying the violence of that fateful night in June, the Rainbow Pilgrimage describes the West Village as having a "population [that] has matured and neighborhood scene [that] has quieted along with it." (@queers for economic justice)
RIP: Farrah Fawcett Dies: [Intern Hot Laura: I'm not really sure what i think about this article, espesh: "The "Angelswp_postswere the perfect transitional feminists—pretty girls who didn't take themselves too seriously but who together could still handle the bad guys."] (@la times)
WOMYN-ON-WOMYN CRIME: Apparently, Being Friends With Other Women is Really Really Hard : "Friendships can be hard, but are they really so hard that we need names for different bad ones? Doesn't this just perpetuate a sad stereotype of women as catty bitches who undermine each other?" (@jezebel)
NPR: Talk of the Nation has been pretty gay lately. In the past week, they've had Why is it OK to Say "That's So Gay"?, Documentation of Same-Sex Behavior in Animals, and Coming Out Stories.
SEX: I Did it for Science: To determine whether it is possible (and if possible, advisable) to have a discreet orgasm in public, using remote-controlled, vibrating underwear. (@nerve)

↑ Congresswoman Baldwin Introduces a Health Care Bill for LGBT Americans: "If passed, the bill would establish nondiscrimination policies for all federal health programs. It would also fund training for health care providers, extend Medicare benefits to domestic partners, create an office of LGBT Health within the Department of Health and Human Services, and fund local health centers that specialize in LGBT services.wp_posts(@go magazine)
↑ "A substantial majority of gays cite their faith as a central facet of their life, consider themselves to be Christian, and claim to have some type of meaningful personal commitment to Jesus Christ active in their life today." (@queerty)
LEZNOT: Like certain Internet personas, bitter author and Salon scribe Camille Paglia is not someone you necessarily want as a figurehead of the gay community. (@queerty)
↑ Delware Passes an Anti-Discrimination Law: ""It protects the most basic activities of human life—moving about the world, earning a living, keeping a roof over your head,wp_postsFennell said. "Now the state has said you can't be discriminated against because of sexual orientation."wp_posts(@delaware online)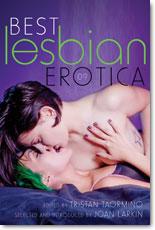 Cleis Press is a queer publishing company started in 1980 by Felice Newman and Frédérique Delacoste in San Fransisco, CA. By publishing books like Fight Back: Feminist Resistance to Male Violence (1981) and Voices in the Night (1982), Cleis earned a reputation for being edgy and provocative — one that still applies today. With a vast collection of books spanning topics from BDSM to Human Rights, as well as several fiction titles Cleis Press really does have a little something for all of us. In the words of Felice Newman, "We are a press that publishes books for smart readers: lesbians and bisexuals and gays and queer people and transgendered people and heterosexuals."
Enter the Autostraddle Pride Raffle to win Two Lesbian Literary Double-Packs – each pack contains (2) of Cleis's hottest lesbian releases!


Auto-Straddler of the Day
In honor of our new bffs, the dykes on bicycles, we present …

from Robin: In today's digital world, whether you are a professional or an amateur photographer, the key to great photos is both your skill behind the camera and behind your computer screen! For some of my favorite actions, go to Totally Rad!. Doug Boutwell is the genius behind Totally Rad! Check out his fun blog!
+

Intern Hot Laura: Learning to Love You More is nothing new, but if you like arts and crafts, nostalgia, the future, Miranda July, being with people, being along, or if you're just bored and you've never stumbled across it before, it's absolutely worth checking out.