For some time now, most of America has thought of Democrats as being "the party that likes gay people" and Republicans as "the party that doesn't." Although there are definitely some shades of gray there, this is not a baseless statement. Some new statistics, however, indicate that the political landscape around gay issues may be shifting radically – Democrats may be becoming the party that supports gay people, while Republicans belong to the party that has just decided to let it go.
National Journal has published a Political Insiders Poll on the issue of gay marriage – an insider's poll being a survey of "political operatives, strategists, campaign consultants and lobbyists in both parties," whose quotes are kept anonymous. Keep in mind that it doesn't represent voters – but it does represent people who influence policy and campaign decisions for major politicians. And the numbers are pretty striking.
In 2009, only 59% of these Democrat insiders felt that their party should support gay marriage; in 2011, the same sentiment was expressed by a full 84% of them. Of course, it would be even nicer if that number was 100%, but as Pam's House Blend points out, that number is in practical terms probably the most consensus you can ever expect to see around any given topic.
Some of the National Journal's anonymous sources explained that "Many Democrats believe that gay marriage is not only "the right thing to do," but that it is also no longer a wedge issue that cripples the party. "The country is moving quickly toward acceptance of gay marriage," observed one Democratic Insider. "There is no need to hang back and expect civil unions to provide cover." That's great news, and will hopefully mean more action on the whole range of issues that are important to the gay community.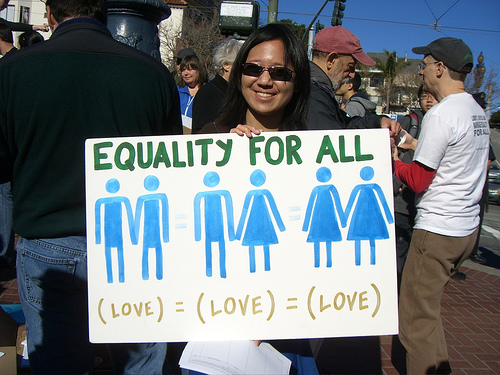 But perhaps even more important is the fact that while in 2009 50% of Republicans polled felt their party should oppose marriage equality instead of supporting or avoiding it, in 2011 56% percent of Republican insiders felt their party should just drop the issue of gay marriage altogether. Specifically, one said that "We haven't come to a consensus on this issue but the country is changing so rapidly that it will a non issue in a few years. A confrontation now would just delay the inevitable."  This is, for all intents and purposes, a win. In Hollywood, this battle would end with the "bad guy" Republican party being forced to recognize all the harm their actions have caused and watch while it all crumbles around them in horror; in the real world, though, victory looks like this. It looks like the other side realizing that this fight just isn't worth it anymore. Right now, several of the Republican presidential candidates actually have "preserving the traditional American family" as a main pont of their campaign platforms. But if these campaign strategists and lobbyists are correct about the political climate in their party (and if they aren't, who is?) then that may become a thing of the past. The Republican party having an official policy of not engaging with gay marriage would mean, for instance, that future John Boehners wouldn't try to hijack Congress's time or money to defend an anti-gay marriage amendment that another branch of the same government has declared unconstitutional.  Which would be pretty helpful in terms of the long-term plan of repealing things like anti-gay marriage amendments.
It also speaks to a kind of personal sense of victory – this means really hopeful things for our future legislatively, but also means that as activists and as people, we're doing things right. It's a slight overgeneralization, but we've made America into a place where opposing our families is effectively pointless. One GOP source was quoted as saying his party should support gay marriage because it's a "[huge] issue with young voters we need… Only idiots fight demography." As has been said before, the youngest generation of voters have views that are radically different from their predecessors; if voters under 30 were the only ones who went to the polls, same-sex marriage in America would be a done deal. That's not exactly the same as saying that they reflect exactly what the voting landscape will look like in thirty years, but it's close. And we did that, by making sure that our lives and our families are something no one can ignore; the "demography" in question here grew up in an America where gay families were an indisputable, if controversial fact, and now they're forcing Republicans to acknowledge it as well.
Of course, these numbers only represent the issue of marriage equality specifically. It's definitely the issue affecting gay Americans that gets the most exposure in the media and political sphere, but it's not necessarily the most important issue to our day-to-day lives. What would be even better is if policy and thought leaders from both parties indicated that they're interested in supporting health initiatives for queer communities, working on the problem of queer and trans homelessness, providing a comprehensive education including gay figures in history,  or committing to ending the outrageously high rates of suicide attempts and mental health problems for queer and trans teens. Statements on those issues may be a longer time coming, but it's not unreasonable to hope that Americans and their representatives will connect with the emotionally relatable issue of marriage and through it come to care about all the things that affect our families and our lives and keep us in the experience of being secondhand citizens.