Last week in a profile on The Cut, bisexual actor and musician Reneé Rapp (of Mean Girls on Broadway and Sex Lives of College Girls fame) said a lot of interesting things. One of the things she said was that when it comes to dating, "I'm in a very brunette era. Anybody with, like, brown curly hair is like kryptonite to me. I'm such a slut for somebody with an artistic vision and a strong opinion.wp_postsAfter also telling The Cut she was currently "in a queer relationship" with a curly-haired brunette, she essentially confirmed yesterday on TIkTok that the queer relationship she's currently in consists of herself and social media personality Alissa Carrington aka Alissa Butt, as many followers had suspected for what appears to be "quite some time."
In the TikTok, the two are cozy in bed, Reneé leaning in towards Alissa, lip syncing to a sound that squeaks, "having said all that, do you still wanna be with me, 'cause I still wanna be with you, maybe like, forever." A commenter who declared it THE HARDEST CONFIRM IVE EVER SEEN earned 18.3k likes, and subsequent comments saluted this perceived hard launch and confirmation of the relationship.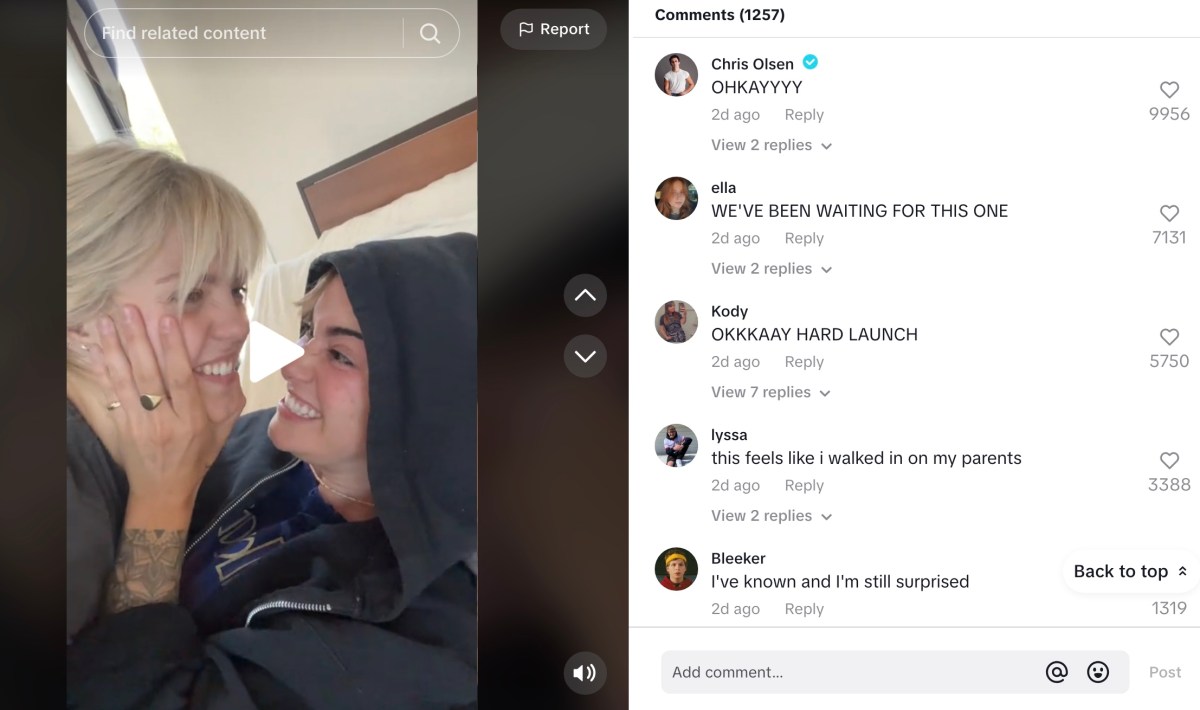 Rapp has also made the news recently for announcing her eventual departure from Sex Lives of College Girls, where she played the lesbian character Leighton, to focus on her music career. Her first EP, Everything to Everyone, released in November 2022, and her debut studio album, Snow Angel, is set for release in August 2023. She's also starring in Mean Girls: The Musical, which will be released on Paramount+.
Who is Alissa Carrington?
If you, like me until a few hours ago, would not recognize this name in a box of names, you've come to the right place! Alissa Carrington's general vibe is that they look great — in tank tops and backwards hats and sports bras, running through scenic desert vistas, eating salads from recyclable bowls, going to the beach etc. They are a model and they do brand deals and content creation for TikTok (417.6k followers) and instagram (279k followers). But their initial entry into this universe of glamour and pressure was seemingly through a YouTube account they shared with their ex.
So, let's rewind for a minute. In the summer of 2022, Lesbian TikTok was going absolutely apeshit over a string of high-profile breakups. Amongst them was the breakup of Avery Cyrus and Soph Mosca, which was followed by Former Hairbow Enthusiast JoJo Siwa dating Avery Cyrus. This was also the time period in which Fletcher released that song about her ex's girlfriend, Becky, and everybody was at the same Fletcher concert. Also amongst these breakups was that of Alissa Carrington and Samantha Miani, who announced their split on YouTube and then closed the channel forever, with Samantha opting to take some time away from internet content creation while Alissa continued pondering their role in it. Also around this same time, Avery's ex-girlfriend, Soph Mosca, began spending a lot of time with Alissa Carrington. It was rumored that they were dating but I don't remember how that turned out but I feel like maybe they were just friends, and ultimately, the universe is vast and mysterious.
Reneé Rapp and Alissa Carrington's Relationship
The two have appeared in each others TikToks since late last year, and posted photos suggestive enough to inspire some to declare a "hard launch" occurring as early as January of 2023. As you can see in this January 2023 photo, they got matching manis!
In February, Renee appeared on the "Call her Daddy" podcast and when asked if she was single, said she's seeing someone who makes her happy, elaborating, "I feel very appreciated. I don't feel like I've been made to feel small or like I need to make myself smaller to make them feel comfortable." At another moment in the podcast, it was said that Renee's partner was "in the room."
The pair attended an event titled as "Interscope x Flipper's Roller Boogie Palace Celebrates Dr. Dre's "The Chronic" in February. At some point Seventeen Magazine went ahead and included the duo on their list of 2023's Cutest Celebrity Couples.
Over the past several months they've continued appearing in each other's TikToks in situations that are clearly relationship-related, like wearing matching ski jackets to go skiing and being in the same city at the same time. Furthermore, they definitely have been sharing a sweater. Although breakup rumors have swirled in the past, at this moment they appear to be happy as clams.
Today's post has definitely reassured all interested parties that this is a thing, and also informed people like me that this is a thing and has been a thing for some time.
Ultimately, I think we can all agree on one thing which is that love is love!
---
Feature image from a photograph by Stefanie Keenan/Getty Images for ELLE