It's almost Election Day! I've been up to my ears in election mania because of my entire life, but you don't have to be in the trenches of activism to make a difference and be heard at the polls. And if you're thinking of not voting, you might wanna think again. Someone — many someones — worked damn hard for you to have that ballot, y'know. Here's some stories from way back when that will make you grateful all you have to do is (maybe) stand in line to get your vote on.
---
1872: Susan "Big House" Anthony Was Taken Into Custody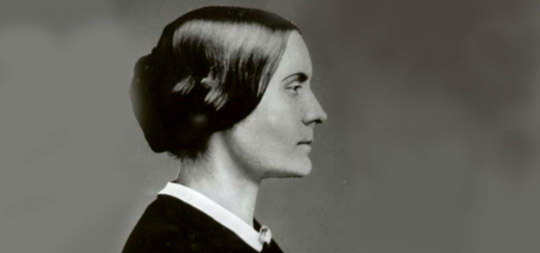 Susan B. Anthony spent over half a century fighting for the right to vote, but she died 14 years before the 19th Amendment that would have granted (white) women like her the ability to stand at the ballot box was passed, which Alanis Morrisette probably finds very ironic. But that doesn't mean she never voted.
Anthony barged into (okay, probably politely entered) a voter registration office in Rochester on November 1, 1872, and demanded her and three friends be allowed to register as voters under the 14th Amendment. After some debate, they were allowed to register, and on November 5 Anthony and several other women cast ballots. On November 14, however, a poll watcher filed a complaint against Anthony – four days later, she was arrested by a state deputy marshal. Anthony was found guilty the next summer of having "illegally voted" in the General Election. She was sentenced to pay a large fine, though the Judge could hardly spell out her sentence while Anthony persistently spoke out about her case, often interrupting him. She closed with a punch:
May it please your honor, I shall never pay a dollar of your unjust penalty. All the stock in trade I possess is a $10,000 debt, incurred by publishing my paper – "The Revolutionwp_posts– four years ago, the sole object of which was to educate all women to do precisely what I have done, rebel against your man made, unjust, unconstitutional forms of law, that tax, fine, imprison and hang women, while they deny them the right of representation in government; and I shall work on with might and main to pay every dollar of that honest debt, but not a penny shall go to this unjust claim. And I shall earnestly and persistently continue to urge all women to the practical recognition of the old revolutionary maxim, that 'Resistance to tyranny is obedience to God.'
---
Until 1898: Mary Ann Muller Went Underground (Not Literally)
New Zealand was the first self-governing nation to grant women suffrage, and they did so in 1893. The push for the woman's vote often traces back to a document entitled An appeal to the men of New Zealand, which was the first-ever suffrage pamphlet distributed in the region. Credited to "Femmima," it was actually authored by Mary Ann Muller, who lived and fought under that pseudonym until 1898 – when her husband passed away – in order to protect her family's reputation.
---
1913: Emily Davison Made Quite a Scene at the Derby
Emily Davison, militant suffragette and member of Women's Social and Political Union, a UK-based group fighting for the woman's vote with extreme tactics, had very grand plans for the 1913 Epsom Derby, in which King George V's horse was running. Unfortunately, they went horribly.
Davison intended to secure a suffragette flag to the bridle of Anmar, the King's horse, but it involved some tricky manuevering – namely, it involved Davison throwing herself close to a galloping horse. She emerged from the crowd on the track as Anmer approached, but fumbled with the flag. Anmer trampled her, leaving himself fallen and Davison – as well as Anmer's jockey – unconscious. She never regained consciousness and died five days later of sustained injuries, becoming a martyr for her movement.
---
1913: Ida B. Wells Defied Suffrage Segregation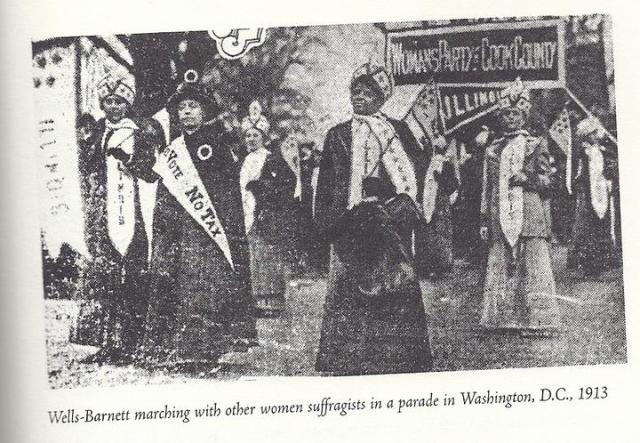 Ida B. Wells was a journalist and an ardent social justice warrior who organized the Alpha Suffrage Club in Chicago's contigent to the suffrage parade happening in Washington, DC in 1913. The club members, who comprised the first black woman suffrage organization in the nation, were asked to walk at the end of the parade by its white organizers. When Wells fought back, the at-large Illinois delegation refused to support her opposition to the policy. Thus, each member made a choice: walk in the back, don't walk at all, or be Ida B. F*cking Wells.
Wells had declined the opportunity to march, but attended the event nonetheless. And as the white Illinois delegation passed her in the crowd, she emerged to join them. Refusing to suffer from the widespread racism and segregation of the movement for woman's votes, Wells marched between two white women.
---
1917: Suffragists Starved in Total Resistance
The National Woman's Party took no prisoners in their militant quest for suffrage. But they were taken prisoner themselves in 1917, when they were arrested for picketing the White House and served time at Occoquan Workhouse. Lucy Burns and Dora Lewis led their fellow prisoners in a hunger strike as an act of "total resistance" after the suffragists endured what was called the "Night of Terror," in which they were brutally beaten and abused by their guards. The strike persisted so long that the prisoners began being subjected to force feeding and raised national attention for their plight by penning letters and accounts to the outside members of the NWP. Alice Paul remained fiery as ever, speaking out and being among the first transferred out to keep things calm.
A judge eventually ruled that the women who served time at Occoquan were sent there illegally, and they were transferred out to district jail afterward. The hunger strike persisted there, culminating in the best scene in Iron-Jawed Angels and, really, in suffrage, duh.
---
1918: Suffragists Occupied the Senate (Or At Least Tried)
When the Senate rejected the Susan B. Anthony Amendment in 1918, there was hell to pay – and Alice Paul made sure of it. According to a statement:
Monday noon, upon the convening of the United States Senate, a group of women will form upon the plaza in front of the Capitol and, with no banner other than the American flag at their head and the tricolor of women's freedom, will march up the Senate steps through the foyer and on to the floor of the Senate.

They will carry in their hands the speeches on democracy, which have been made by the thirty-four men who voted against democracy for women. In the flame of a torch carried just behind the flag these speeches will be burned. Drawing up their line in front of the presiding officer's desk, each woman, representing a different group of women, will voice her protest against the injustice done in the cause of liberty by the men who defied Wilson's appeal for the war measure of woman suffrage. One will be a woman voter from the West, another a working woman representing the millions of women now in industry; others will be young girls representing the women of the future.
Suffragists planned to occupy the Capitol, and showed up with bells on. Unfortunately, so did the Capitol police. They were arrested and held in the chambers.
---
Rebel Girls is a column about women's studies, the feminist movement, and the historical intersections of both of them. It's kind of like taking a class, but better – because you don't have to wear pants. To contact your professor privately, email carmen at autostraddle dot com. Ask questions about the lesson in the comments!