Hello and welcome to the fifth recap of the third season of The Real L Word, a half-hour family sitcom about a teenage witch who, on her 16th birthday, learns that she has magical powers. Along with her 500-year-old European witch-aunts and her sardonic talking cat, Salem, Sabrina works to master the ancient arts of witchery while keeping her identity a secret and tackling teenage issues like learning how to drive, picking a college, earning your witch's license and opening a jar of spaghetti sauce.
This week on The Real L Word, we all journeyed to the world famous Dinah Shore Weekend in Palm Springs, California, which's basically a Star Trek Convention but with lesbians.
Sometimes after writing a recap, I'm like, "this shit is fucking hilarious," but throughout the entire process of writing this recap, I've felt like this shit is not remotely funny, I hope next week is more inspiring. I'm sorry I hope you still LOL at least once.  Here's the thing: nothing's happening, so everybody's plotline is just people talking shit about other people. When I read over what I've written, I feel like I sound just as petty and bitchy as the show itself. It's fun to make fun of people acting crazy or weird, but it's difficult to make fun of people acting bitchy. Does that make sense? THIS IS HARD.
Oh also, to all the people who keep asking why I recap something if I hate it, the answer is that it makes people laugh and feel happy, and I feel like the natural human instinct when you're told something you do makes people happy, is to do it. Right? If you're able to. I think that's what we're all here to do. Also, it's the traffic, stupid! It can be a pure motive. We do some things so that we can do some other things. Seriously I've recapped four seasons of The L Word, two seasons of Glee and three seasons of The Real L Word and one episode of Two and a Half Men — if I had a dollar for every time somebody asked me why I recap a show I hate, I could gather enough dollars to smash together a big dollar ball of dollars, and throw it at your head! I've also recapped good shows, like Pretty Little Liars and Skins, that's a whole different ballgame. Anyhow enough about me, there are all of these slightly more interesting people ready to tell you Their Stories!
Also we made a video, it's a Whitney Mixter Self-Inquiry Supercut, and it's kinda amazing.

We open in Silly Los Angeles, California, where Lauren is sitting at the table with a camera crew when Amanda, who has recently dipped her head into a vat of cake batter and then fallen asleep in a walk-in refrigerator, shows up at the thwarted homezone to break some unexpected news to Lauren — she's getting back together with her ex-girlfriend and possibly re-re-locating to New York City.
Lauren: "I would hope that like, if you're gonna move back, that you would give me like, advance notice so I can find another roommate and stuff."
Amanda: [in an "oh, jeez" voice] "Woof…"
Lauren: "What?"
Amanda: "I don't know, that's just like so extreme."
You think that's extreme, just wait 'til she dares to request that Amanda clean her room before moving out!
Lauren presses for more details, Amanda responds with abstractions and Jesus Christ on a Cracker I always feel like we're missing a big piece of the Lamanda story! Anyhow, Lauren wants to know when Amanda would potentially move out. Amanda's not sure:
Amanda interviews that she's disappointed that Lauren isn't throwing a Relationship Reunion Pretty Party for her and her ex-girlfriend.
Amanda: "It's like she's jealous or something."
Lauren notes that Amanda lies a lot, and then Amanda's hair catches on fire and the whole entire house burns down. Just kidding! I was confusing this show with a house fire.

Back in Lovely Long Beach, California, Kelsey and Romi are fudgepacking their clamsacks in preparation for their very first Dinah Shore together as a couple!
It'll also be their first sober Dinah, a fate I wouldn't wish upon Maggie Gallagher, as I personally failed to find a way to tolerate Dinah without ingesting at least three drugs and two drinks every 45 minutes. That was our first trip to Dinah. On our second trip to Dinah, I didn't do drugs or have two drinks every 45 minutes, but shit got real.
Romi: "Dinah Shore is the weekend that all the lesbians from all over the world fly in to party and it does feel a little bit like high school spring break…. it's really just a place for people to get wasted and fuck each other. Like people break up with their girlfriends just to go to Dinah and fuck other people, and then get back from Dinah Shore and get back with their girlfriend."
Romi The Sober Grownup explains that she's attending Dinah Shore for work, because she is Famous and Important:
Romi: "I was invited to host and attend events as a celesbian. A celesbian is a lesbian that's a celebrity, and they're very rare. There's not a whole lot of us. So, I have work to do."
She's right, celesbians are very exotic and rare, like Leatherback Sea Turtles and Chinese Alligators.
Romi suggests they try this weekeend to "have fun and like, stay out of as much drama as possible," 'cause Romi has this routine where every time she goes anywhere, ever, she must first announce her intention to avoid drama and relay her conviction that such avoidance is indeed possible.
Furthermore:
Romi: "We're sticking together all weekend if you leave me out there alone for the wolves to get me I will fucking murder you."
Yikes.
Romi interviews that she prays her rascally alkie ex-besties can avoid over-imbibing at Margaritaville and subsequently attacking Romi, 'cause it's challenging to avoid drive-by attacks when the entire world revolves around you, you know? It's like you're everywhere!
Kelsey: "I'm trying to be respectful of Romi and I want to make her happy and if she doesn't want me around certain people, then I'm not gonna be around certain people. Romi is usually right about certain people, so."
Whatever you think about these two, Kelsey thinks Romi is the bee's knees, that much is clear, and it's kinda adorable.

Elsewhere in the Los Angeles metro area, Kacy and Cori are meeting up with the newly engayged Whitney & Sarahara to discuss Dinah Shore Weekend, which Kacy and Cori are unfortunately planning to attend, escaping their Emily Dickinson lifestyle for something more up Emily Fitch's alley.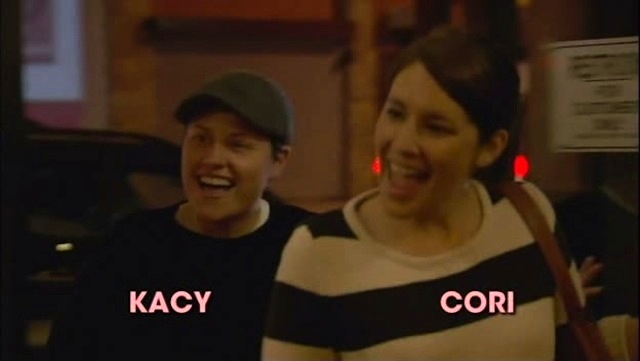 Whitney and Sarahara (who is operating a secret refugee ladder for oppressed termites via the extension cords dangling from each of her tender ears) say they hope KayCor are planning to attend the demented pool party from hell, especially the Dinah Dingbat Dating Game they'll be hosting.
Whitney: "People are competing to win dates with [Romi and Kelsey.] I don't know why…"
Sara: [FACE]
Kori: "Are you not talking to Romi anymore?"
Whitney: "No, we have abandoned negative people in our lives, Romi is one of them. She has done shady things —"
Sara: "Even last time and what happened was, we were supposed to be friends at that time and me and Whitney had gotten in a fight but she knew how much I loved Whitney even if we weren't like perfect, you know? And she made out with her at the pool and then looked at me like — if she could toss me off a cliff and nobody would know about it, she would."
Although I'd assumed Kacy and Cori's facial expressions reflected their immersion in this abyss of bratty boredom, it turns out their tentative exhaustion/disapproval is actually a reflection of their affection for Romi Klinger.
Cori: "It's hard to hear because I love Romi so much. She's become an actual friend through all of this and she's constantly checking in with us to see how we're doing and she's a great person and to hear anyone talk poorly of anyone I really care about is hard, and I really want to stay neutral — and just they have their own stuff —  but it's hard because I want to defend her and be like, you're wrong."
Kacy and Cori don't wanna be in the middle of all this, so you know. SCENE.

Back in the deepest depths of depravity vis a vis Brooklyn, Kiyomi and Ali are — surprise — fighting!
Apparently Ali did the horizontal mambo with another lady whilst Kiyomi was playing sweet music for the little children of Texas and Ali lied to Kiyomi about where she met said lady, which's what Kiyomi is latching onto to have an excuse to be pissed at Ali 'cause Kiyomi is "always honest" which's really, really, really really not true at all, but whatever, I hate both of these people and hope they claw each other's eyes out and then move to Newark.
Kiyomi: "I don't care if you fucking fisted a cat, just tell me the truth, and then I don't care, do you understand? That's all I care about."
Ali: "You're being so aggressive right now because you're gonna leave again and you wanna be able to do what you want."
Ali fights with Kiyomi about how they fight too much, and Kiyomi interviews that her inability to commit is due to a recent breakup with a girlfriend-of-two-years who she was totes in love with and was about to move in with who moved to San Francisco for a new job while Kiyomi was on tour without telling Kiyomi.
Kiyomi: "I don't wanna do that again, I don't wanna give myself to someone completely to have them just rip me apart and destroy me."
They yell at each other's faces for a bit and Kiyomi finishes packing her stuff and it seems like maybe this thing is over. This terrible not-relationship thing. Kiyomi leaves her keys on Ali's laptop and heads out.

Cut to the next morning in Brooklyn, where Somer and Donna are scrambling to pack and get to the airport before their flight leaves in an hour. In other words, Somer and Donna are scrambling to pack and get to the airport despite the fact that they are definitely gonna miss their flight.
Donna: "We've gotta rush. There's still a chance."
Mhm, that's what I used to tell myself on the subway at 5:55 when I'd just passed Lorimer and had to be in Midtown by 6. "I'm not late… YET."

Back in Shifty Los Angeles, California, Whitney and Sara are also packing!
For Sara, "packing" involves scampering around in a thong and see-through bra while Whitney interviews about hanging up her Dinah hoe hat. Look out for that shit on ebay!


Hunter Valentine arrives at the Luxurious Los Angeles International Airport — but Somer is nowhere to be found! This'd be a HUGE deal if they had a show tonight or if the bandleader was an obnoxious asshole and unfortunately the latter is in fact the case. Kiyomi interviews that she's disappointed that they've been "given such a great opportunity" but "can't be professional about it" which'd make sense if the "opportunity" was "getting a ride to Dinah right now" instead of what it actually is, which's "playing a show tomorrow afternoon, at which Somer will absolutely be present." So like none of this even makes sense! They should hire a monkey for the cast. Just to scamper around. Or maybe a talking horse?
Laura: "I think we should just leave."
Kiyomi: "And not wait for Somer?"
Laura: "Nope."
Vero: "We're just gonna leave her?"
Kiyomi: "Yup. I'm outta here."
Kiyomi's one of those people who looks for reasons to get upset. Like she's already upset, all the time, so she just wanders the universe with her orb of anger, looking for excuses to share it with the world.
Kiyomi: "I just think it's one more thing on the scorecard for Somer."
Vero: "You know what guys, could we not make it a big issue, I swear. 'Cause I cannot make it a big issue, like the whole keyboard thing on tour."
Vero interviews:
Vero: "I feel bad that Donna and Somer are not gonna get a ride to Dinah Shore with us, but it's Kiyomi's band and she calls the shots."
I wanna be in Vero's band where Vero calls the shots! It could be called Hey Vero.

Pages: 1 2 3See entire article on one page