Hello! Welcome to the recap for the 208th Episode of The Real L Word, a 30-minute situation comedy set in Miami Beach, Florida, where four previously married women live together as best friends, enjoying themselves despite hard times and sharing their various experiences. Topics include dildos, scissoring, and Metamucil.

This week on The Real L Word, everyone cried, including me. For once they weren't the tears of embarrassment-by-proxy I cry when perfectly lovely respectable human lesbians masturbate on camera or run drunkenly into traffic or try to hump their girlfriend at the laundromat. Furthermore, my tears were not vampire tears: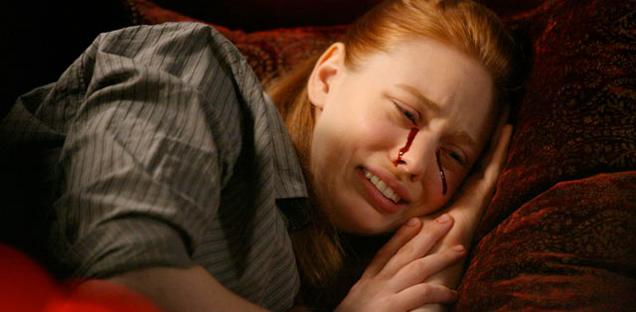 My tears were tears of disappointment in myself for nearly shedding genuine tears at several emotional moments throughout this program, which is either a testament to the emotional prowess of sour diesel or to my devolving brain state.
Regardless I'll be crying tears of joy next week when this shitshow finally grinds to a halt. Thank you Lord Jesus Chaiken, Amen.
Per ushe I would like to thank my lovely Intern Grace, who makes images for me even when they involve photoshopping Justin Bieber into a doorway or positioning a couple breaking up in outer space. Everything I ask Grace to do, she does. Just as an Intern should.

We open on the lean mean highways of Los Angeles, where our young homo Sajdah is zooming to the airport to retrieve her mother, who's come all the way to Los Angeles for Parent's Day at Gay LA Summer Camp. Upon arrival:
LOVE HER!
So, Sarita and Sajdah are besties 'cause she was 16 when Sajdah got born. Sajdah, still mourning losing Chanel to her own emotional baggage, is pleased as punch to see her Mom with her  literal baggage, etc.
Sajdah: "If I'm at my weakest point there's nobody who can pick me up like my mother."
This'll be the first time Sarita will see Sajdah in full gay regalia: gay haircut, gay job, gay pants, gay interests and a super-gay tendency to ask girls she just met to pick out a condo with her.
Sarita got a sneak-peak of the main lez-show on her airplane flight over, from which the following hilarious conversation ensues:
Sarita: [pointing at a lebsian couple, pictured below] "Look those are the girls that I met on the plane. That is crazy."
Sajdah: "You met lesbians on the plane?"

Sarita: "Uh-huh. I said, 'What's your name?' and she said 'Ace' and I said your mother didn't name you that! She said–"
Sajdah: "Ashley."
Sarita: "Ashley! How do you know?"
Sajdah: "Ace, Ashley. If it's Ace it's cause she had a girl name and she didn't want it."
Luckily Sajdah's got a name nobody can spell right, let alone assign a gender to.
Sajdah interviews that Sarita's Mom was murdered a year after Sajdah's birth, which is horrifying and tragic and all the terrible words from the sad parts of Les Miserables, Flowers for Algernon and Beaches. Look at these cuties, modeling through it:
Over blessed lunch at the local cafe, Sajdah and Mom discuss the fallout with Chanel until Sajdah is overwhelmed by memories of Little Big Horn and cannot continue the conversation or finish her coleslaw.
Sarita "It was just too much too fast. I mean, not trying to sound cold but that's just a part of life, that's just the way it goes."
In other words:
Sajdah explains:
Mom seems, thus far, not especially uncomfortable about Sajdah's California-induced transformation, although she's got some questions about what Sajdah's got in them jeans.
Mom: "What happened to your pants?"
Sajdah: "What?"
Sarita: "Them holes?"
Sajdah: "They're made like this."
Sarita: "You bought them in the store like that?"
Sajdah: "They're hot."


Kacy's out to dinner/wine/brunch with her friend Drea, talking about sperm. Drea, dressed for a cool spring afternoon at St.Mary's School For Wayward Girls, is a lez-baby expert 'cause she's got twins.
Kacy, having seen many documentaries on the topic (almost definitely The Business of Being Born) but especially this one…
… has certain ideas about the insemination process.
Kacy: "Did you guys have sex before the insemination?"
Drea: "No! This isn't TV, we aren't in the room like as we inseminate like fucking, eating her out. Sorry that didn't happen. It was more like — this is so weird, don't move, don't move."
Kacy, who still wants everything to be perfect and nice and respectful of everybody's uteruses and gender identities and pronouns and life cycles, isn't into what Drea's dishing out. Like, for example, Drea says the process of getting knocked up took about a year and seven inseminations.
Kacy: "Seven fucking times? Seven of those car rides? I mean, fuck man, that really put it into perspective."
Kacy's still digesting this info when Drea reminds her that first comes love, then comes marriage, then comes the baby in the baby carriage and then comes lawyers, nannies, adoption papers, school, the baker and the candlestick maker. It takes a village.

Francine's in her kitchen preparing for her Tiki Torch Garden Party with her girlfriend, inconveniently named Khristianne [confession: I can't spell], who's putting way too much butter in the shrimp, putting Francine at risk for morbid obesity.
The guests revel in the glory of the professionally landscaped backyard, which was more likely prepared by fairies and wood nymphs than it was by Romi, Kelsey, Rachel and Whitney. Who wants backyard advice from the people responsible for this:
Khristianne tells the group Francine's Mom is coming to visit with the relish of an ambiguously-gendered girlfriend half-concerned about Francine's torrential downpour of emotional havoc and half-excited by the upcoming boxing match better known as "coming out."
This inspires Rachel to share a little story of her own and really the only part of that story you need to know is this part:
Rachel: "You know what Mom, you might do hair to be like me, but you don't eat pussy to be like your big sister."
Stone-Cold Kelsey is a rock/island throughout, Romi cheerfully suggests Francine do a ComingOut Power Point presentation (this probably would involve a lot of pictures of Claire) and Whitney does this observer thing she does when she shows up in somebody else's storyline. It makes her seem like a replicant, apparently necessitating another Lower Third:
Francine is watching the World Cup in her head:
After dinner Romi confesses to Whitney that Kelsey expressed dismay over the possibility of Romi spending dinner laughing with Whitney — hahaha remember that night with the creamed corn and the dildo and the cameras and the whole world flipped out lol hahhaaha — while meanwhile Kelsey would be forced to simmer with unmet desire for a Tequila Sunrise or flaming banana.
When you start joking with your ex-whatever ("ex-girlfriend" – lower third) about your current girlfriend's jealousy of your relationship with your ex-whatever™ then you know it is O-V-E-R.

We return to Whitney's Acropolis of Apple-Bottom Jeans where Whitney, impressed by her own popularity, has decided to use her Clam-Powers for Good rather than Evil. She wants to host a "Lesbian Field Day" to support "Charity" (Charity: it's everyone's favorite charity!) and she'll be calling this calamity "The Pumps vs. Pants Showdown."
Huh. I wonder who's gonna win!?! Lest you forget the Whitney Mixter Definition of Pants from last season, she reminds us: "I'm pants because I know how to swing a hammer."
"Femmes take a little more time to do their eye makeup," Whitney explains. That's why Romi is the femmiest fem in all the femland. She could wear pants WITH pumps and nobody would dare second-guess her. Romi could swing a hammer while fucking a girl wearing a double-headed dildo and yelling "Call me Daddy!" and still — still even then, in that outlandish and pornographic and slightly unpleasant situation — her eyes would still give her away.
Speaking of eyes, Alyssa's opening Whitney's to the idea that Rachel's a fucking mess and could use a motherfucking hand from her friend/ex-girlfriend/bathroom-cunnilingus partner, Whitney "The Hammer" Mixter.
Alyssa: "I think she still wants to feel like somebody that you care about in real life."
Whitney: "I do care about her."
Although Whitney seems to be the last to recognize the destruction she's fostered around her, she's always open to being called out, especially by Alyssa or, at this point in her life, by thousands of angry internet lesbians. Whitney trusts everyone else is keeping better tabs on her behavior than she is, because they are.

Now we're at an abandoned warehouse that looks like communist Romania from the outside and Kelsey & Romi's Chamber of Secrets from the inside.
Romi's got this potholder wrapped around her head and has torn up Stephanie Tanner's mini-dress, re-fastened it with twine and dropped it over her hot-pink-braed body and she's screaming at Kelsey in her outside voice. Kelsey looks like a bored hipster shoe salesman. It's quite a scene.
Apparently Kelsey imbibed a goblet of the evil vino while out with her Mom, against Romi's Rules of Sobriety, so of course all fresh hell breaks lose.
Romi: "You don't see anything wrong in this. You don't think you did anything wrong. Nothing."
Kelsey: [silence]
Romi: "We made a promise to each other that we were not gonna drink and that you were gonna support me in my sobriety. Your first night away from me, you went and drank and then right before dinner which I fucking made dinner reservations had a whole night planned for us, you wanna casually throw out to me 'Oh I had a glass of wine."
Kelsey: [silence]
Romi: "Maybe you don't realize how much it meant to me. Maybe you don't realize what I'm going through with this and that you promised me that you would do it with me and that you would stop drinking because you thought you had a problem. You're a liar."
Kelsey: "I had one glass of wine."
Romi: "What if I said I had one glass of wine?"
Kelsey: "It was the situation. I didn't just go to a random bar, I was hanging out with my sister–"
Romi: "I don't care if you're with your fucking Grandma!"
Kelsey: [leaves, probably wishing she'd had two glasses of wine]
Romi interviews that Kelsey essentially reaches for the sippy cup of Tanqueray whenever Romi looks the other way.
Ultimately, Romi's in Saturn Return which's the part of life where you try to get your shit together before you turn 30 (or recently thereafter). Romi's looking to escape the reckless abandon of Sapphic Youth, but Kelsey's the team mascot.
Sometimes age is just a number, but 23 and 29 isn't always fine and often leads to a glass of wine.

Pages: 1 2 3See entire article on one page