Hello! Welcome to the recap for the 208th Episode of The Real L Word, a 30-minute situation comedy set in Miami Beach, Florida, where four previously married women live together as best friends, enjoying themselves despite hard times and sharing their various experiences. Topics include dildos, scissoring, and Metamucil.

This week on The Real L Word, everyone cried, including me. For once they weren't the tears of embarrassment-by-proxy I cry when perfectly lovely respectable human lesbians masturbate on camera or run drunkenly into traffic or try to hump their girlfriend at the laundromat. Furthermore, my tears were not vampire tears: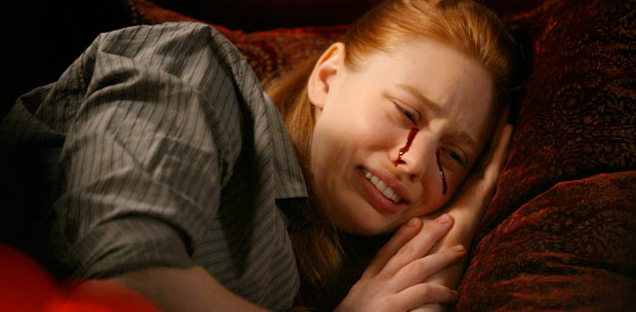 My tears were tears of disappointment in myself for nearly shedding genuine tears at several emotional moments throughout this program, which is either a testament to the emotional prowess of sour diesel or to my devolving brain state.
Regardless I'll be crying tears of joy next week when this shitshow finally grinds to a halt. Thank you Lord Jesus Chaiken, Amen.
Per ushe I would like to thank my lovely Intern Grace, who makes images for me even when they involve photoshopping Justin Bieber into a doorway or positioning a couple breaking up in outer space. Everything I ask Grace to do, she does. Just as an Intern should.

We open on the lean mean highways of Los Angeles, where our young homo Sajdah is zooming to the airport to retrieve her mother, who's come all the way to Los Angeles for Parent's Day at Gay LA Summer Camp. Upon arrival:
LOVE HER!
So, Sarita and Sajdah are besties 'cause she was 16 when Sajdah got born. Sajdah, still mourning losing Chanel to her own emotional baggage, is pleased as punch to see her Mom with her  literal baggage, etc.
Sajdah: "If I'm at my weakest point there's nobody who can pick me up like my mother."
This'll be the first time Sarita will see Sajdah in full gay regalia: gay haircut, gay job, gay pants, gay interests and a super-gay tendency to ask girls she just met to pick out a condo with her.
Sarita got a sneak-peak of the main lez-show on her airplane flight over, from which the following hilarious conversation ensues:
Sarita: [pointing at a lebsian couple, pictured below] "Look those are the girls that I met on the plane. That is crazy."
Sajdah: "You met lesbians on the plane?"

Sarita: "Uh-huh. I said, 'What's your name?' and she said 'Ace' and I said your mother didn't name you that! She said–"
Sajdah: "Ashley."
Sarita: "Ashley! How do you know?"
Sajdah: "Ace, Ashley. If it's Ace it's cause she had a girl name and she didn't want it."
Luckily Sajdah's got a name nobody can spell right, let alone assign a gender to.
Sajdah interviews that Sarita's Mom was murdered a year after Sajdah's birth, which is horrifying and tragic and all the terrible words from the sad parts of Les Miserables, Flowers for Algernon and Beaches. Look at these cuties, modeling through it:
Over blessed lunch at the local cafe, Sajdah and Mom discuss the fallout with Chanel until Sajdah is overwhelmed by memories of Little Big Horn and cannot continue the conversation or finish her coleslaw.
Sarita "It was just too much too fast. I mean, not trying to sound cold but that's just a part of life, that's just the way it goes."
In other words:
Sajdah explains:
Mom seems, thus far, not especially uncomfortable about Sajdah's California-induced transformation, although she's got some questions about what Sajdah's got in them jeans.
Mom: "What happened to your pants?"
Sajdah: "What?"
Sarita: "Them holes?"
Sajdah: "They're made like this."
Sarita: "You bought them in the store like that?"
Sajdah: "They're hot."


Kacy's out to dinner/wine/brunch with her friend Drea, talking about sperm. Drea, dressed for a cool spring afternoon at St.Mary's School For Wayward Girls, is a lez-baby expert 'cause she's got twins.
Kacy, having seen many documentaries on the topic (almost definitely The Business of Being Born) but especially this one…
… has certain ideas about the insemination process.
Kacy: "Did you guys have sex before the insemination?"
Drea: "No! This isn't TV, we aren't in the room like as we inseminate like fucking, eating her out. Sorry that didn't happen. It was more like — this is so weird, don't move, don't move."
Kacy, who still wants everything to be perfect and nice and respectful of everybody's uteruses and gender identities and pronouns and life cycles, isn't into what Drea's dishing out. Like, for example, Drea says the process of getting knocked up took about a year and seven inseminations.
Kacy: "Seven fucking times? Seven of those car rides? I mean, fuck man, that really put it into perspective."
Kacy's still digesting this info when Drea reminds her that first comes love, then comes marriage, then comes the baby in the baby carriage and then comes lawyers, nannies, adoption papers, school, the baker and the candlestick maker. It takes a village.

Francine's in her kitchen preparing for her Tiki Torch Garden Party with her girlfriend, inconveniently named Khristianne [confession: I can't spell], who's putting way too much butter in the shrimp, putting Francine at risk for morbid obesity.
The guests revel in the glory of the professionally landscaped backyard, which was more likely prepared by fairies and wood nymphs than it was by Romi, Kelsey, Rachel and Whitney. Who wants backyard advice from the people responsible for this:
Khristianne tells the group Francine's Mom is coming to visit with the relish of an ambiguously-gendered girlfriend half-concerned about Francine's torrential downpour of emotional havoc and half-excited by the upcoming boxing match better known as "coming out."
This inspires Rachel to share a little story of her own and really the only part of that story you need to know is this part:
Rachel: "You know what Mom, you might do hair to be like me, but you don't eat pussy to be like your big sister."
Stone-Cold Kelsey is a rock/island throughout, Romi cheerfully suggests Francine do a ComingOut Power Point presentation (this probably would involve a lot of pictures of Claire) and Whitney does this observer thing she does when she shows up in somebody else's storyline. It makes her seem like a replicant, apparently necessitating another Lower Third:
Francine is watching the World Cup in her head:
After dinner Romi confesses to Whitney that Kelsey expressed dismay over the possibility of Romi spending dinner laughing with Whitney — hahaha remember that night with the creamed corn and the dildo and the cameras and the whole world flipped out lol hahhaaha — while meanwhile Kelsey would be forced to simmer with unmet desire for a Tequila Sunrise or flaming banana.
When you start joking with your ex-whatever ("ex-girlfriend" – lower third) about your current girlfriend's jealousy of your relationship with your ex-whatever™ then you know it is O-V-E-R.

We return to Whitney's Acropolis of Apple-Bottom Jeans where Whitney, impressed by her own popularity, has decided to use her Clam-Powers for Good rather than Evil. She wants to host a "Lesbian Field Day" to support "Charity" (Charity: it's everyone's favorite charity!) and she'll be calling this calamity "The Pumps vs. Pants Showdown."
Huh. I wonder who's gonna win!?! Lest you forget the Whitney Mixter Definition of Pants from last season, she reminds us: "I'm pants because I know how to swing a hammer."
"Femmes take a little more time to do their eye makeup," Whitney explains. That's why Romi is the femmiest fem in all the femland. She could wear pants WITH pumps and nobody would dare second-guess her. Romi could swing a hammer while fucking a girl wearing a double-headed dildo and yelling "Call me Daddy!" and still — still even then, in that outlandish and pornographic and slightly unpleasant situation — her eyes would still give her away.
Speaking of eyes, Alyssa's opening Whitney's to the idea that Rachel's a fucking mess and could use a motherfucking hand from her friend/ex-girlfriend/bathroom-cunnilingus partner, Whitney "The Hammer" Mixter.
Alyssa: "I think she still wants to feel like somebody that you care about in real life."
Whitney: "I do care about her."
Although Whitney seems to be the last to recognize the destruction she's fostered around her, she's always open to being called out, especially by Alyssa or, at this point in her life, by thousands of angry internet lesbians. Whitney trusts everyone else is keeping better tabs on her behavior than she is, because they are.

Now we're at an abandoned warehouse that looks like communist Romania from the outside and Kelsey & Romi's Chamber of Secrets from the inside.
Romi's got this potholder wrapped around her head and has torn up Stephanie Tanner's mini-dress, re-fastened it with twine and dropped it over her hot-pink-braed body and she's screaming at Kelsey in her outside voice. Kelsey looks like a bored hipster shoe salesman. It's quite a scene.
Apparently Kelsey imbibed a goblet of the evil vino while out with her Mom, against Romi's Rules of Sobriety, so of course all fresh hell breaks lose.
Romi: "You don't see anything wrong in this. You don't think you did anything wrong. Nothing."
Kelsey: [silence]
Romi: "We made a promise to each other that we were not gonna drink and that you were gonna support me in my sobriety. Your first night away from me, you went and drank and then right before dinner which I fucking made dinner reservations had a whole night planned for us, you wanna casually throw out to me 'Oh I had a glass of wine."
Kelsey: [silence]
Romi: "Maybe you don't realize how much it meant to me. Maybe you don't realize what I'm going through with this and that you promised me that you would do it with me and that you would stop drinking because you thought you had a problem. You're a liar."
Kelsey: "I had one glass of wine."
Romi: "What if I said I had one glass of wine?"
Kelsey: "It was the situation. I didn't just go to a random bar, I was hanging out with my sister–"
Romi: "I don't care if you're with your fucking Grandma!"
Kelsey: [leaves, probably wishing she'd had two glasses of wine]
Romi interviews that Kelsey essentially reaches for the sippy cup of Tanqueray whenever Romi looks the other way.
Ultimately, Romi's in Saturn Return which's the part of life where you try to get your shit together before you turn 30 (or recently thereafter). Romi's looking to escape the reckless abandon of Sapphic Youth, but Kelsey's the team mascot.
Sometimes age is just a number, but 23 and 29 isn't always fine and often leads to a glass of wine.

Back in the Arid Arboretum of Foiled Baby-Making, Kacy and Cori are sitting in the kitchen with calculators, talking about sperm.
Basically, Cori's vadge is gonna have to ingest a shit-ton of sperm if they ever want a baby coming out of that hole, and shit-tons of sperm are expensive — $2,830 a month expensive, which's half their monthly take-home (nice!), more than I made last year, and also $330 more than this crib costs: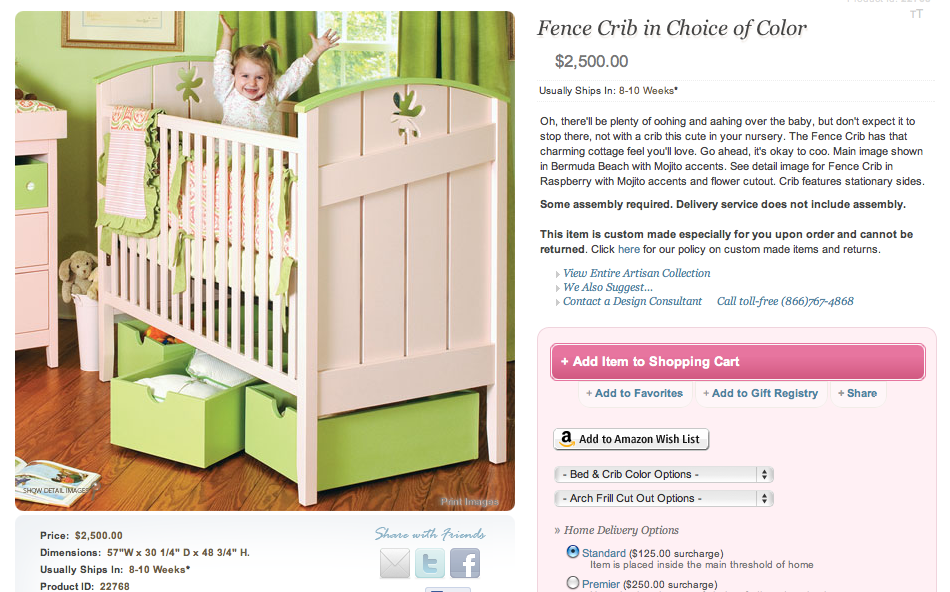 So throw this in:
The point of this exercise is that BOTH of these items come with babies and it fits within the monthly budget.
In the interview, Cori says, "I think we should get a person," which goes over with Kacy approximately as well as "Cori should just get a person" went over with my butch girlfriend last week when I said it. Apparently this is a thing.
Cori: "I think we need to get a live person."
Kacy: "A what?"
Cori: "A live person."
Kacy: "What do you mean, a live person? Like a different donor?"
Cori: "Yeah, but like — a person."
This is a major affront to Kacy's masculinity and overall mood, which is subsequently an affront to Cori's overall mood and Cori's overall womb and so then a little fight begins.
Cori: "Don't yell at me about this. I'm stressed out enough."
Kacy: "Fucking Ditto!"
Cori leaves the interview room, and Kacy plows through the Fourth Wall to go calm her down.
They could just clone a sheep and raise it as a baby at this point, that'd be way cheaper. It wouldn't even care that it had two moms because like, it's a sheep. You know?

Sajdah's taking Sarita to The Gay Center so Sarita can get a full-force homosexual experience with soda-pop and group exercises which is a very Debbie Navotany thing to do. Sajdah's nervous her Mom might say something ignorant or break out in hives in reaction to the lezbo-hippie vibe, but onward ho Brave Young Christian Soildah.
Tonight is a training session for Vote for Equality, a group that walks around Los Angeles telling bigots to get their heads out of their asses and vote for equal rights. Time to split into small groups to hug and play the mirror game!
Sajdah: "I'm a little nervous because my Mom isn't usually extremely sensitive to LGBT like, rights and concerns, like she calls me gay all the time–"
Obviously Sarita's in a group with a flannel-clad butch lesbian and, I think, a Whole Foods patron.
Sarita interviews that at first she thought Sajdah was just having a phase when Sajdah announced her homogayness, like that time she'd only wear socks and put ketchup on everything, but then she was on Saj's facebook, and "I said to my husband, 'she's really gay, isn't she? she is really liking girls.' That's still something that I have to get used to and I have to work on."
Sarita, touched by the magic that lights the inner fire of all Sajdah's friends & family, is super perfect here.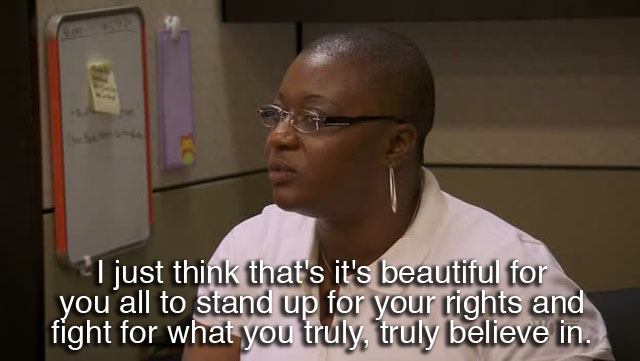 Sarita: "I'm Sarita, straight, Saj's Mom. I just think that it's beautiful for you all to stand up for your rights and fight for what you truly truly believe in."

Meanwhile in the Village of the Damned, Kacy and Cori are yelling at each other about sperm.
Kacy: "You have no idea what it's like from my side! If we go back to the beginning — I just feel so far away again, just to sit there and to just be told — like I have to put such an investment into this sperm — this GUY-"
Look, having a baby is hard work and sometimes the hardest part for two strong happy lesbian clam-bakers is that this process involves, in some way, a fucking DUDE, and the game is how to make that not feel as totally awkward as it totally does.

A bizarrely unspecified amount of time later, Romi, still recuperating from whatever head injury necessitates that gauzy skull-wrap, is giving Kelsey The Breakup Talk while Kelsey stares blankly into space with an "over it" facial expression.
Romi says she can't get sober while living/loving/fucking a drinker, and Kelsey says that's selfish and in the end, Romi talks so much louder and with more facial expressions/gestures with Kelsey that her point almost rules the day by default.
Kelsey: "Romi can be very selfish. I think she lives in a world where it's all about Romi… I was giving so much of myself, but it wasn't reciprocated, it was all about Romi."
Ahem TRUTH
Romi: "I'm sorry Kels, but the person I was with you is not here anymore. I'm sorry that I don't — I can't go get drunk with you. I know that you miss that. I can't be that right now."
It kinda breaks your heart a little because obviously it's SUPER-hard to get sober after years of drinking for so many reasons and one of them is that it's hard to re-possess responsibility of your own life (which is perhaps what we're all seeking to escape with our whiskey and beer) and no matter how much these two cats love each other, you can't take your life back while your old life is sleeping beside you every night.
If Romi misses the old days, Kelsey's a painful reminder of that, and if she doesn't miss the old days, Kelsey's part of a thing Romi's eager to discard.
Sometimes you love a person and they love you back but that's the only thing you have in common, is that you love each other. And it's not enough.
Ultimately, Romi and Kelsey don't get along, don't enjoy each other's company, don't share general life goals, don't ever have sex and don't trust each other and so let's wrap this shit up, cry a whole bunch, yell and throw things and call it a day!



Back to Parents Week where Sajdah the Eager Homogay, dressed for a cold afternoon at St. Mary's School for Wayward Boys, carts Mom to a Special Gay-Friendly Church to shock her socks off.
This church sitch is mega-important 'cause:
Sajdah: "I grew up in a Christian Church and I'm talking Bible Study on Wednesday, choir rehearsal Saturday morning, church Sunday morning and church Sunday night. We were churched to death."
So basically Mom interviews about her relationship with Sajdah and Jesus Christ has this woman been THROUGH IT:
Mom: "I was 16 when I had Saj. And I didn't even realize that I was pregnant until I was probably like 7, 8 months because I was just that ignorant. I didn't know anything about the female body or anything. So that's why I think her life is the way that it is, because she was in pure innocence…"
Sarita: "I really wanted to make sure that she wasn't as naive as I was growing up, so I asked Saj to do one thing for me, go to school, get a good education, and she's done just that. So now, if she chooses to love on a woman, marry a woman, bring me some in vitro babies, I am fine. I am."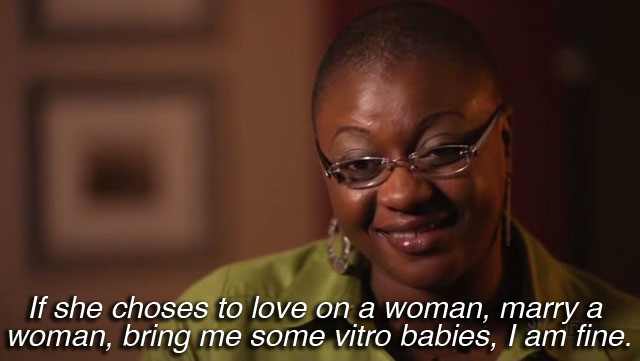 You've got a choice here to get hung up on "chooses to" or wonder what she meant by how Sajdah's life "is the way that it is," or you can do what I did, which is almost cry. Sometimes I feel like things are just changing so fast, you guys. Every year the chances of coming out without totally destroying your entire life/family seem slightly higher.


Back to WhitneyWorld!
Rachel, in her glam-baby hangover giant sunglasses, Flashdance sweater and all-around "hot mess" demeanor, is sucking straws with Whit at another outdoor eatery, and Whitney just seems so much older than Rachel in this scene. I'm not gonna lie, this scene made me cry out of both eyes, because it's surprisingly emotional, when you're on the other side of clinical depression, to see someone like Rachel, still knee-deep in the hardest parts of it.
So! Whitney had a rough-and-tumble adolescence involving black lipstick and giant sweatshirts and, apparently, drugs. It's hard to say which came first, but I'm guessing it was drugs and THEN black lipstick.
Whitney: "I come from addiction and I know what things look like and what behaviors look like. When I was young, I had a problem, for sure, and then when I was … starting to get clean with it, my best friend passed away from drugs and I don't wanna see that happen to anybody that I care about again."
Whitney's scared that Rachel's gonna take the wrong Kolonopin Kocktail one day and honey aren't we all.
Rachel: "I mean, I don't care. Sometimes I'm honestly surprised that I wake up like — I've been surprised before where I'm like Oh. Here I am."
Whitney: "That scares me."
 What if Rachel thinks she's in a documentary about addiction but later will face an intervention?
Rachel: "I'm totally drowning right now, and honestly, I really just don't care. I don't want to live anymore like this."
Rachel breaks down crying. Whitney suggests therapy. Rachel's sad and she needs therapy and can't afford it. This is like Our Generation's Problem — we're all crying, we all need therapy, and we can't afford it.
Rachel: "I need you to help me."
Whitney: "I swear to G-d I will help you."
Whitney will help foot the bill for therapy and it will probably be Dan Foxworthy.

Romi, all business and sense, says it was Kelsey's inability to recognize the significance of the wine, not the wine itself, that led to their dissolved relationship. Like Elijah.
So now Romi's panicking like Kelsey's starting kindergarten tomorrow and starts hovering and giving Kelsey gems of wisdom like, "you should save up money and get your own apartment" which is, I'm sure, a news flash —
Kelsey: "You won't have to worry about me anymore, Romi."
Romi: "Kels, I'm always gonna worry about you, and I'm always here."
Kelsey: "I feel sick."
Romi needs Kelsey to give her an ETA on Kelsey's next stuff-retrieving mission 'cause Romi can't just have "someone come in through her house" at all hours.
Kelsey: "I'm gonna come by tomorrow."
Romi: "Why? Not tomorrow! Like, let's have a minute — I need — I need, Kels, I need–"
Kelsey: "I NEED I NEED I NEED I NEED!"
Romi: "A break — I need a break –"
Kelsey: "I NEED I NEED I NEED!"
Romi: "And then we'll be fine if you don't give me that little minute of space it's gonna be hard for me to like –"
Kelsey: "Girl, I'm gonna give you plenty of space."
She's gonna give you so much space you're gonna need to bring astronaut ice cream.
Final words from the Man in the Yellow/Grey Hat:
Romi escorts Kelsey to the blurred-out face she'll be crashing with and because they're lesbians, Kelsey shares her intended processing grieving plan with her ex-girlfriend (won't "sit around and mope" over it).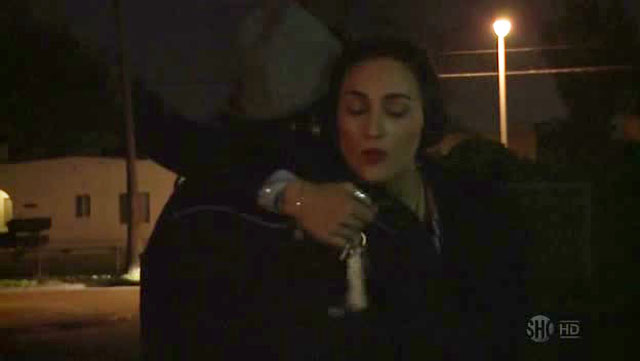 After dropping Kelsey off and at the last minute volunteering to bring food next week if Kelsey's hungry, Romi starts driving around town like a crazy old man in his like campfire jacket and warmest winter hat, ranting about how people are adults who can take care of themselves. "In my day you couldn't just order a babysitter on the internet, you had to go to a Tupperware Party and find her YOURSELF. We didn't have NannyCam. We had TRUST! AND GRAPE JUICE!"

Back at Sarita's Hotel, Sajdah's all hopped up on Fun-Dip and Tootsie-Pops and wants her Mom to stay forever-ever.
"This is just another chapter, toffee," Sajdah's Mom says. "You're doing well, you're doing real good, you're a good person, God will continue to bless you."
Sajdah's gotta put God first in everything that she does, including vadgeblasting.

Francine is at her job which is NamiWave Media. NamiWave Media is a company that provides home entertainment contraptions similar to Redbox. You can rent movies from NamiWave media for only a dollar a day. NamiWave Media: It's a Thing!
NamiWave, which sounds like the name of a hair product Claire would use to de-frizz her banglets, does bizness in Japan and so the Japanese girl (Francine) is learning Japanese I think she's learning Japanese I really think so. Learning Japanese I think she's learning Japanese I really think so. Learning Japanese I think she's learning Japanese I really think so.
I love how Francine's got her sunglasses perched up on her head like that. You never know when sun's gonna hit.
Francine: "Growing up being Japanese it's very different, no one's very open about being gay… in Japan you don't wanna be the one that's different because you're dating girls — so you just wanna fly under the radar and not say anything. But you know what, this is who I am, and if it's about the people who love me, they're gonna love me no matter what."

So, back at Whitney's Box Office, a little backyard party is coming together…
Whitney: "We're not gonna lie, we've been working on a little project."
THANK GOD! I hate it when people lie about projects!
So, Whitney's invited Cori & Kacy, clearly, and also

Romi

, because: 
Right! Also, Romi's got a weave or something all of a sudden, or maybe it's part of her hat.
Wow I am really tired of writing this recap
Sidenote: It's so crazy that sperm is in such short/expensive supply in this episode/life because if you've ever lived a gnarly heterosexual lifestyle at any point in the past/present, I think you could confirm that sperm is in no short supply at all. In fact men are essentially and often literally lining up or willing to pay YOU in exchange for permission to lie on top of you and dispose of their excess sperm. There should be some way for straight girls to just pass that excess muck off to their lesbian friends. 
Cori, never afraid of the dirty words, laments over prior recommendations to impregnate herself via anal douche, and commends this recent technological development.
Kacy: "There was never a more thoughtful dildo given then that little inseminator."
Cori: "It was not little."
No really though, it's super sweet, the cherry on top of Cori's empty uterus:
The happy couple goes home all happy and shit and nightfall crawls through the last remaining minutes of this excruciating reality television experience.
Alyssa asks Whitney who she's "rampage texting" and Whitney, the smooth operator that she is, says she's "tweeting." You know. "Tweeting, updating." Updating what, exactly?
Whitney says she's gonna go to bed so she can get up early, which obviously means she's gonna fuck somebody with a dildo. The dogs know what's up, like Pretty Little Liars.
Is it …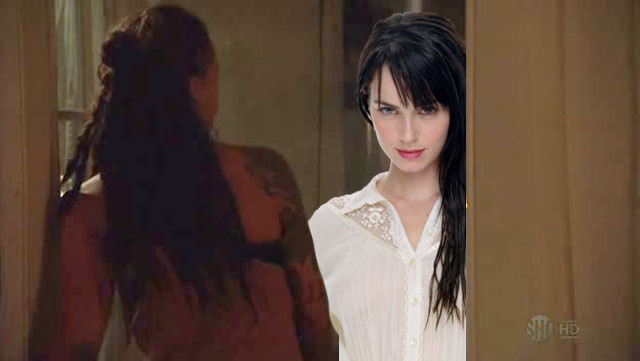 Or is it…
Or…
Emily Fields?
For that matter could it be…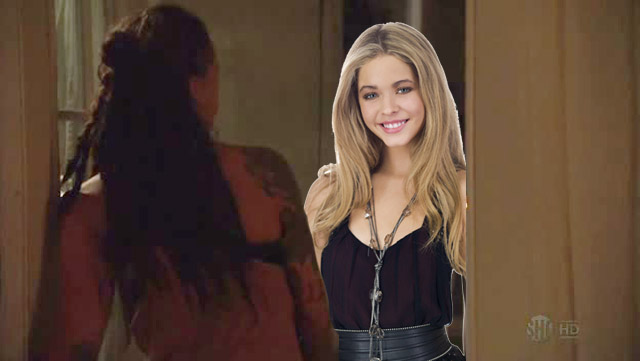 Ghost Allison?
No, it must be…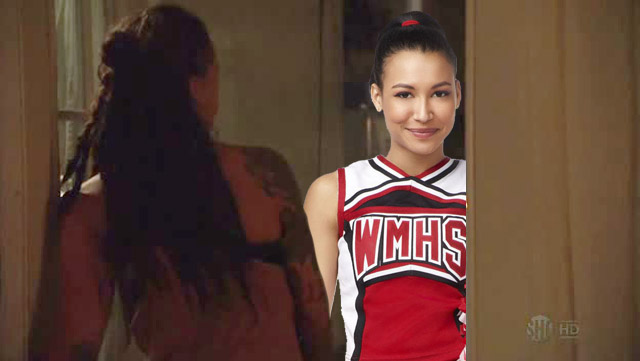 If not Santana then perhaps it could be…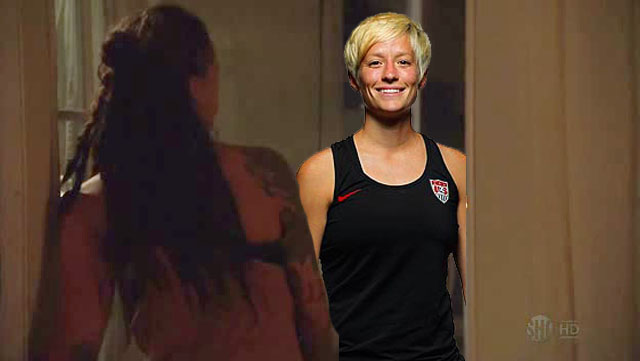 Megan Rapinoe?
Or wait what about —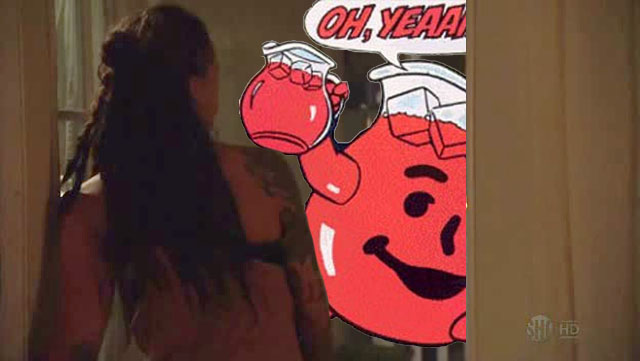 The Kool-AID guy?
No wait maybe it's…
Frankie from Lip Service?
Wait actually I think I know who it is, it's…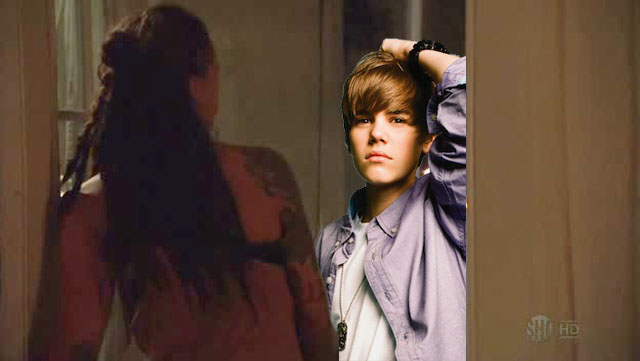 Justin Bieber, who got lost on his way home from T-Ball! NO NO NO I know who it is, it's…
Whitney herself!
Or, perhaps it's…
HAHAHAH JK!!!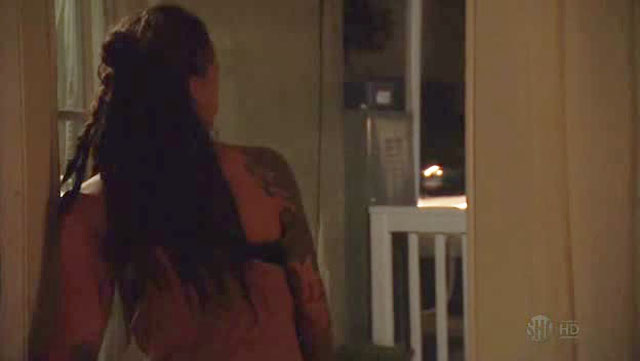 IT'S ROMI!!!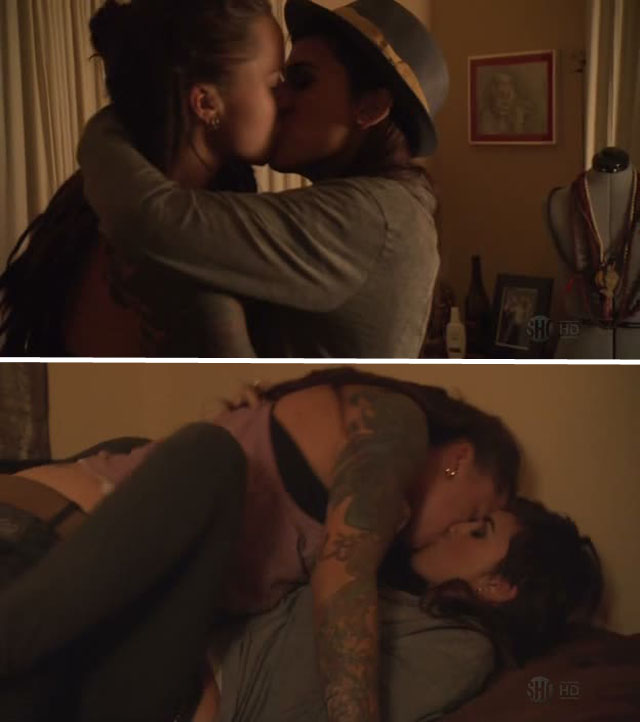 Pages: 1 2 3See entire article on one page