The first year of college is always a time for transition and self-discovery, and adding challenges like coming out and maintaining a long distance relationship can make freshman year even more complicated. Gretchen and Toni find themselves in the midst of a rocky transition when they head off to different colleges (NYU and Harvard) after two years as The Perfect Couple at their all-girls' prep school. Toni identifies as genderqueer and maybe trans, but doesn't know how to act on it or come out. Gretchen finds her whole identity wrapped up in her relationship with Toni and feels lost when they are separated. Such is the principal drama of What We Left Behind, the latest young adult book by Robin Talley.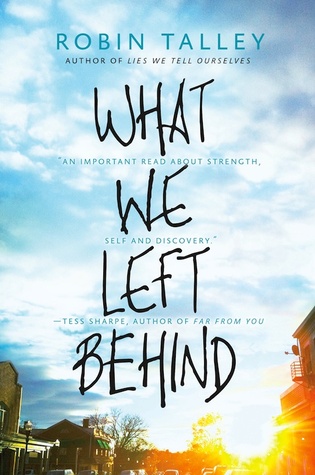 Gretchen and Toni take turns narrating the story, and we get an inside look into both of their insecurities, frustrations and drunken adventures. Once at school, Toni immediately finds friendship in a group of trans and gender non-conforming upperclassman who teach Toni the ropes. (Note: since Toni uses different pronouns throughout the book, I won't use any pronouns for the character in this review.) Meanwhile, Gretchen falls into a frantic and immediate best friendship with Carroll, a gay Tisch student with a desperate desire to lose his virginity and a lot of barely-checked transphobia. It can be hard to get a real sense of the relationship between Toni and Gretchen, since we are thrust into their story as their relationship begins falling apart. We are told they had the perfect relationship in high school and get some glimpses of that through flashbacks, but it seems like they mostly ran on glitter and bad communication that kept their problems under wraps.
Still, each of them has a compelling narrative, and the way they struggle to hold onto each other while striking their own paths feels authentic and not overly sweet. The story centers on Toni's struggle to understand Toni's identity — genderqueer, gender variant, non-conforming, or trans — and Gretchen's confusion about where she will fit into that. We are supposed to understand Toni (later Tony) as some variation of genderqueer, but many aspects of the book seem to dismiss that identity as a stepping stone to claiming a binary trans identity. At one point, one of Toni's friends calls out "Come hang with us, T! We're having a support group meeting for the formerly genderqueer!" Everyone laughs.
At times, the story feels overly academic as Toni rattles on about the potential meanings and implications of every label and pronoun to anyone who will listen. At several points, the character insists on using gender-neutral pronouns for everyone, even after people explain why this isn't cool.
I wish I could make up my own language where everything made sense. "I never use gendered pronouns at all," I say. "I don't want to reinforce the gender binary."
Andy snorts. "Please, don't be one of those hypergenderqueer people who's always ragging on the rest of us for wanting to look like guys."
"That's not what Toni said at all," Derek says. "Relax, dude."
"I'm just saying, I had to go through a lot of shit to get people to call me he," Andy tells us. "I don't need some kid coming in here and deciding I don't get to just because binaries are evil."
Toni seems to understand this in the moment, but it doesn't stop Toni from later calling Gretchen ze even though she actively chooses feminine pronouns for herself.
Despite its shortcomings when it comes to theory, the story does the important work of allowing the characters to ask questions and struggle with their identities. So often in trans and queer narratives, the characters are expected to have defined their identity, and any deviation comes across as a weakness or cause for critique. In this case, Toni's transition is celebrated as a journey with an unclear destination.
The story does a decent job of engaging with race and class issues, though the two principal characters are white and rich (I couldn't help but roll my eyes at the scene where Toni comes out to mom and then, after much yelling and accusing, leaves with her credit and debit cards.) Overall, it is a fun read with enough substance to make it a nice addition to a growing canon of queer and trans young adult literature.
What We Left Behind (Harlequin Teen) by Robin Talley is out out now. Buy your copy now.