When Piper Kerman told her story in Orange in the New Black, she also told the stories of the women who did time alongside her in Danbury, Connecticut as best she could. Her bestseller illuminated the challenges inmates face in prisons across the nation, as well as the specific struggles of the women who do time and then attempt to put their lives back together. But there's one person's experience we didn't get any of: that of Catherine Cleary Wolters, the drug-smuggling lesbian in thick-rimmed glasses who named her as an accomplice in the case against an African drug lord and landed her there.
That's where Out of Orange comes in.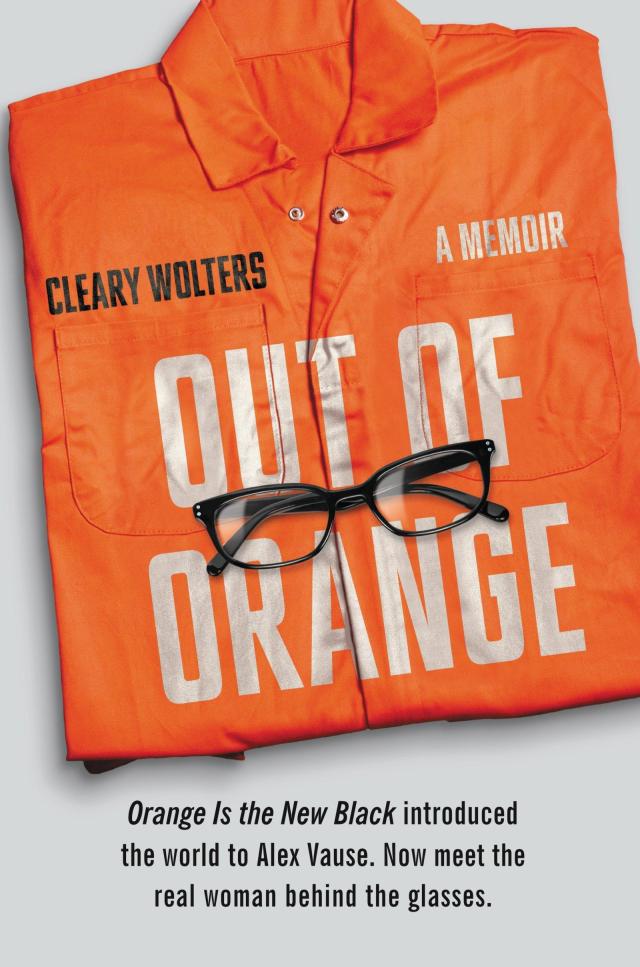 Wolters' memoir begins in a hotel room in Paris, where her colleagues are swallowing heroin capsules and she's psyching herself up to cross the border with a fake passport and three heroin-lined suit jackets. After completing the exhilarating and surprisingly simple task, she goes back to Northampton, moves in with and gets dumped by her ex, and meets a cute waitress named Piper Kerman.
The book follows Wolters as she tries, unsuccessfully, to exit the world of drug smuggling and minimize her role in the operation after her first operation, which she claims to have hoped was her one and only time crossing customs with contraband. But leaving a heroin smuggling ring is easier said than done, which Wolters learns by hiding out in hotel rooms and taking huge gambles with new recruits in an attempt to get out. At the same time, she develops a friendship with Kerman over the two cats she's watching for Wolters for weeks at a time, and eventually the two queer ladies develop a strangely romantic platonic friendship before they become best friends and then start to sleep with each other.
Eventually, Wolters gets out, years after Kerman does the same. They don't see each other for years, not even when the ring gets busted and Wolters gets brought in by the authorities. They don't reunite until they're on a ConAir tarmac in the freezing cold, Wolters two years into her sentence and Kerman just one. It's the moment where the two women's memoirs collide. They sit next to each other and hash it out. They spend time in the same facility in Oklahoma, scared shitless of the conditions and their fellow inmates. And then they get split up, with Wolters waiting in line once again to board a plane filled with felons and Kerman left behind to ponder her fate.
Wolters' story, of course, diverges from Kerman's. Kerman never saw herself as an accessory, whereas Wolters reveals that she had planned to prime Kerman to replace her in the ring. Wolters is always acutely aware that her past could land her in prison; Kerman claims to have been shocked as all hell when she was named in the case. Kerman relies on her fiancé to get through her sentence; Wolters gets dropped off at prison by a woman who loves her cats more than she ever loved her. From there, they each experience two sides of a very strange coin – two white women in trouble for drug crimes, one in a prison camp in Connecticut and the other in a full-force correctional facility in California.
The books vary, too, in their aim. Orange is the New Black tells the story of a prison full of women like and unlike its author, all of whom are struggling to survive, connect, and recover, through her eyes. A majority of her story is told from within prison walls, and while we're inside we meet all of the characters who filled her time there with hardship, grace, and well-earned life lessons. Wolters' story centers, instead, around her own rise and fall – how she got involved in smuggling drugs, how those operations were handled, and then, how she made it through prison and rebuilt her life. Her time spent in incarceration doesn't even begin until more than halfway through the book, and in her retelling of it she is still the main character. Kerman's story is about how one woman did time and recognized the flaws of the justice system; Wolters' is about how one woman tempted the fates and survived.
Kerman supplied us with anecdotes about prison life, about the failures of the justice system in supporting women who had been incarcerated, about the rampant abuse of their bodies and minds by the system. Wolters, instead, tells a much more human story simply about her own journey. We see the love for Kerman that carried her through, as well as the truly complex maze of what could have been life-or-death decisions that she was navigating in an attempt to best protect and honor her. Above all, Out of Orange shows us how powerless Wolters, too, was to the system — both the prison-industrial complex and the drug ring that got her there.
Out of Orange is also undeniably queer, which drew me in. Wolters carries on relationships with women in prison, can't stop talking about her cats, and writes candidly about struggling with her sexuality during and after she serves her time. (Guys, there is so much in here about the cats. Just so much. This book's tagline could, and should, be: THE STORY OF THE REAL ALEX VAUSE AND THE FELINES SHE LOVED AND LOST.) In fact, Out of Orange is about someone so eerily similar to myself that it scared me. It's about someone who smokes too many cigarettes when she gets stressed out, strives to be loved without being lost, gets stuck on matters of the heart, gets in over her head. Throughout the book, there's a sense of responsibility from the narrator, who retells her story honestly at every cost to herself. There is no denial of guilt. There is just a sense of redemption, clarity, and remorse.
Wolters admittedly got in much deeper then Kerman, and perhaps for that reason there's less of a desire to blame the system and more of a desire to blame herself, to center the load on her back and keep walking. Wolters, too, struggled to rebuild a life and get "off paper," was faced with the insurmountable challenge of figuring things out post-prison and mid-forties.
If you've read Orange is the New Black, you'll want to read Out of Orange. It's not so much a rebuttal as a complementary piece; hand-in-hand with Kerman's own story, it completes the tale of how two women who had never met before became partners in crime and lovers in trouble. (Plus, now that you've powered through Season 3 you'll need something to occupy your time, anyway.)