Happy weekend, vegan snickerdoodles! Our TV Team has been hard at work for you this week! Valerie Anne recapped the Avalance wedding on Legends of Tomorrow and Supergirl's race to the finish line; Riese recapped another messy episode of The L Word: Generation Q; Natalie recapped the very gay but overstuff season three finale of Good Trouble; and Heather reviewed Carly Usdin's new lesbian rom-com and made a list of 30 excellent LGBTQ+ animated TV episodes! Also! Wouldn't you love to know which mid-aughts LGBTQ+ TV character you are?
Notes from the TV Team
+ Roswell, NM had Isobel say she was still dating the lady bartender form the gay bar in episode one of this season and then just never mentioned her again?? Could they not get her back because Covid? Did they…forget Isobel is bisexual? GIVE ME MY BISEXUAL ALIEN BACK PLEASE. Eh hem. — Valerie Anne
+ I'm just a girl, still watching In the Dark for some reason, wondering when my lesbian will come back from the war. — Valerie Anne
+ The Republic of Sarah concluded its first (and only) season this week. With news of that her father's residential treatment center is being purchased by some conglomerate, AJ's spent the last two weeks trying to find a new center that she can afford. In the end, Sarah — whose father sacrificed himself to get Greylock federal recognition — puts AJ in charge of a treaty with New Hampshire covering predatory medical corporations. AJ's father can stay in Greylock… and so can AJ. — Natalie
+ No canon queerness on Reservation Dogs thus far (though I remain hopeful) but the show's one of my favorite of 2021 and Monday's episode centers around queer actress K. Devery Jacobs' character Elora Danan. Highly recommended. — Natalie
+ I second that!! Reservation Dogs is amazing. — Drew
---
Work in Progress 205: "Take Your Child to Work Day"
Written by Drew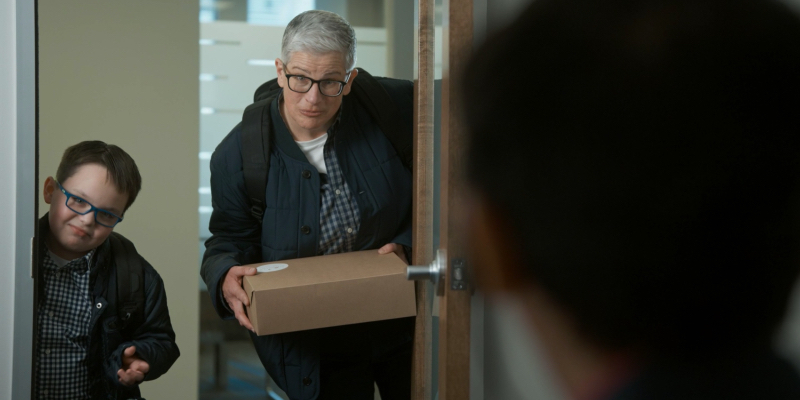 The first season of Work in Progress did everything it could to make Abby unlikeable. It presented us with a selfish, damaged person whose untreated mental illness hurt herself and those around us. It didn't care that its character occupied a representational space absent from TV — Abby was insufferable. And then it dared us to like her anyway.
What makes this episode so special is not only Abby's growth, but how it emphasizes what made her likable all along. We've seen the ways she's funny and caring and righteous before, but never centered in this way.
Abby's relationship with her nephew is so sweet. He's a mini-her and their connection is beautiful to watch. It's also fun to see how Abby's curmudgeon nature is actually an asset in an office environment where curmudgeonity is earned. As seen in contrast with her insufferable boss, sometimes being negative is actually more fun to be around.
For the first time in the show, Abby doesn't fight, flight, or freeze (pass out) in the face of crisis. She protects her nephew and leads her coworkers out of the disastrous Gender is a Spectrum Reveal Party.
Abby is doing really well. But the pandemic has arrived. And even all this growth may be no match for that collective tragedy.
---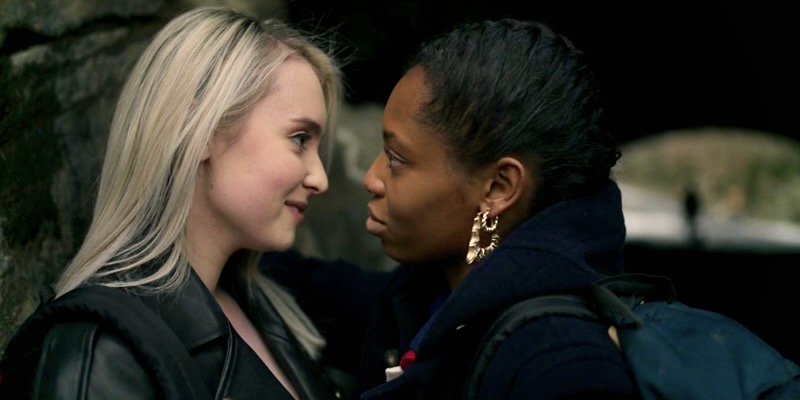 It's always hard when a show buries its gay, because I guess, at least as a TV critic — though I think also, as a fan — it requires reopening wounds of past unfair lesbian deaths, of which there are innumerable, and holding them back up to the light of day. How does this death compare to the others? What does it mean in context? Is there really any justification for yet another queer death on television, when it's already our longest, most harmful, and overused trope?
The Power Universe is a family crime drama about drug lords, people die in nearly every episode. To some extent, the body count is kinda the whole point — who gets the most gruesome death, the most action packed one, who dies as a king of the game and whose life is cut short? When Nicole took her first hit of cocaine last episode, I predicted that the writing was on the wall for her character. But, even by Power standards, I never believe she'd die this pointlessly or quickly.
So let's back it up! Nicole has some fancy Upper East Side debutant ball situation, and she wants to take Jukebox as her date. This requires a certain level of teenage hijinks because of course, Nicole's notoriously homophobic mother won't even let Juke on the premises. But the two of them set the plan in motion, with Nicole being set up on a beard date by her mother that she'll ditch once inside the ball and Jukebox securing keys to Kanan's apartment to change her clothes before the dance.
While making these plans with Kanan, Juke ends up taking some cocaine from him to keep them out of the hands of the cops (long story) and that particular batch was cooked by Kanan himself, which turns out to be lethal because he's a dumbass teen who doesn't know what he's doing (even longer story). But unbeknownst to Jukebox, Nicole takes the coke because she's… somehow already at the stealing levels of addiction? Which is terrible plot development, but sure.
Before the inevitable happens, Jukebox has some really just absolutely gorgeous lesbian teen moments. The kind of which had me cheesing big cheeks at my television, fully ready to get on my platform and declare "YALL AREN'T GIVING RAISING KANAN A CHANCE!! LOOK AT THIS BLACK TEEN LESBIAN!! LOOK AT HER!" That was the before.
In the before, Jukebox goes into a fancy department store to try on ball gowns, only to have her eyes catch a men's suit.
In the before, Jukebox flirts with Nicole endlessly when Nicole asks "what color is your dress," because she doesn't want to say just yet.
In the before, Jukebox changes into her suit at Kanan's house and goes from shy to really feeling herself in the mirror, posing and cutting up when her Aunt surprises her and walks in. Raquel, who I suspect has always known about her niece, doesn't let Juke feel bad. She tells her that she only wants for her to be happy, that her date is lucky to have her. When Jukebox tells her that her date is a girl, Nicole, Raq hugs her niece hardest of all.
In the before, Raquel later tells Kanan that he missed his cousin looking flyyyy.
And all of this supportive Black household of a queer teen in Southside Queens is not-so-subtly juxtaposed against a rich white girl on the Upper East Side who's mother is — and I am not making this up — gently pushing her daughter to have sex with her beard after the dance, which you know, sounds just this side of coercive rape if you ask me. It's all too much for Nicole who gets the cocaine out of her book bag, listens to Jukebox singing love songs on mixtape on her Walkman (the 90s!!), lays down on the bed in her party dress, and then smokes.
She dies instantly. Which is, of course, horrific on its own. It's horrific that Nicole was trapped in a situation with a mother who doesn't love her. It's horrific that she died. That, unknowingly, Kanan cooked the batch that killed her. It's complicated that while Raising Kanan mercifully turned inside-out the stereotype of unsupportive, homophobic Black families, it left Nicole (who is rich, who is white, but still…) to pay the price.
But for now Jukebox, dressed to the nines and so handsome in her very first suit, is left outside in the cold, alone, thinking that Nicole left her. She has no idea how true that really is.
---
Written by Drew
This delightful season of American Horror Story continues with a flashback episode all about The Chemist! Last week was a tease, but now the beakers are bubbling and Angelica Ross is stealing scenes and our hearts.
Five years before Harry and his family come to town, The Chemist is the newcomer. She's been working on the military's efforts to suppress creativity and now she wants to go rogue and work on bringing it out. We see how the artist culture of Provincetown developed — and by artist culture I mean all the Limitless vampire shit — and meet some of our characters before they became accomplished bloodsuckers.
Other than Ross' sexy cool, the star of the episode is Frances Conroy. Anyone who watched Six Feet Under, knows she can do sad wife as well as she can do her various American Horror Story villains, but it's thrilling to watch her do both at once. She's treated so poorly pre-pill, it almost makes you want to root for her once she's evil. Or, in my case, fully root for her. It's a Ryan Murphy horror show. My morals (and brain cells) have been left behind. And I'm having a blast!