feature image via Everyone's Instagram Boyfriend, Rachel Kincaid
I don't do things small. I overthink everything and then go big. In other words, when I get in the pool, I prefer to jump in vs. take the stairs. When I take a bandage off, I prefer to hold a corner and yank it along with whatever skin and hair is attached to it vs. gingerly lift it millimeter-by-millimeter. I like to have a plan and then I want to just do it. So I made a plan to bring Remi to A-Camp this year. If Kristin and Marni, our fearless A-Camp leaders, say I can bring Remi, I'm going to fly us both to California, I decided.
I feel secondary anxiety for every parent I see traveling with kids in an airport. Good luck with that, I think when I see a parent coaxing a toddler along with their tiny suitcase or trying to appease a wiggly kiddo with a tablet. I definitely didn't want to try it myself.
However, the desire to go back to A-Camp after a four year hiatus was too strong. When it came time to submit staff applications, I asked if it would be OK if I brought Remi. Of course, everyone thought that was a very good idea, mostly because they wanted to meet Remi and despite the fact that it maybe is not the kind of thing camp is set up for.
So for her very first time on an airplane trip, I chose to fly Remi and me, just the two of us, from Rochester, NY to Los Angeles with a layover in New York City. The total travel time was over ten hours each way, with the JFK to LAX flight alone clocking in at five-to-six hours in the air. I was increasingly uncertain about my decision as the days passed and the trip became more real. I prepared and packed as best I could and decided to do whatever I could to try to set myself up for success.
Things started off great with the JetBlue agent telling me I should have Remi's birth certificate on me, which I did not have, no I did not. I checked TSA rules and TSA doesn't need ID for minors traveling with parents/adults, but I guess JetBlue recommends it. So I sent Waffle, who was dropping us off and trying to have a chill 3:30 AM goodbye, speeding back to the house to get Remi's birth certificate. Things were off to a brilliant and not-at-all-stressful start!
Waffle was feeling a bit bummed out about missing Remi's first flight. We'd been talking about airports and airplanes and she was really excited. I promised to take pictures. I also started updating the shared note that we'd been using as a packing list with brief live-time updates about the trip. I wanted Waffle to feel like he was with us. In fact, rather than narrate the trip, let me just share the notes I sent to Waffle.
---
4:20 AM ET
Remi was on her best behavior for TSA screening, but insisted on taking her own bag through the zig-zag line, thus creating a traffic hold-up even at cheetah speed.
4:40 AM ET
When I lifted her up to look out the window at ROC terminal A, she finally saw the ✈️✈️✈️docked on the dimly lit tarmac and said, "Cooool!"
4:50 AM ET
She walked down the jet bridge by herself with her bag. Buckled herself into the seat across the aisle while I worked on getting the car seat installed. Willingly got into her car seat and was excited to be on the plane.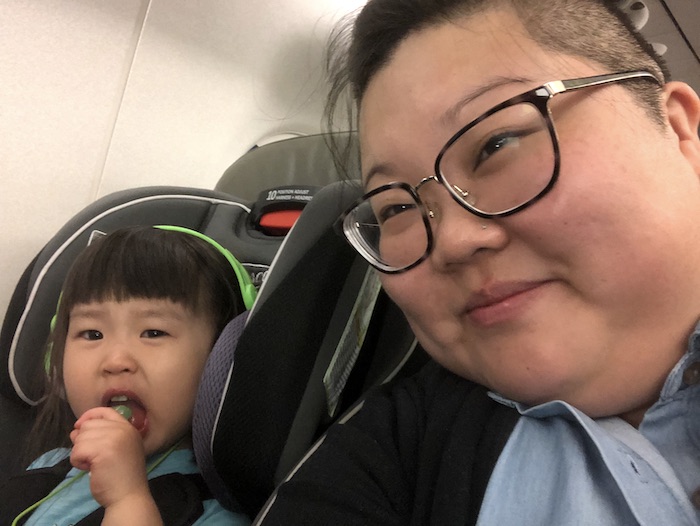 5:07 AM ET
Hated takeoff and screamed "I want to go home!wp_postsand burst into tears. 😰 Threw herself around in the car seat trying to get out so much that I opened the chest harness so she could have her arms. Gave her Dino once she settled down. Didn't want to see the sky or have the window open. Seemed scared to be up high.
6:59 AM ET
Could not find applesauce at JFK, so got three of the Plum organics baby food pouches. We opened and taste tested all of them and she liked none of them. She did eat most of an 🍏and had a Chobani yogurt and a milk box.
8:10 AM ET
Convinced Remi to let me take her bag in exchange for holding her own ticket. She has not once sat in the car seat to ride around the airport. The strap has come in handy to attach her bag to the stroller cart when I can convince her to give it up. Two women have asked about the cart and where to get it so far.
8:29 AM ET
Car seat did not fit down the aisle in the bigger plane for some reason. Folks really do offer to help so that's nice. A kind flight attendant carried it back to row 27 for us and another flight attendant stowed our cart in the back for us. (I ❤️you, 👩🏾‍✈️👨🏻‍✈️!) Remi is excited about the plane again. (Thank god!) Talked about takeoff being scary. We'll see how it goes!
8:45 AM ET
Remi fell asleep right as we began to taxi. She slept through the announcements. Yet to be determined if she'll stay 😴for takeoff or if her ears popping will wake her up.
9:26 AM ET
SHE DIDN'T WAKE UP! Success! I just scarfed a $10 ham sandwich and now I'm going to try to take a nap assuming she stays asleep. She's out hard.
10:31 AM CT (11:30 AM ET)
Remi woke up, remembered where she was, and asked for her lollipop. We watched 30 minutes of Cars on the JetBlue screen and ate some 🍿. Then we read some books.
10:22 AM MT (12:22 AM ET)
Remi is tired of wearing her headphones. (She had them on for her nap, too.) We got the tablet out and played the Baby Shark matching game and the coloring game. "Glitter!"
10:52 AM MT (12:52 PM ET)
We're doing great! Remi's a gold star flyer! ⭐️⭐️⭐️ She's starting to get restless and no activity that isn't a screen can keep her attention for more than ten minutes. But we've got less than two hours to go. We can do it?
11:19 AM MT (1:19 PM ET)
We beat the slump with apple juice (a special treat!) and How to Train Your Dragon: The Hidden World on the JetBlue screen. Remi keeps telling the 🐉s that they're, "Good boys!" and has decided they're all, "My dragons!" The warlords are, "My friends!" She does not understand the premise of the movie. 😂 She put her 🎧 back on herself because she was so into it, though. I synced up my screen with hers and am watching it with closed captioning on. The other winner to get us over the hump was my cup of complimentary ice, which I actually didn't want but she is finding endlessly amusing. Update: She just did the Ice Bucket Challenge down her front. "Need towel!" 🙄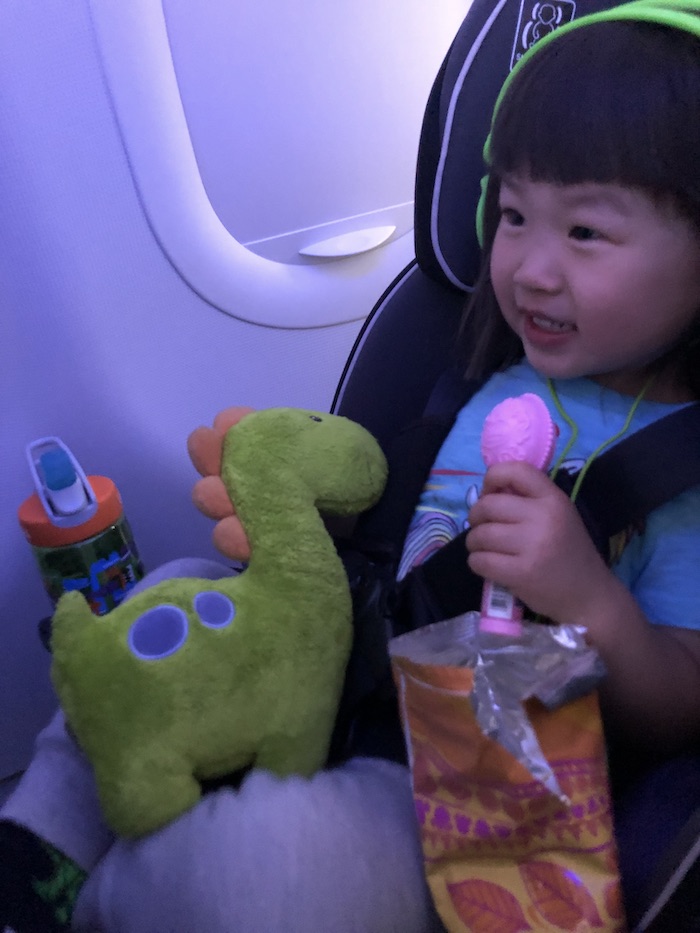 11:43 AM MT (1:43 PM ET)
I have broken the seal on the jelly beans. Less than an hour to go. One very restless toddler. We can do this! We can do this?
11:36 AM PT (2:36 PM ET)
Arrived! Early! So early that our gate is occupied. We're very emotionally invested in How to Train Your Dragon: The Hidden World, so maybe it's for the best. Remi is super concerned about the dragons who were captured by the bad guy. "Oh no! My dragons! Help them!"
11:56 AM PT (2:56 PM ET)
Remi got tired of sitting still and wanted to be unbuckled. Had a mini-meltdown 😭 about two minutes before we finally got the :ding: that we could unbuckle and get up. THANK LESBIAN JESUS. Luckily the person sitting in front of Remi whose seat she kept pushing on despite many stern talking to's also has a two-year-old, so was well equipped to deal with Remi's incessant chatter/yelling/singing and seat pushing. Honestly, I'm going to call this a success! 🏆
2:10 PM PT Remi made immediate friends with everyone on staff. She is convinced Austen is you. So there's that. Make of it what you will. She's currently playing with a bunch of adult staff while I use the bathroom. God bless. Next up, car rental.
---
Then things started getting busy and I forgot to keep updating, but Waffle said he appreciated it and looked forward to the airplane updates all day while he was at work.
Final conclusion: Traveling alone with a toddler is super exhausting and stressful, but we did it! Honestly, Remi's a great flyer and I would take her on a plane again in a heartbeat, especially if I had a second pair of adult hands with me and if the flight was a bit shorter and/or direct. That said, it was hard and I had to rely on a lot of help from strangers throughout the day. I hate, hate, hate asking for and receiving help, but people saw I was struggling and I would have been truly ridiculous not to take them up on the assistance.
I tried to pay it forward during the trip home when I saw another mom traveling alone with two kids who looked like she wanted to throw her kids in the trash. I mean, I get it. This poor parent was just trying to eat her salad and she was coming back from a trip to Hungary with a toddler and an infant. Good grief. I checked with her and then offered her older kid a seat next to Remi to watch the Netflix show Remi was enjoying on my laptop. They bonded nicely and Remi told the older girl, "I like your shirt!" Sometimes I'm wary of other moms when I'm traveling alone. I don't always read as queer (to heterosexual people, at least) and I never know if I'm talking mommy stuff to a Trump supporter or a religious zealot, you know? But sometimes I just lean into the mommy-to-mommy connection and focus on our shared humanity.
Anyway, by the time we arrived at LAX, Remi was overtired and overstimulated. We visited with the A-Camp staff waiting for the shuttle in terminal 6 for a while to let Remi run out some energy. She made fast friends with everyone. I was driving us to camp because I wanted to get a nap in for Remi and, more importantly, I wanted a car on site all week in case we needed anything. I'm so glad I had a car!
Why? Because Remi got sick, the night before campers arrived, around midnight. I'd put Remi to bed and she went to sleep right away. I was sitting outside talking to Reniece and Carmen and heard Remi coughing and then crying on the travel baby monitor I brought along. I said goodnight and went upstairs a little bit later and Remi popped up in her pack-n-play. "Mommy?" I thought she might be confused about where she was, so I went to pick her up and that's when I felt something wet on the carpet. I'll spare you the details, but I turned on the light and had quite a mess to clean up. She got sick four more times over the course of the next hour, all over me and then all over every potential sleeping surface in our room. Never have I been more stressed about solo parenting a toddler. I couldn't leave her alone in the room and I needed help. EVERYONE WAS ASLEEP. I eventually ended up waking up Mack and Marni and we were up until 3:00 AM. I'm so grateful that they came and helped. For the rest of the week, our room smelled weird.
Remi was sick for a couple of days but seemed to be over the major symptoms in about 24 hours. I thought it was food poisoning, but then I started feeling sick, too. Then I found out that two other staff were sick, both of whom had been playing with Remi during pre-camp. Then another staff person fell ill. Then another and another! It's possible it was unrelated to Remi, but the symptoms were similar: utter despair and wishing-for-death for about ten hours followed by a period of quick recovery. It also happened mostly to people Remi had baby duck imprinted on or who helped take care of her at pre-camp. Remi even managed to take out Alex the night of the family band's performance, three days after Alex gave Remi a drum "lesson" a.k.a. let Remi touch all her drumsticks and drums. I felt bad that Remi was Patient Zero.
Remi overall had a good time at A-Camp when she wasn't ill and grumpy from being ill or from traveling cross-country. I don't know if I'd do it again. I couldn't help out as much as I wanted to as a staff member. Remi being sick meant I had to miss some of the workshops I was supposed to do. Accepting offers of more-than-fleeting childcare wasn't really an option I felt super comfortable with once Remi was sick. (I'm glad for that, too, because she seemed totally better by the time she came home, but was apparently still contagious. Waffle suddenly and violently came down with the same sickness the day after Remi and I arrived home.)
I had a different time at camp with a toddler than I did the last time I went, childfree in 2015. I doubt I'll attempt it again unless there's planned childcare available, which maybe there could be at some point in the future. I did learn that lots of campers have little kids, as several came up to me to tell me about their kids since I had Remi. And more and more queer people are having kids. So maybe there will be a camp daycare or parent co-op babysitting situation in the future. But I think we'll be sitting out for camp in 2020 and until Remi's old enough to go somewhere else for a week, like to her own summer camp.
In summary, it was a good experiment and we made a lot of good memories and the pool was amazing and I don't particularly want to do it again.
One thing that came out of the experience of A-Camp alone with a toddler (who is also sick) is that I had to not only accept help from others, but ask for it. Perhaps because I rarely ask for help or support for myself, I have never experienced so much support from my queer community. I often asked people to watch Remi for a few minutes so I could quickly run back to my room. Nobody batted an eye. Brittani basically did all the work making the bags for my cabin and delivering them to the rooms for me. I explicitly asked Brittani for help since my co-cabin person was working the accessibility shuttle from LAX the morning of camp. It was super uncomfortable for me, but I realized there was no way I could make all the nametags, stuff the bags, and bring them to the cabin on my own with a surly, still recovering two-year-old in tow.
Adrian took the lead on cabin camper stuff when I was stuck in the room with Remi. Al(aina) took over the Baby T. Rex Toddler Tea Party when it was clear we weren't going to make it. (Then, Al delivered handmade get well cards from the tea party to our room!) Mack not only helped me take care of Remi, but gave Remi a little stuffed animal that she slept with while her lovey was in the wash. Marni helped me find new sheets at 2:00 AM in the morning. Rachel was gracious when I had to back out of the Bisexual Spa. Azul let me have the rest of their white vinegar to help lift the puke smell from the carpet in our room. Cameron, who was already recovering from Remi Fever, took over babysitting for the one workshop I actually made it to so that I could focus for 90 minutes on facilitating. Liz helped me work with the dining staff to be sure Remi had simple, digestible foods while her tummy was yucky. Everyone was there to help whenever I needed them and often without being asked.
In a weird way, even though I didn't get to experience A-Camp in the traditionally transformative way, I got an even deeper peek into the ways that this community, most of which I engage in online, is both real and deeply caring. The radical values of putting family and community care first, of making space for each other to be ourselves, came through in a different way for me this year. I got to be a mom and everyone understood that I needed to occupy that space above all else. I also got to be a hot queer thirty-something woman with my boobs out and my best lipstick on and didn't feel like those two parts of my identity had to live separately from each other. I was transformed by A-Camp in 2015, as a 30-something who had forgotten how to be kind to my body. I was transformed again by A-Camp in 2019, as an older 30-something who had made a home in my body for Remi and who needed radical, inclusive community more than I knew I would.
We don't have to have it all. We can be messy and abundant together.
---
4 Queer Parenting Things I'm Currently Overprocessing
1. A Whale of a Tale, A Tale of a Whale
Remi was so excited to go swimming! She had a new floatie with an "Orca!" on the front of it that supposedly helps little kids keep themselves upright in water. On the night before campers arrived, Molly opened the pool for staff for a little while. Remi was so excited to go in! I had a momentary lapse in good sense and let her walk right down the stairs herself, which resulted in her tipping forward in her swimmies and face planting in the water.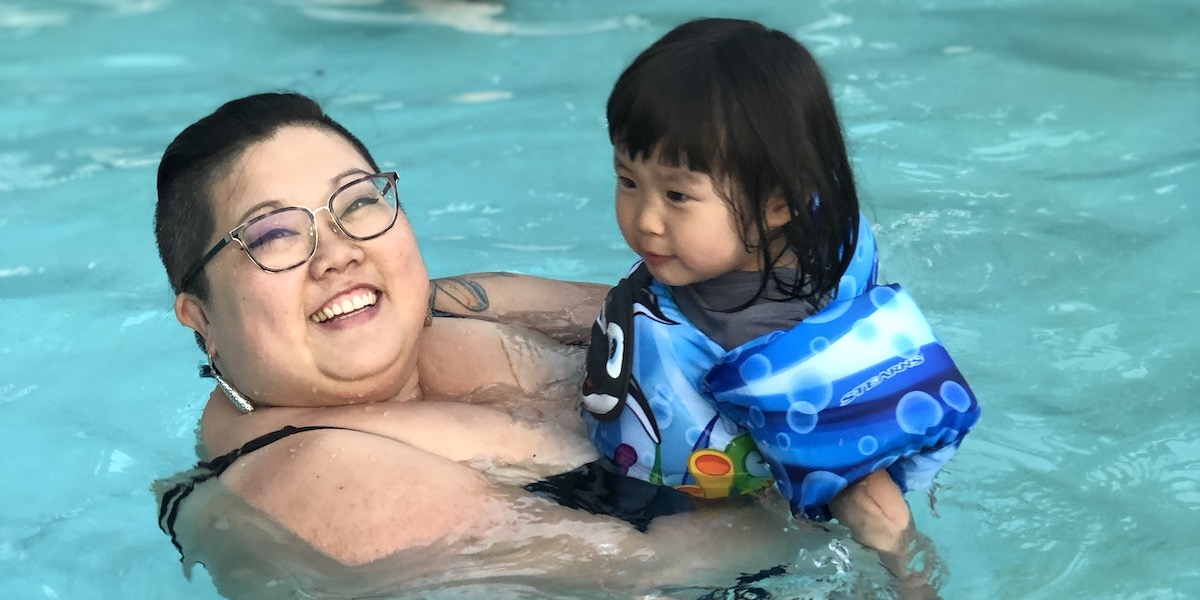 So I held her in her floaties for the rest of the time in the pool. We didn't go swimming again until the last hour of open pool on the very last day of camp. She was too sick to go in the time between. She asked about the pool every day. It was the very first thing she wanted to see when we arrived. "Where the pool? Go swimming!"
---
2. Things I Googled This Month
food poisoning or stomach bug
norovirus airplane
two year old throwing up when to go to doctor
swim diapers diarrhea
how to remove vomit smell from carpet without steamer
---
3. I Picked Up a Mom at the Farmer's Market
I've officially crossed a parenting milestone off my list. I got another woman's number at the farmer's market. I then looked her up on Instagram to make sure she wasn't someone I'd absolutely hate. Why? Because her kid is the same age as Remi within a month and they immediately hit it off and were running around chasing each other and rolling in the grass and pretending to be cows. Remi plays with other kids sometimes, but I'd never seen her bond so quickly and play so collaboratively with another kid her age. When we were trying to leave (and so was the other mom), Remi and the other kid took off running towards each other yelling, "My friend!" and embraced in a big hug. It was very cute. So I got her number—the other mom—and we're going to meet up for a playdate. I can't believe this is who I am now. Also, I need someone to make tinder for playdates. Does that already exist?
---
4. Litte Face, BIG FACE!
I started this game with Remi where we make "little face" and "big face" and she's amazing at it. It's based on a theatre warm-up I did in college. But Remi just likes making funny faces and making everyone else make them, too. It's a great party trick! Also hilarious because she'll call you the fuck out if you don't make big face when she wants you to. She had a whole table doing "big face" at camp during pre-camp lunch and you better bet she pointed at Cee and yelled, "You do it!" when they were the only person not complying. Go ahead, show me your big faces! Remi will be pleased.