Oh weddings. Those glamorous celebrations of love, religion and typically — thanks to thousands of years of tradition and law — heterosexuality. Even though it's not your day, going to a wedding as a queer can feel like all eyes are on you. What if the groom's aunt keeps trying to make you dance with her son? What do you do if you're a bridesmaid who has no idea how to walk in heels? How do you gussy up and still manage feel like yourself? We've read your formspring questions, sympathized and rounded up ten very fashionable grrrls and bois who've survived a wedding or two (or, in Robin's case, 300 in the past 10 years) and even figured out how to have fun. Think of them as your own personal queer fairygodpeople, here to turn your beaters into bowties for just one night.
---
+
SHOES. OHMYGOD, SHOES.
By Carly
If you're not accustomed to wearing dress shoes, the task of dressing for a wedding or other fancy event can be a bit terrifying. Occasionally you can get away with wearing kicks to a wedding. I did it once and my friend called me "Ellen" for the next three. But sneakers with dress clothes can look sloppy if done incorrectly and aren't appropriate all the time anyway. Which means you're going to have to learn to like shoes. Dress shoes. Sounds scary, right?
But here's the thing — years ago I would only wear sneakers, but once I got into dressy shoes I got ADDICTED. Right now is a particularly spectacular time for dressy shoes, let me tell you. I lean more towards the andorgynous/masculine-of-center side of things, and I've actually become more enthused by dress shoes than by kicks.
There are a few things to consider first. One: will you be outside at all? If you're going to be outside or in grass or anything potentially messy, and you're not looking to ruin a nice new pair of shoes, then I'd steer clear of suede. Another thing I always try to pay attention to is proportions. If you're wearing baggy pants with narrow dress shoes, you're going to probably look ridiculous. Baggy pants work better with kicks, dressier boots or chukkas. Something with a little width to it. If your pants are slimmer-fitting, you can get away with almost anything proportionally-speaking.
PRO TIP: Swap out the boring ol' laces that your shoes came with with some fun brightly-colored ones (added bonus if the color you get matches whatever your lovely significant other is wearing!). But for the love of god, don't get sneaker laces! Get dressy laces! Jeez.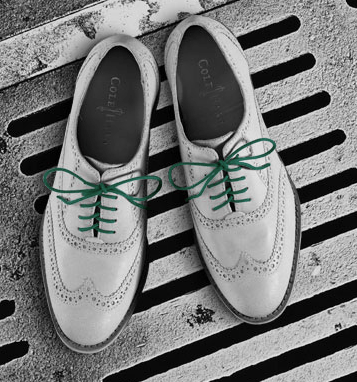 Another important thing to consider is socks. If it's warm out or if you'll be seeing your ankles at all, go with tiny low socks that make it look like you're not wearing socks at all and a little bit of Band-Aid Friction Block Stick to keep the blisters away.
In cooler weather I recommend really fun socks. No need to match them to your shoes, just please just don't wear all-white.
In the interest of your feet, I've compiled a list of some of my favorite places to find dressy shoes, in a wide range of prices:
Aldo is a good place to go for reasonably priced shoes that aren't ugly or going to fall apart after wearing them once. I have these and I highly recommend them for spring/summer events with a navy pant. It's all about the brightly colored soles.
If you want to go really crazy, just go to Barney's Co-Op.
Pro tip: anything by Mark McNairy is going to be ace.
If you have normal lady-sized feet (I wear an 11 so I wear mens shoes all the time) you can get some fun stuff at Steve Madden. Like slippies. If I could pull off slippies I would, srsly. They also have fun oxfords.

Asos, my new favorite online store, has cute shoes as well, and they have free shipping & returns!
Cole Haan has some really fun stuff. So fun that I'm not allowed to go in there anymore. They took the offset laces and brightly colored soles thing and ran with it, with excellent results:
If the wedding isn't super formal you can probably get away with some Clark's Desert Boots or some leather chukkas. If it's near a body of water or is really chill you can probably get away with boat shoes.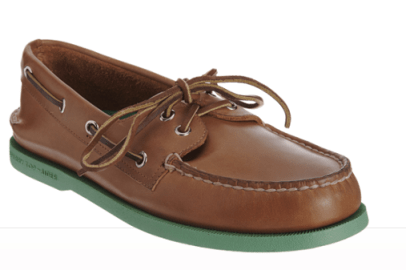 PRO TIP: The trick to pulling off being the only (or one of the only) ladies at a wedding wearing menswear is to wear it better than every man there. Wear it with confidence, make sure everything fits correctly and get some killer shoes and you'll be getting more compliments on your outfit than the bride.
+
Queering the Dress
By Gabrielle
Formalwear is definitely more complicated for women on the masculine spectrum, but let me assure you: those of us on the feminine end of the spectrum have clothing crises of our own. I'm actually kind of famous for my clothing crises. When it comes to getting dressed up for a wedding, my biggest issue has always been figuring out the best way to rock a dress without sacrificing my queer visibility.
On the one hand, we shouldn't care what other people think, but on the other hand, it's really important to me to be visible. I don't like how people treat me when they think I'm straight, and without the context of a lady date, people tend to just assume I'm some sort of "alternative" straight girl. One time, at a lesbian wedding, the mother of one of the brides whispered conspiratorially to me about "those gays," thinking I played for her team because of my quaint yellow dress and makeup.
The bottom line here is that you can wear the gayest dress in the world (think 100% organic woven kale), but to the untrained eye you still don't look queer. These tips should make you look "edgy" enough so that when you start talking about your girlfriend, the response will be, "I knew there was something different about you!" rather than, "You're gay? But you have such feminine facial features!" (That has actually been said to me.)
Stripes and smallish polka dots are quintessential queer patterns and details like buttons and exposed zippers can be key. Asymmetrical shapes, like good asymmetrical haircuts, are definitely indicative of an alternative lifestyle. Sometimes it can be hard to find formalwear with these elements, but I promise you that a little time spent browsing thrift shops or Etsy will be rewarded. Leave some room in your budget for tailoring and get that shit to fit you just right. Some good style eras for queerish dresses are the 90s — think grunge slip dresses — and 50s/60s for pinup. Mod's also a good look to go for because mod dresses usually have a dropped waistline that I somehow find way gayer than a baby doll waistline. Of course, it doesn't have to be actual vintage; you can find vintage-inspired dresses pretty much anywhere cute things are sold. I personally have a weakness for dresses from Topshop, but my bank account isn't into it.
Another good route to go is to just get a really simple dress and rely on your accessories to do the queering. Try a collar necklace!
Also: earrings with feathers, long necklaces with large, unexpected pendants, headpieces, giant bows, unpolished gemstones and big weirdo cocktail rings are all queer in my book. Don't overdo it with the accessories though. Pick one or two and go with that.
Finally, there are some queer parts of your queer body that you may or may not want to show, depending on the crowd. Tattoos are sexy and look queer — especially in a dress — but maybe you don't want your grandma to know you have them. Likewise, maybe you have a lot of body hair and aren't sure what to do with it for the wedding. Nothing says "I eat pussy" like hairy legs and pits but, just as with tattoos, people will probably comment. It depends what you are comfortable with! My body hair is my favorite dyke signifier, so while I don't get rid of it for special occasions, I do trim my armpit hair so that it doesn't stick out while my arms are down.
Even the most well-intentioned people can accidentally misstep and most people will stare at things they aren't familiar with, so you're going to need a thick skin. But that's the case with being visible in general! At least no one's awkward brother will try to hit on you. And if he does, that's his problem, not yours.
Special thanks to Mimi L for professional femme-input.
+
Staying Cool While Looking Hot
By Juanita
"Wedding season" falls between May and September primarily because people want to take advantage of the nice weather, right? Not necessarily. There are many traditions (Roman mythology, the harvest) and practical reasons (guests have more travel flexibility) in addition to weather driving the popularity of summer weddings. After all, what constitutes "nice wedding weather" is relative, especially for MOCs who are subjected to wearing layer upon layer of formal wedding attire in the heat.
The good news is that MOCs can stay cool while still being appropriately and fashionably dressed. There has been a trend in menswear toward more casual, creative wedding attire, meaning you can ditch the heavy fabrics, cummerbunds and even jackets and incorporate more of your own unique personal style. Menswear blog Handlebar recently collaborated with the Grunion Run Groomsmen shop to create a lookbook of stylish modern groomsmen ensembles. These looks can work for MOC brides, grooms and guests as well.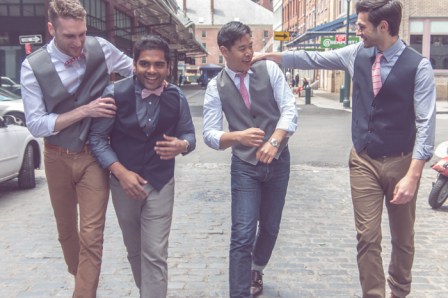 According to Vogue, the key to casual wedding attire is to select looks that are "fitted but classically referenced so as not to look too street." Try vest/tie/shirt combos, suspenders/tie/shirt combos, or go tie-less with a dashing tuxedo inspired shirt. Brides and grooms can also simply add a killer, head-turning investment accessory, such as an Italian ceramic bow-tie by Cor Sine Labe Doli, that they will have for a lifetime.
If you're a stickler for tradition, remember you can still achieve a classic look in lighter weight fabrics, such as linen and seersucker. I usually refer dapperQ readers to GQ's Summer Wedding Survival Guide and Summer Wedding Primer for really awesome inspiration.
Lastly, I know the liquor is free, but drink some agua fresca for goodness sake!