Back when I was a mini-Malaika who wasn't yet allowed to make my own decisions, I had to go to bed early without watching Buffy. Even though all the other kids in my elementary school were talking about it, my dad deemed it off limits. He didn't approve of the vampires and the violence.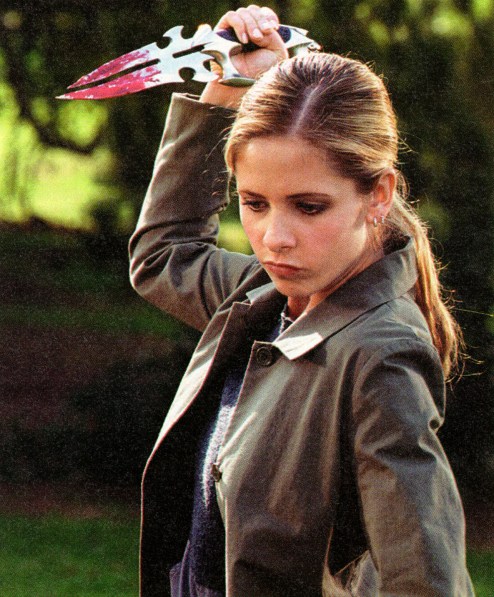 Did I miss out on what researchers are calling the buffy effect? Researchers at Texas A&M University have found that women have less anxiety and both men and women have a more positive attitude towards women after watching violence on television if the female characters are strong. In other words, watching feminism in action is good for you, calms you down and makes you see gay unicorns. I'm getting ahead of myself though. The studies about gay unicorns haven't been released yet.
However, I am able to fill you in on the details of the buffy effect study. 150 men and women at Texas A&M University were shown three different types of television shows: those with strong leading female characters and sexual violence (Buffy the Vampire Slayer and Law & Order: SVU); those with subservient female characters and sexual violence (The Tudors and Masters of Horror); and those that were deemed neutral (The Gilmore Girls and 7th Heaven). Although I don't think The Gilmore Girls and 7th Heaven can be so easily relegated to the neutral category — personally, I find The Gilmore Girls far from neutral because it has Rory Gilmore, one of my many tv crushes. As for 7th Heaven, well, at best it works as a fantastic sleeping pill and at worst is a rage-inducing portrayal of gender roles.
But I digress. After they watched the shows, the students were asked to reply to what I would think would be no-brainer questions such as "A woman should not expect to go to exactly the same places or to have quite the same freedom of action of a man," and, "The intellectual leadership of a community should be largely in the hands of men."
Men who had just finished watching The Tudors and Masters of Horror would be more likely to express doubt about a woman's "freedom of action" and men who had watched Buffy did not give sexist answers but reported higher levels of anxiety. Women reported higher levels of anxiety while watching shows with sexual violence combined with subordinate female characters.
The study is interesting and raises the very obvious point that it's good to have strong female characters on TV. Still, the research leaves me with a lot of questions and frown lines. The first interruption of my otherwise baby-smooth forehead is cause by the sample size: 150 people is not a lot of people. More importantly, the majority of the students came from the same ethnic background — Latino — and the television shows all featured portray mainly white men and women. I'm not sure how race affects reactions to gender roles on television, but that's the thing: I would've liked to have found out. A more thorough study would've maybe included more than 150 participants from various backgrounds and they would've watched shows with a more diverse cast of leading ladies. Unfortunately it's hard to find positive depictions of women of colour on television.
As a little girl, I don't feel I suffered very much from not watching Buffy, but I think that's because I didn't really discern between boy and girl, black and white. I could imagine myself as all the awesome characters kicking ass even when they often didn't share my gender and ethnicity. Just because I was a girl, it didn't mean I couldn't be like Ash from Pokemon. It also didn't stop me from having a crush on Alex from The Secret World of Alex Mack. I was more than a blank canvas onto which a television stereotype could be projected; but I shouldn't have had to rely on my imagination to make shows over just to better fit me.
While the researchers at Texas A&M University have demonstrated portrayals that of men and women on television affect our anxiety levels and our understanding of gender equality, shows like The Tudors don't exist in a vacuum. The men who didn't think women were capable of intellectual leadership didn't catch their sexism from a casual viewing of a TV show. Locating the origin of misogyny is not an easy task; for that, you'd have to look beyond media to class, race and cultural attitudes. Though this study is an important clue, it's still only a piece of the puzzle.

This article was brought to you by the hardworking people of Autostraddle, the world's leading independently owned queer-lady website! If you loved it, you should donate to our bitchin' fundraiser and be part of the revolution! We've got until September 7th to reach our new fundraising goal and you can read more about what's in it for you here. Every little bit counts. Thank you!