Whew. It has been a month, hasn't it? Since the election, I've been slowly and carefully knitting myself back into to a fully formed human person capable of a range of emotions and actions. It's a slow process; sometimes I mess up a stitch and have to rip a few rows out to start again. There have been some good things, though. My wife has been unbelievably wonderful, going so far as to give me a birthday do-over day since my actual birthday was November 8th. My friends give me support and strength daily. My cats have actually been pretty great too; Flapjack, my little tiger tabby, has only attacked me out of the blue a few times!
The election was a clear cut win for racism and sexism and xenophobia and homophobia and lots of other awful things, so now, maybe more than ever before, I am craving representation in all areas of my life. I want to see queer people, and women, and people of color being unapologetically themselves and just here, in both real life and fiction.
Lo and behold! I randomly stumbled upon an article a few weeks ago called, "Finding Ourselves in Play: A New Database of Games on Sexuality, Gender and Relationships" which seemed relevant to many of my interests. Through it, I learned about Queerly Represent Me, a database collecting queer video games. Friends, it is quite a nice resource. In addition to the database of games, the site houses some articles, presentations, and the results of a survey on the representation of sexuality, gender, and relationships in games. My biggest takeaway from the survey was that I apparently need to play Dragon Age.
The database is filterable by sexuality, gender, or relationship (some games fall into more than one, or even all, categories). Each entry includes a summary, a still of the gameplay, and some basic info (including where to play it).
I had already heard of or played some of the games, but many of them are small and/or independent so there was quite a bit of discovery as I scrolled through the entries. Here are some of the games I've found (and played) through the Queerly Represent Me databse.
---
I wanted to like this game more than I did. In a message on the hosting site, the creators say that "A Closed World was created to be a digital game that deals with queer issues" and it totally is! Mostly. They use a somewhat narrow definition of the word queer, is all. Take for example the first screen.
The game is really less about "queer issues" and more about the specific issue of hiding a relationship/your own sexuality. Once you select a gender, you enter the forest and have to fight the "demons" you come across. These demons are manifestations of people in your life, and you have to use passion, logic, or ethics to defeat them. It's all just a little too on the nose for my tastes.
I did enjoy the artistic style quite a bit, which is always a plus for me. It's a quick and easy play, and there are some decent flashback scenes that tell the story, but it's a story that feels dated and cliche.
---
This was a really entertaining little game! It's quite simple and only takes about twenty minutes, but there's a lot of comedy/drama/feels packed into the playthrough. It's a "half-true story about half-truths" that the creator made based on actual coming out events in their life. There's a fun little intro where Nicky, the creator, answers questions about themself and the game. Once you begin, you play as Nicky and choose responses to the people around you while trying (or trying not) to come out. I don't want to spoil too much about this one, because I think you should just play it. Plus, look: puns!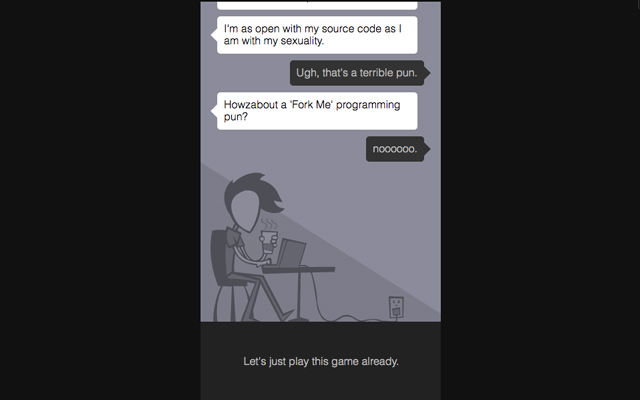 ---
I am not actually sure what makes the cats in this game gay, but I mean, if that's how they identify, who am I to disagree? The woods are definitely weird, though. Overall, this is a pretty bizarre game, but I thought it was fun. You just move around as two cats in tandem and try to get to the end of each puzzle. I don't think it's actually possible to die/lose? Or maybe I was just really good at it? (Unlikely.) Anyway, the cats purr if you don't move them after a few seconds, so that alone is a selling point, I think.
---
This is another really short experience that, just like Coming Out Simulator, is autobiographical in nature. While the Simulator had dialogue options that shaped the interactions with other characters, Snapshot is really just that: a literal snapshot. There are no other characters and no real action; it's just a glimpse into an afternoon in the life of a conflicted teenager. It definitely felt authentic. As I was exploring the room, I was reminded of my own experiences and thoughts. Also, you get to listen to RENT so it's a win-win.
---
This game! What a gem! You play as a queer lady limousine driver named Georgio Manos, and the only way you can drive is while your entire limousine spins in circles. Also, the gameplay is interspersed with cheesy 70s B movie-style acting. It's ridiculous! And amazing! You pick up a lady named Beth on her way to a wedding and boy do the sparks fly.
I'm mostly terrible at the actual game, but I couldn't stop playing it. I killed countless pedestrians and exploded in a fiery crash more times than I can remember. There are no stakes here; no matter who is in the car or how many times you crash it, you just respawn immediately.
There were a few other games that really piqued my interest (especially Queer Quest: All in a Gay's Work), but they were unavailable when I tried to play them. The database is not entirely without flaws — I would love to have the ability to filter on more than just the three main categories and see or add ratings — but, overall, I was really happy to stumble on it. It's so important for marginalized people to see ourselves in the media we consume. The Queerly Represent Me database is a great resource for those times when you just want to play a game that confirms people like us are here and we're real.