Tartoscopes is using the Lumina Tarot this month, along with the usual Compendium of Constellations!
After the explosive fire and powerful motivation of Aries season, Taurus brings a more gentle, grounded energy into play. Our year has started with intensity and focus, and is now moving into a more consistent pace, tempering eager flames with earth's patience, steady progress, and beautiful growth. Taurus is a season of practical magic, a time when we learn how to balance independence and intensity with deliberation, focus, and comfort. While these beloved bulls are known for their intense dedication and occasional stubbornness, they also excel at pampering themselves, balancing their ability to work hard with deliberate space to rest and recharge. Honoring responsibilities and indulgence in equal measure allows us to find a deeper appreciation for both practices, and strengthens our love of self as well as our creative vision.
The birth card for Taurus is the Hierophant, an archetype of conventional structures and accepted knowledge. Usually associated with organized religion, education, government, and leadership, this archetype encourages us to both learn and question, teaching us about existing patterns but also providing the tools to build new ones. The Hierophant can be a challenging card for many in the queer community, as it can represent painful histories and oppressive systems. But just as the Emperor can teach us how to create boundaries to protect ourselves and make space for gentle exploration and creative community, the Hierophant opens us to both the physical and spiritual worlds, creating necessary frameworks for ourselves and carving out unique spaces that allow us to thrive. By slowing down and considering both our past history and our future purpose, we can identify and create personal rituals of comfort and magic, and make space for learning more about ourselves. And like Taurus, this card reminds us to maintain balance between the mind and the body, the things we crave and the things we need. Both this season and its card demand reliability and stability, while still acknowledging a desire for pleasure, sensuality, and earthly joy.
The Hierophant can teach us how to keep our feet on the ground while allowing our souls to explore, and we see that need for balance and curiosity reflected in many of this season's cards. From beginning a new cycle to gaining deeper understanding of our journey thus far, balancing tasks and sharing what we have created, this is a time to both care for ourselves and look within to uncover where we should push ourselves further. And with April's deep gay magic still present, it is likely that we already know exactly what we need to do — this is simply the time to do it.
In this season of Taurus, keep the Hierophant's wisdom, reverence, and appreciation of history in mind as you read for your sun sign. Experienced tarot readers or astrologers can plug the cards I've drawn for their sun, moon, and rising signs into the spread below to create a custom reading for this season. Taurus' guiding planet is Venus, which is connected to pleasure, beauty, and desire, making your Venus placement also deeply relevant for this season.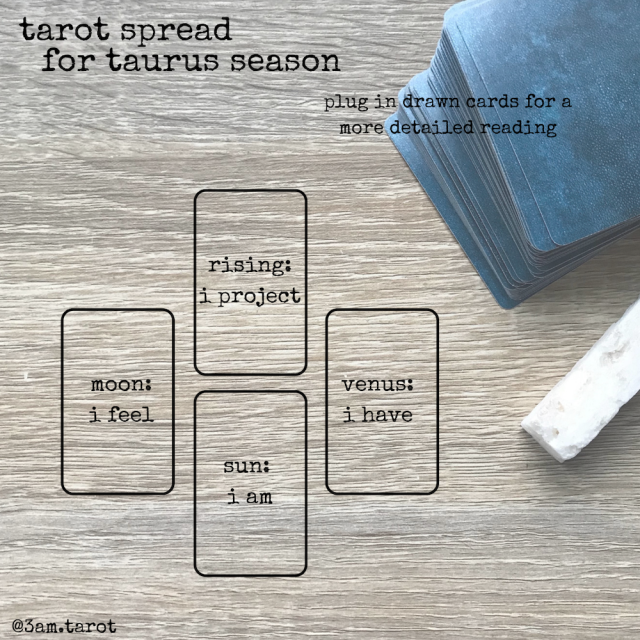 My custom readings and regular writings are available through my newly-redesigned website. I'm also launching a Patreon this month to help my business grow and allow me to create additional content. You can find details on ways to join and support my work on Instagram – I've got some great perks for subscribers including monthly theme cards, individual readings, and access to a private tarot community geared specifically towards readers, writers, and creatives.
Aries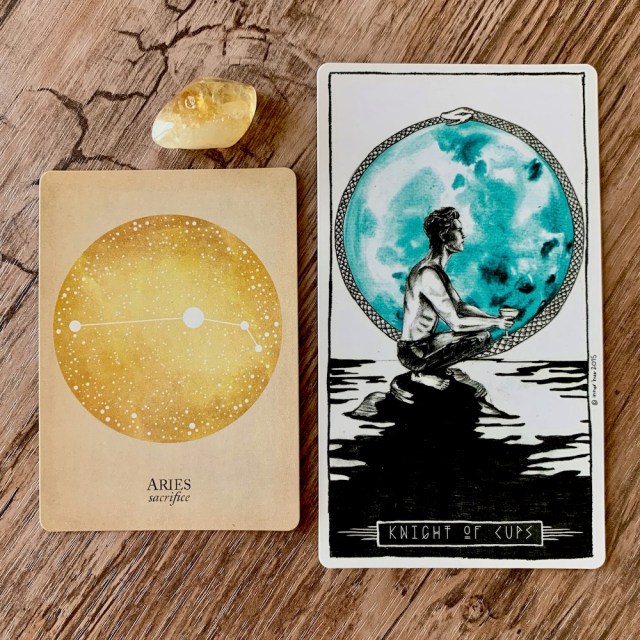 Knight of cups
Last season gave you opportunities for reflection and deeper understanding of self, and Taurus season is inviting you to continue giving attention to your own needs. You may find yourself facing an emotional crossroads, feeling things deeply and struggling to make decisions about how exactly to follow your heart. This knight is emotional and sensitive, romantic and occasionally obsessive, and those tendencies don't always mesh well with your fiery, confident nature. Allow yourself to be both open and gentle during the upcoming weeks, giving yourself space to process and listen to what your intuition is whispering.
It may be that a current relationship will be moving or shifting during this season, a connection deepening or intensifying. Pay attention to what you feel and want during this time, taking the opportunity to understand your deepest needs — try not to rush this process, and work to honor your emotions. How you feel matters, even when those feelings surprise you.
Taurus
Ten of cups
Happy birthday, Taurus! Your season brings deep connection, emotional stability, and the kind of chosen family you've always dreamed of. You've worked hard to build relationships that are based on trust and love, to understand how to give and receive, and to care for the spiritual side of you as well as the physical. Celebrate the love in your life this season, and acknowledge the people that make your world so brilliant.
This is a time of contentment and joy, a chance to reflect on the ways that you have been vulnerable and opened yourself to possibility. You are capable of loving deeply, of providing intense comfort and peace to others, and the people that you trust are those you allow to love you back in the same beautiful way. Don't doubt what you know to be true — you are deeply cherished by your community, and deserving of all the love you feel.
Gemini
Six of wands
Aries season may have felt particularly challenging for you, but this new season will bring a sensation of motivation, confidence, and satisfaction. You've been making progress even in the face of struggles, but it may now feel like a current project has new life, and you will begin to see all of your hard work and vision paying off. Combine the fire and strength of this season with your natural ability to work quickly and come up with new ideas — you'll find yourself moving with purpose and strength, enjoying a new awareness of your talents and abilities. There may even be a heightened sensation of freedom and independence, a desire to explore and shine all on your own. This card is endlessly optimistic, with a sense of impending victory and a clear path forward. Enjoy the power and triumph you feel, putting all of that bubbling positive energy into your projects, plans, and dreams, but make sure you keep your ego in check. Stay focused and keep going — you're creating something amazing.
Cancer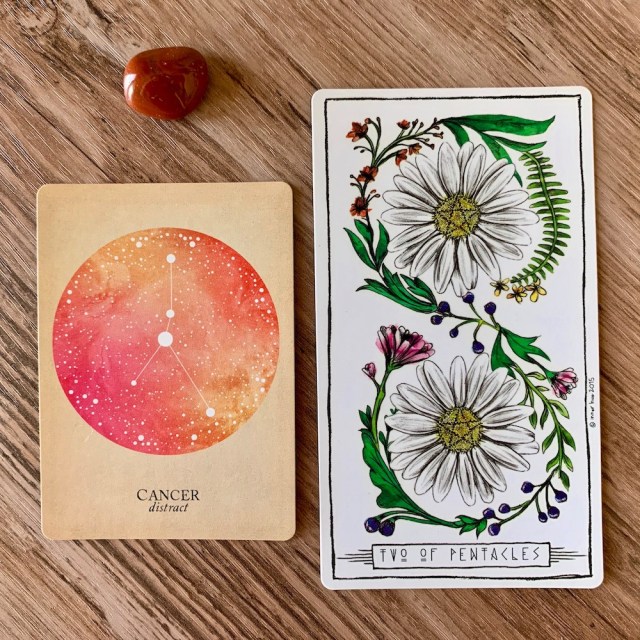 Two of pentacles
Your ability to navigate both physical and spiritual worlds makes this season of the Hierophant a comfortable one for you, and it may seem that everything is in harmony these days. You are deeply capable, enjoying and in control of multiple aspects in your life. Even when you're juggling a lot of tasks, responsibilities, and projects, your sensitivity and sense of loyalty will keep you focused — but take care to introduce new work slowly and deliberately, rather than rushing into something you aren't prepared to put your heart and soul into.
Your ability to protect yourself and create boundaries is an essential one for your well-being, but sometimes it can put you into situations where you feel unable to ask for help. Take care to prioritize your own needs this season rather than trying to help everyone around you, and consider thoughtfully delegating some tasks to others. Use this season to think practically about your future and long-term goals, instead of just trying to keep everything and everyone afloat.
Leo
Knight of pentacles
Even though your natural fire has been burning brightly through Aries season, this is a time to slow down and harness your ability to be deeply steady and stable. Take a more patient and methodical approach during the coming weeks, giving yourself the space to make a careful and deliberate plan — there may be opportunities to start a new project or journey, but before jumping in, consider how it can serve you and what you need to do in order to succeed. This knight is both loyal and methodical, moving sensibly and thoughtfully, and while these are excellent traits for your daily goals, be mindful of the bigger picture. Resist the urge to get bogged down in every detail or halt your own movement with stubbornness or obsession, and instead honor the work you've done and the progress you're making. Careful movement and thoughtful choices will allow you to thrive this season, and bring your bigger dreams within reach.
Virgo
Nine of pentacles
All the hard work and focus you've been holding for so long is paying off in a big way, and this is a time to celebrate the independence you've gained and the progress you've made. A major project or important cycle is nearing completion, and this season will bring visible symbols of victory and satisfaction. Take this time to enjoy the fruits of your labor, to remember what you yourself brought to this particular victory. Even if you worked with a group or collaborated with others to create what you now hold, your contribution was essential to this success. Honor your work and be proud of what you have made and the ways in which you have transformed.
While the approaching end of this particular cycle brings joy and pride, you may also feel a vague sense of loss. Take some time to reflect on everything this journey has taught you, and honor your emotions even in the face of success. While you may feel disappointed that this particular journey is coming to an end, remember that something new is just around the corner.
Libra
The Hanged Man
Your inherent need for balance may feel upset this season, as you find yourself in an uncomfortable position of waiting for movement that is not coming on your preferred timeline. This can be a frustrating sensation, one that you find yourself struggling against, but it's essential for you to consider your path from a new perspective and analyze your progress from all angles. Sometimes we have to be still, reflect, and wait for something bigger, something that is out of our hands. This card asks us to let go of the need for control, to give in to this particular moment, and to trust that things will fall into place in the way that they are meant to, whether we are actively moving or not.
Even in discomfort, remember that this is a critical part of your journey, one that you may later see as a turning point or moment of revelation. Give yourself space to process this, and prepare for a potential shift.
Scorpio
The Fool
Something has been prickling your imagination for awhile — a dream, an idea, a spark that has slowly been building into a new obsession. Whether a unique opportunity has been dangled in front of you or you simply find yourself thinking constantly about trying something different, this is the time to take a leap and trust those powerful instincts. You may not have any idea how to move forward on this new path, but that doesn't mean you shouldn't do it anyway. This is a season for unlimited potential, an opportunity to find a new version of freedom and independence that you have perhaps been craving. Follow your heart, even if your choice feels unconventional or means you need to walk your path alone. You've never been afraid to be a rebel or stand apart, and this is a time to close your eyes, breathe, and trust yourself.
Sagittarius
The Sun
This will be a season of joy for you as you find new ways to celebrate progress and take pride in the person you have become. Taurus and the Hierophant are often associated with dependability and dedication, but they are also archetypes that know how to care for themselves, how to find comfort and pleasure, how to feel confident and proud. The changes you may have experienced or initiated during Aries season have been essential ones, and this will be a time of abundance, prosperity, and almost childlike happiness. Your natural desire to explore and move may quiet for a time, as you delight in simply being present, surrounded by people you love and a life you are proud to live.
Enjoy this sensation of optimism and pride, and be ready for recognition or new attention — the feelings of warmth and the confidence you exude may cause others to want to be around your deeply positive, contagious energy.
Capricorn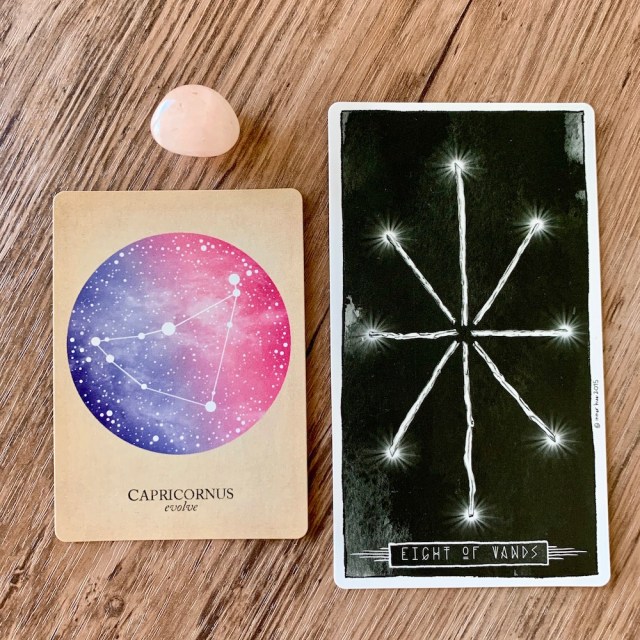 Eight of wands
It may have felt like lately you've been struggling with motivation or getting bogged down in details, but those roadblocks will slip away this season as you find yourself moving forward with purpose. The powerful drive and focus you experienced last season will continue, but make sure you thoughtfully combine it with the Hierophant's deliberate actions and deep curiosity. As things fall into place for your dreams, visions, and projects, consider how travel or shifting your location, even temporarily, can help you bring new ideas or inspiration into your ongoing work.
While things are pushing forward with drive and purpose, take care not to let your ego take over, or to get too carried away with energy and lose sight of your actual goals. This card carries a lot of power and can be overwhelming, so harness this energy as efficiently and effectively as you can, for as long as it lasts.
Aquarius
Nine of wands
You are so close to your goals, but it may be that you're starting to lose steam, unsure of how much farther you can go. This has been a long journey, and in spite of how deeply you believe in your current work, you may find yourself doubting your skills, vision, or capabilities this season. Keep your eyes forward, your confidence up, and remember what you have been working for — this is just one last hurdle to clear before you achieve your objective. You have such a unique perspective and a powerful energy, and this is a time to channel all of the independence and magic that you carry. Even when this season feels confusing or challenging, remember that your ambition is powerful, and this dream is within reach. Stay focused and strong, pushing through struggles and harnessing your natural ability to see the bigger picture.
Pisces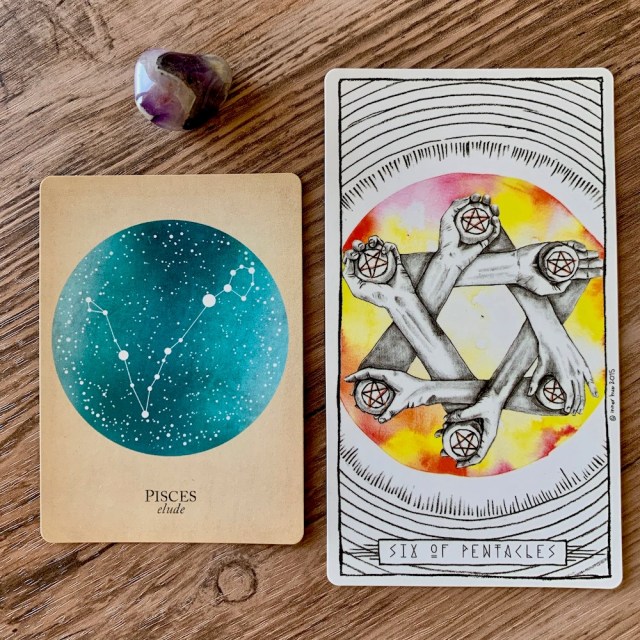 Six of pentacles
Your hard work is beginning to pay off, and the ways that you have protected yourself and focused your energy last season have helped you to both heal and flourish in your dreams and goals. Taurus season, with its patience and deep resolve, will help your emotional and intuitive spirit find balance again. This will be a season of progress and joy, a time for you to celebrate everything you have accomplished, but work to stay humble and share this joy with others. Most of us don't achieve everything on our own, and there may be some around you that could use assistance, support, or simply a listening ear. Generosity and reciprocity are essential for you this season — use that brilliant intuition and sense of empathy to help others, collaborating and finding joy in working together. You may find that your work improves when you take time to hear from others, and that your sense of confidence increases when you give back.