Welcome to Queer Outfit of the Week where I scour the world and tell you all about my one favorite queer outfit this week. I'll envision a scenario where you or your girlfriend or your best friend or your mom or your cat could wear it and talk all about why it's a great outfit for that event. Every week will be a different style, gender presentation and event so there's a little something for everyone — even the person who just wants to look at pictures of stylish queers! So let's get to it — we're going to figure out what the heck we're going to wear this week!
Header by Rory Midhani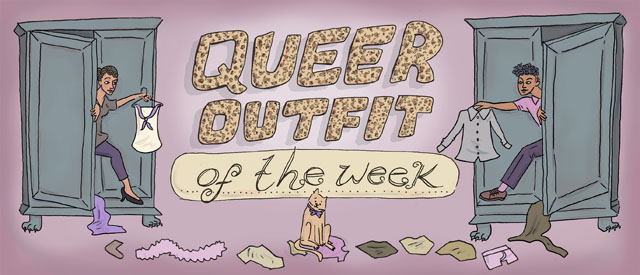 ---
Somewhere smack dab between "I can't believe the summer's ending" and "I guess it's time to buy some sweaters" is that wonderful long Labor Day Weekend. Sure classes are starting up again next week and work is about to be a mess, but for this one weekend you're going to pretend summer lasts forever and enjoy some socially responsible day drinking. But what to wear?! Will it be cold or hot or buggy? How formal is a Labor Day party anyways?! Don't worry, I have you covered with this adorable and practical Labor Day Weekend party outfit!
Labor Day parties tend to be outdoor day-to-night affairs, so your look is all about breezy comfort in summer styles, without too much chill when the sun goes down. A long-sleeved button-up with the sleeves rolled up is just perfect for the warm day and cooler night. Grab one with polka dots for a fun casual print that won't look like you're headed to the office.  Go ahead and pair your button-up with a pair of white lace shorts. They're girly and fun and, if you live somewhere where fall is on the horizon, this might be your last chance to wear them.
Accessories really change the dynamics of this look. You don't want to overdo it on the jewelry, but a fun costume necklace and a slightly masculine bracelet dress your look up without overdoing it. To complete this tomboy femme look, and counterbalance the girly lace shorts, add a more masculine belt and some matching oxfords. You probably don't want to be out in the grass in heels anyways. Feel free, however, to skip your socks and wear your oxfords like slip ons. This will bring your look together and keep your oxfords from looking too business casual.
If you're more on the MOC side of things, consider a swapping the lace shorts for white mens slim fit shorts. Additionally, you can opt for a more straight-cut button-up and switch the necklace out for a striped knit tie. On the other hand, to make this look even femmier, go for a pop of color in your belt and oxfords in a shiny patent leather.
Party or no party, Labor Day is your last big summer moment. So no matter what you have going on this Monday, when you show up in your Labor Day Party outfit you're sure to end the summer — and kick off the fall — in flawless style.
A special thanks to Fit for a Femme whose photographs originally appeared on her website. 
---
If you see something that you think should be featured on Queer Outfit of the Week, send me an ASS message, ask on my tumblr, or tweet me @Ohheyitslizz