Why hello there and welcome to the hour a week we suspend disbelief and go on a campy little ride through a town in Pennsylvania where no one ever tells the truth or wears a coat! Let's jump right in, shall we?
---
Ali has been unable to get out of bed since she found out her mother is dead. She needs some intense self-care. I'd recommend journaling but you know that shit would turn bad fast once A got ahold of it.
While Ali gets ready for Mrs. D's funeral, the other girls wait downstairs.
Jason and Mr. D argue about police and reporters. So this seems to be going well.
Ali comes downstairs in the same dress her mother wore to her funeral and oh gosh, Mr. D flies off the handle.
Emily thinks that Ali wearing the dress is just a coincidence but Spencer seems to be right on the money by suggesting that Ali knew what she was doing.
I'm with Spence. Alison knows everything that she does. She's the most calculating person on the show, hands down.
---
After the funeral, the Liars are at school, being lectured by the principal. He's telling them that he's trying to keep the press away, but that they have to stay out of the public eye. Hahahahahahahahahahahaha ahhhhh, jokes. That's cute he thinks that will happen.
The Liars discuss how to get the word out that Ali wasn't kidnapped, but they need to know that Ezra or Mona won't say anything first.
Right on cue, Mona shows up with a Get Well card for Aria to sign for Mr. Fitz. Pssh. Aria learns from Mona that Ezra is back in Rosewood. You know, without telling her. That's cool, bro.
Elsewhere in those hallowed hallways, Paige and Emily run into one another while Emily is being stalked by a super creepy girl. GIRL PROBS amirite? Basically nothing is worse than running into your ex in a public space where you can't run away. Paige is definitely still holding a torch for Em, but it doesn't seem like the feeling is mutual. And can you blame them? My money is on Emily and Alison hooking up this season. Turns out the creepy stalker girl is actually just Emily's number one fan like, ever, and wants Emily to coach her.
---
Later that night, Melissa finds Spencer watching the DiLaurentis' house out of her window. Neither of them trusts the other one, that's for sure. But it's clear that Melissa really wants to tell Spencer what is going on. She tells Spence not to trust any of the DiLaurentis…es. DiLaurenti. DiLaurentiss. She tells them not to trust any of those people.
---
Hanna goes with Ali to the funeral home to pick up the guest book from Mrs. D's viewing. Ali sees a painting and leaves the room, which is super weird? The funeral director mistakes Hanna for Ali, and Ali makes a snarky remark about how it used to be easier to tell the two of them apart.
We get a lot of flashbacks with Mona in this episode, where we realize that Mona turned Hanna into Ali. She makes Hanna wear Ali's clothes, lose weight, dye her hair… It's creepy to watch, honestly, but also in a way, you can tell exactly what bonded them together. It's almost sad to watch them get so close and have it only be one of Mona's games.
---
Oh sorry were you having an emotional moment? Let's have a strange one, instead!
Mr. Hastings wants to sell the house! Spencer is obviously annoyed by this idea, because then how would she stare out her window at Alison's window all night long?
---
Aria goes to see Fitz under the guise of giving him the Get Well card. She hints around the idea that she's worried he'll tell on Alison, but he seems pretty tight-lipped. Honestly, this is the guy who kept a preeeeetty big secret for years, so. He's now worried that Shana is still on the hunt for them, and Aria's like "Oh yeah… about that… uhhhhh…." but doesn't say anything. A less than thrilling meeting.
Emily does help the creepy stalker fangirl, Sydney, in the locker room by showing her how to figure out how long her stroke length should be by figuring out her wingspan. This is literally referred to as an ape index. I'm going to be honest with you. I just tried this technique and it turns out I'm a negative two. WHAT DOES THAT MEAN? I feel really bad for being in the negative.
Regardless of my shortcomings, Paige comes on in and makes the event SO AWKWARD where Paily start a "we're together" "no we're not" "we WERE together" "let's forget about it" kind of convo.
Sydney seems important and I can't put my finger on why. New betrayal for Emily? New love interest for Emily? She does have a strange obsession already.
---
In another kind of strange scene out of nowhere, Aria gives Ali Ezra's manuscript and acts super annoyed about it. Someone's a little jelly, perhaps?
---
Hanna and Emily end up back at the Philly apartment they followed Jason to last episode and they speak to the creeper dude outside. Turns out he's been delivering pizza to people in the building? He confirms Jason was in New York the night Mrs. D was murdered, giving him a pretty solid alibi in not murdering his own mother. But also, what's going on? Jason went to this place to get clean instead of the rehab place he said he did?
---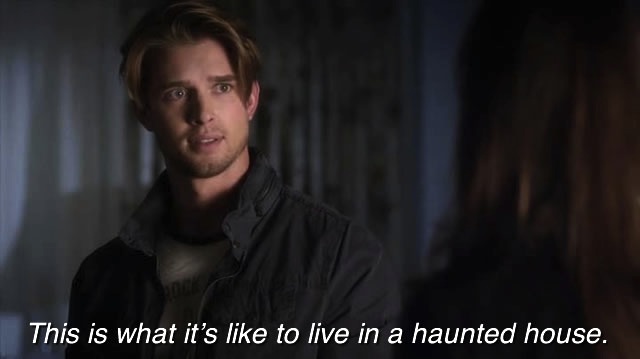 Spencer waltzes on into the DiLaurentis house and talks to Jason, who tells her that he's skipping town soon. I wouldn't want to live in that house, either, to be honest.
She shows him the email from Mrs. D and he acts annoyed about it, but makes it clear that it might be for their father. HMMMMM.
---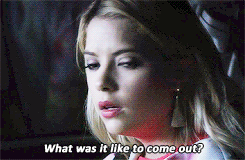 Hanna and Emily road trip back from Philly, and in the car, Hanna asks Emily about coming out. Intern Grace and I were CONVINCED Hanna was about to come out during this part. Emily is really mature in her answer, which was way better than anything I have made up on the spot about coming out. Emily says it isn't like becoming someone else, it was just who she is. Very well put. Hanna is really working through identity things in this episode, and I like that. She's over the Queen Bee thing and now she gets to figure out exactly who she is.
---
Alison shows up to see Ezra and tell him that Aria gave her a copy of Ezra's book. You remember that? The tell-all book that Ezra was using everyone to get info on about Alison? Mhmm. Ali thinks Ezra left things out of the manuscript on purpose, and he doesn't deny doing so. What do you think is still left out?
---
Hanna confronts Mona in the coffee shop, because Mona knew Ali was alive when the two of them were in glamour boot camp. but Mona makes the excuse that she made Hanna memorable and popular. She asks if anyone even remembers the Hefty Hanna era Hanna anymore, even Hanna?
---
Spencer tells Aria about what Jason told her about trusting their father. She's still worried that she might have killed the girl in Ali's grave. She's not convinced her parents think it wasn't her. At the same time, she brings up Aria having to see Ezra, which, in reality, would have been kind of miserable. This is the episode of exes, isn't it? Aria and Fitz, Emily and Paige, Hanna and Mona, Spencer and her memory… it's awkward feelings all around.
 Elsewhere in Rosewood after dark, Ali is wandering around town like no one's out to kill her at any given moment.
Speaking of, here comes Peter Hastings out of the woodwork! He's like, "Oh, didn't know you were wandering 'round these here parts" even though you know that dude is following her. He offers to drive her home. She's hesitant but of course she accepts. DON'T DO IT ALI NOOOOOO.
---
Emily arrives at her own home to find Paige hanging out on the porch, waiting for her. Now, full disclosure: I love Paige. I love Paige's hair in this episode, too. And I love Paige and Emily together. Or, well, let me clarify. I loved Paige and Emily together before Paige got super jealous and ruined everything beautiful in the world. But isn't that the way it always goes? In reality, Paige was trying to protect Emily from Alison, a girl with a questionable moral compass. Paige gives Emily a kind of heartbreaking speech about how she practiced what she was going to say and she imagined Emily would just forgive her and they'd be happy together again and ugh ugh ugh. Of course this doesn't work, but Emily tells her, "You deserve to be happy" or a variation on the theme and that's THE WORST. But it's a very realistic lez moment, don't you agree? Do they have queer writers yet?
---
Spencer waits up for Mr. Hastings to come on home, and he has some excuse about pretzels or whatever, and she shows him the email from Mrs. D. You know, the one that says I can't protect you anymore? Maybe it was about Mr. Hastings. Mr. Hastings gets upset that Spencer is still digging (why does he expect anything different?!) and tells her to stop looking for answers. Melissa tries to tell Spencer THE SECRET OMG but Peter stops her, telling them both that Spencer doesn't have to lie about what she doesn't know.
---
Aria shows back up at Ezra's place, where she tells him that she killed Shana. Instead of panicking, he immediately asks what he can do to help. I'm not sure trusting the weird dude who committed statutory rape to get a scoop on a story he is investigating with surveillance all over town is the best idea, but oh, what do I know of the heart?
---
We end the episode with Hanna at the salon. Looks like bye bye blonde. Watching her there is Mona.
Someone else shows up behind the curtain with Mona, but who? Ali? My first guess was Paige, tbh. Thoughts?
---
And thus ends the carnival ride through this magical realism portion of our evening. Here's the promo for next week (Hanna totally had black streaks under her hair which is super cute):
https://www.youtube.com/watch?v=GhmuBy4q7J8
Aria's hat, though. Perfection.
Pages: 1 2 3See entire article on one page