by carolyn & riese
Feature image via (and of) Brattle Bookshop.
---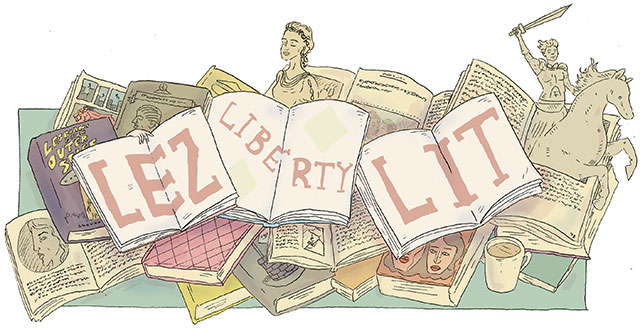 There are more YA books with queer characters and themes than ever before, but almost no mainstream adult fiction with the same:
"Gayness, like actual gayness (versus the unremittingly pleasant kind you might encounter through Modern Family, Ellen, or a David Sedaris audiobook), well, it just doesn't sell. This issue, when compounded by the well-documented gender disparities in publishing, is exacerbated for lesbian, trans, and queer writers for whom the intersectionalities of their identities mean they are even more likely to be excluded and ignored."
Anne Helen Peterson discusses reading the way you can only read if you are a teenager": "the ability to be "bad" at the bigger (and often somewhat boring) things in life, simply because a book has consumed you — that's what I miss about being a teen, and the sort of reading that accompanied it."
Canadian author Anne-Marie MacDonald discussed pride and anger and love and action.
Arguably, Edna St. Vincent Millay was the Beyoncé of poetry.
In this discussion of literature as propaganda, Nick Romeo discusses how the CIA handing out copies of Doctor Zhivago helped mess up the Soviet Union.
In an interview at the Rumpus, Chimamanda Ngozi Adichie discusses Americanah, gender expectations, societal structures of oppression, anti-queer laws in Nigeria and more.
Jeanette Winterson caught and ate a rabbit and people were mad about it.
Punctuation marks, in order of difficulty.
Anne of Green Gables got boring with age, but not all of L.M. Montgomery's characters did.
American teenagers spend about four minutes a weekday reading, while adults spend only about 19 minutes on average, according to a new survey.
Olivia Laing explored both why female writers drink and why everyone seems to ignore it.
There is now a phone line that recites bell hooks quotations. (It's 669-221-6251.)
Female authors are underrepresented in theatre, so here's the Kilroy's first annual list of 46 recommended new plays written by women.
Discard Pile is a new column that looks at books recently discarded from a school library collection. It is neat.
It is now much easier to find a Canadian independent bookstore.
There are only 13 feminist bookstores left across Canada and the United States, and this is too bad:
"Why should this matter? No doubt some of the hundred-odd shops that have closed in the last 20 years were terrible self-parodies: spirit catchers and vagina pillows and an unpleasant fug of oolong and afghans. The survivors' list doesn't count the many independent bookshops that love and promote feminist authors but don't limit their selection to them. Still, though. There is something fundamentally good about a place that exists to stock secondhand de Beauvoir and Virginia Woolf-quote coffee mugs, and something fundamentally sad about its loss."
At the Lesbrary, Krait reviewed The Drowning Girl by Caitlin R. Kiernon. Danielle reviewed Owning Regina by Lorelie Elstrom.
At Lambda Literary, Stephanie Glazier reviewed Tiger Heron by Robin Becker. James McDonald reviewed Maggie and Me by Damian Barr. Cathy Camper reviewed War of the Streets and Houses by Sophie Yanow. Theodosia Henney reviewed Corona by Bushra Rehman. Riley MacLeod wrote about the Writing Trans Genres Conference. Rita Salner reviewed The Lost Women of Lost Lake by Ellen Hart.
Recently, on Autostraddle: Mey wrote about Lumberjanes #3.
Events To Watch Out For:
28 June, New York: LGBTQ Youth Organization Everyone Is Gay will be hosting an all ages Pride Celebration at Bluestockings (172 Allen St.), 1 p.m.
Now to 24 August, Toronto: The Ryerson Image Centre is presenting What It Means To Be Seen: Photography and Queer Visibility, on queer media portrayals, curated by Sophie Hackett (main gallery, 33 Gould St.).
Know of a queer event with literary merit? Send it to us! The Liberty Lit is bi-weekly.
What We're Reading:
Carolyn: I recently finished Stuff: Compulsive Hoarding and the Meaning of Things, which contained many delightful sentences like "she didn't notice when cockroaches started to drop from the ceiling" and which I'm sure made me really lovely to hang out with. Right now I'm reading The Noodle Narratives: The Global Rise of an Industrial Food into the Twenty-First Century, an academic investigation of industrialized food that uses instant ramen as a focal point. Also in my to-read pile are On Loving Women by Diane Obomsawin (which Autostraddle reviewed) and 100 Crushes by Elisha Lim.
Rachel: I am reading Mary K. Greer's 21 Ways to Read a Tarot Card as inspired by Autostraddle's own Tarot School, and it is super intense and awesome so far! I'm also really yearning to read Leslie Jamison's The Empathy Exams: Essays even though I was trying to stick to novels only.
---