In Issue #3 of Lumberjanes, we pick up right where we left off last issue, with Mal, Jo, April, Molly and Ripley lost in a cave after falling down a wild and winding hole deep underground. Clearly, the only way they can go is forward, so on they go, deep into the weird underground temple that seems to be underneath their camp. Although they say there wasn't a chapter on creepy underground temples in their Lumberjanes guidebook, they all band together and use their collective skills and strengths to face any challenge that the temple can throw at them.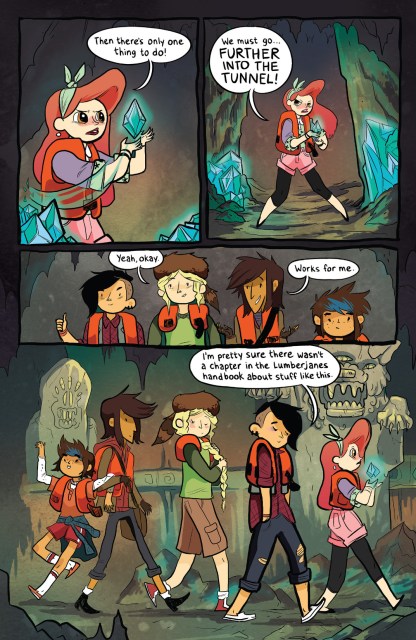 The girls face a myriad of tests while underground — some feats of strengths, some feats of mathematics, some feats of math skills, other feats of courage and cleverness. And the cool thing is, each one of them gets their chance to shine. These girls all really do need each other; if just one of them hadn't been there, they would still all be trapped underground.
Once again, April comes in and uses her physical skills to defeat a much-stronger looking opponent. And what I really love is that the other Janes totally have confidence in her, they know her well enough to not doubt her despite her appearance, unlike the Living Gladiator Statue Guy that she challenges. Seriously, all these girls are so cool.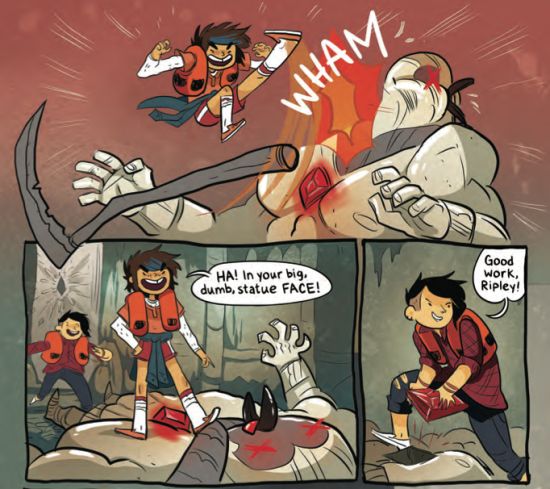 One of my favorite moments is when Ripley and Mal re-enact Colossus and Wolverine's famous Fastball Special, where the bigger one (in this case Mal) picks up the other, smaller one (in this case Ripley) and throws her like a fastball at an enemy (in this case a living birdman statue). If Feral in Strong Female Protagonist is a cute, butchy Wolverine, then Ripley is the younger, much happier, and much more fun tomboy version. I mean, I can only imagine what kind of trouble she would get into if she had regenerating powers.
We've seen them use all sorts of skills so far in these three issues, and in this one, as they say, they get by by using "math and science and logic to the max!" Honestly, I hate math enough that sometimes a movie or TV show or book having too much math or even too many math jokes can ruin it for me, but here, I was totally fine with it. Heck, I even enjoyed it. Literally the only thing that I enjoy about math are Fibonacci sequences, and this book uses them masterfully.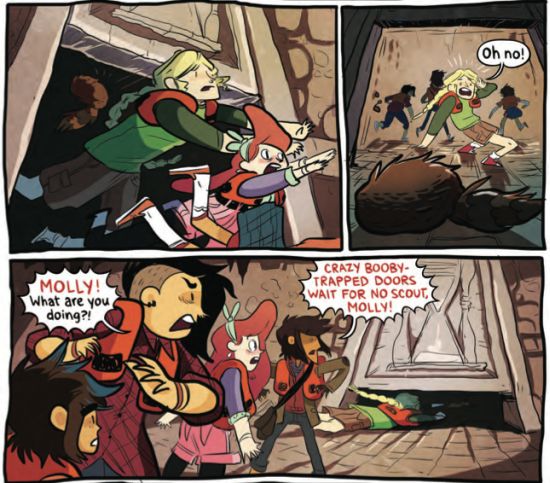 It's nice that we also get to see some more serious emotion in a mostly light-hearted and funny book. Molly keeps on accidentally setting off booby traps and getting her friends hurt, and she feels like she shouldn't even be there, and I truly do feel bad for her. This comic is great at being hilarious one panel and a little heartbreaking the next. I also like that we get to see how much Jen really cares about these girls. So far, we'd mostly seen her yelling at them, but now, we realize that she only yells because she loves.
I wish that back when I was a scout we could earn the cool merit badges that the Lumberjanes do (although I'm terrible at math, so I doubt I would have earned the Everything Under the Sum badge). I wish that back when I was a kid I had a chance to be a part of something like the Lumberjanes. I think that's one of the things that makes Lumberjanes so great; it's a total wish-fulfillment story. I mean, these girls have great friends, they go on cool adventures, and they're having the summer of their young lives — what more could you want?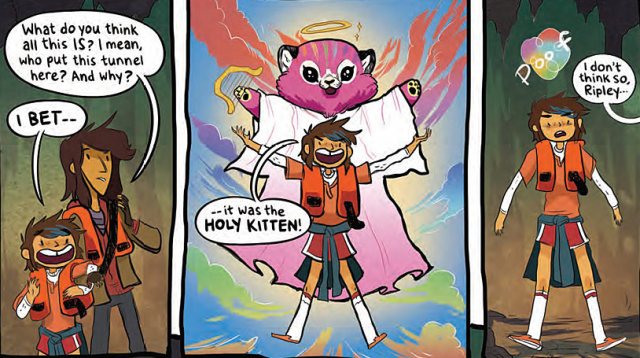 This issue really harkens back to classic adventure stories like Indiana Jones and the Sinbad films of Ray Harryhausen. Except with a bunch of hilarious teenage girls instead of white guys. I know I've said this before, but the fact that this comic exists is so important and so needed. It's so cool that we get to read such a high quality comic filled with girls who are the heroes of their adventures, who are brave and funny and smart and clever and fun and who all care for each other and look out for each other.
This comic is honestly so good. I may be preaching to the choir here, but please, everyone, go and buy this comic, go and preorder this comic, go and tell your friends about this comic, go and spread the Lumberjanes gospel. Truly this is The Good News.
Comic Releases (June 18)
Adventure Time #29 (Boom! Studios)
Buffy the Vampire Slayer Season 10 #4 (Dark Horse)
Batwoman #32 (DC)
Harley Quinn #7 (DC)
Supergirl #32 (DC)
Wonder Woman #32 (DC)
Red Sonja #10 (Dynamite)
Powerpuff Girls #10 (IDW)
Sex Criminals #6 (Image)
Wicked + The Divine #1 (Image)
Elektra #3 (Marvel)
Ms. Marvel #2 (3rd Printing Variant Cover) (Marvel)
She-Hulk #1 (3rd Printing Variant Cover) (Marvel)
---
Welcome to Drawn to Comics! From diary comics to superheroes, from webcomics to graphic novels – this is where we'll be taking a look at comics by, featuring and for queer ladies. So whether you love to look at detailed personal accounts of other people's lives, explore new and creative worlds, or you just love to see hot ladies in spandex, we've got something for you.
If you have a comic that you'd like to see me review, you can email me at mey [at] autostraddle [dot] com.