Welcome back to the fashion recap of Pretty Little Liars: the show that features so much olive green, brown and black that they should seriously reconsider a theme/name change.
This week was chock full of fashion gold, so I'll let Riese take care of silly things like "plot line" and get right to it. Emily was featured big time this episode, which was good because I was getting really bored of Caleb and his feelings. The liars started back at the hospital because somehow no one noticed an entire patient file missing. At least this week we get to see the candy striper dress on Emily.
Hm. Oh. Um. I'm gonna have Santana help me out with this one because I'm excited for the new season of Glee/out of original ideas.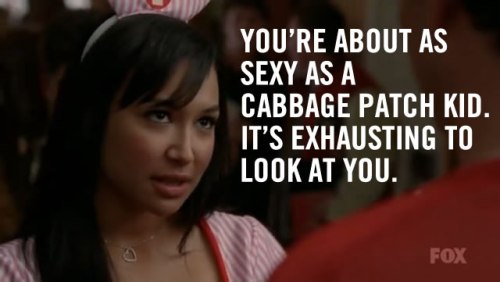 Honestly? They couldn't have gotten slightly hotter candy striper costumes? After that fail, Emily freaked out some more about GH in her cream. A sent her a scary text as per usual.
Emily pretended to be really upset to find out that A had her drug test results, but really she just wanted to show off her knuckle ring and matte yellow nail polish.
Emily responds to this anxiety by doing what any good lesbian would — wearing a new leather jacket. How many leather jackets does this girl own? For someone whose parents spend so much time worrying about paying for college, she sure seems to have a lot of disposable income to spend on olive green clothing and leather jackets.
Actually it's just that Emily got a huge Urban Outfitters giftcard with her first time membership to the lesbian club. The alternative was a Landsend gift card, so I think she made the right choice.
Ten points to Gryffindor if anyone can tell me what Emily's necklace is just exactly.
Anyway, blah blah blah Aria has weird sex dreams, blah blah blah Caleb finds his mother, blah blah blah Spencer dressed like Rachel Berry.
Now we can really get to the good stuff: the big lesbian party.
I'm not even sure where to start here. Should I be offended that this is what the designers on PLL think high school lesbians look like? Should I be impressed that the designers so nearly matched what high school lesbians look like? In the end, I think I'm impressed with the designers and offended by my own choices.
Let's break it down by uncomfortably accurate fashion stereotype. High school students listen up — this is relevant to your interests.
The Militant Best Friend High School Lesbian
I think we can all agree that Quinn sucks. Quinn is the Your Best Friend Ever. Ever. No one is a good of a friend as she is. No one. You hear that? Nobody. Quinn is Such A Good Friend that she will probably Ruin Your Life by telling you something that she thought you really needed to know because she cares about you so much more than everyone else. Much. Much. More.
Quinn makes sure you know she's going to protect her friend by literally dressing for war/hunting wearing wrist cuffs on both wrists and camo gear. She is geared up for angry lesbian friend war. Quinn is so busy making sure everyone knows that she is Samara's Best Friend Ever that she didn't get the memo that the gays are only wearing one long feathered earring. One feathered earring: cute and gay. Two feathered earrings: you look like a chicken.
The Hipster High School Lesbian
Unlike Quinn, this unidentified flying queer girl took the time to google "lesbian clothes." Maybe a picture of Darlene came up. Maybe Sam Ronson did. Who knows, it could have even been Ashton Kutcher. We do know she looks hot which would make me really uncomfortable to say if I wasn't confident that she was played by a 28 year old. I'm not going to go in to too much detail on this outfit because it's what most of you are wearing right now. I will point out that this would have looked better without the hemp and beads necklace that her "true love" made at camp.
The Wounded Bird High School Lesbian
"Zoey" is a wounded bird. She's scared and confused and wears a lot of lipstick and doesn't know how to play poker. She's wearing all that eye makeup so you don't realize that she has the crazy eyes and is actually the Swedish model Vanessa Dubasso. The only other reason she's pseudo-goth is because she seriously misinterpreted Gossip Girl when she was in 6th grade. Plus, nothing says "I'm alternative" like a studded belt. Maybe you can save this poor, poor wounded soul and buy her some properly fitting jean shorts or a Bob Dylan album? I have a lot of feelings about this because this is basically how I dressed in high school.
It's no surprise, given her wounded state, that Emily folded to A's pressure to slip her phone number to Zoey. Probably Emily should have actually given her the number for a good dry cleaners so her clothes wouldn't shrink up like that anymore. Obviously this is pretty upsetting to Samara, who decides to show up at Emily/Hanna's house dressed like everybody's mom. But like, a cute mom on gardening day.
This is the perfect example of how when you need to dress ferociously (like to break up with someone), you can wear a crazy animal print as long as you tone it down with a sweater, open button-up or blazer.
Emily tried to wring some sympathy out of Aria, but unfortunately, Aria has had quite enough relationship drama of her own. It's not her fault if men keep kissing her and taking photos of her in her sleep.
I mean, she's not even trying to draw attention to herself. Remember, red means stop, green means go, blue means only if you're over 30.
Thanks a ton this week to Intern Grace for making graphics that are funnier than I am.