This week on Pretty Little Liars, Caleb came out as a lesbian again, Aria had five wet dreams, Emily and Spencer spent massive amounts of time hiding behind shrubbery and generally dashing about in the forest like fairy-jungle-ninjettes and we all got a smidgen bit closer to what will surely be revealed as another red herring regarding the identity of A. Also, Jenna's gonna get her eyeballs scraped out and replaced with telescopes and other surveillance equipment. I hope they give her night vision.
Also, much like the kids in Skins who take five busses, a submarine and ten back alleys to get to school in the morning, the Liars have inordinate amounts of time to kill pre-first period. I'm surprised the sun is up during 75% of these scenes.
Maybe they're vampires. Fuck I want everyone to be a vampire. I want every show to be True Blood, I want everyone to be gay, I want Spencer to be gay, I want Paige McCullers to get her crazy ass out of that teeny-bop headfuck show they keep advertising during abc family commercial breaks and get back into Emily's dunk tank and I want Kelly Clarkson to be gay. I don't know why, I just do. Also I want a dishwasher. Or a dish washer. Or both (for the pans and stuff).
So, this week on Pretty Little Liars, Caleb's Bio-Mom put a PI on him (she should've just hired Spencer) and so he skips town for Mrs.Caleb's Country Club, leaving Hanna's perfect face in tears. Also they exchange "I love yous."
Spencer is hot on the trail of the missing hockey puck and — Jesus, I'm running out of metaphors and other literary devices to describe the level of batshit-crazy to which Spencer "No Shit" Sherlock has so swiftly ascended but let me just say this woman could eat Harriet the Spy for breakfast with her hard-boiled egg and pulp-free orange juice (you know Spencer doesn't like the pulp). This episode she spends almost entirely in the brushfires of Rosewood or illustrating the brushfires of Rosewood via shirt-like torso-sacks worn atop her slender body and its shiny ringlets.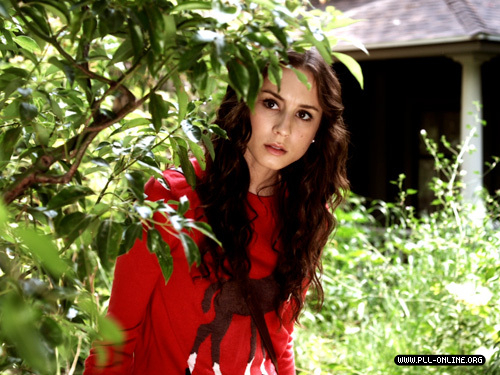 Aria has feelings about Ezra and also feelings about Jason and Jason has a Sketchy Shack Darkroom where he stores photos taken of Aria sleeping which is totally something that would happen on Law & Order SVU, the perp always has a sicko photo-shrine on SVU. Has that ever happened in real life?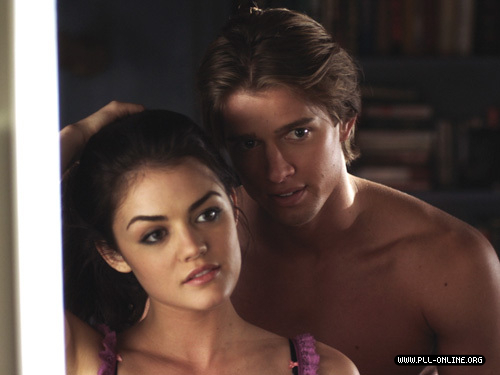 Anyhow! Are you ready for The Lesbian Parts? I sure am!
We open The Lesbian Parts at The Marin Mansion, where Samara and Emily are hanging out by the door, waiting for Ashley Marin to walk in and say her lines.
Before dashing to her "Campus Pride" meeting, Samara tells Emily that unfortunately "Twat: The Night" at Quinn's is a no-go after all, which makes them both sad  because Samara really wanted to show her friends how hot Emily is. Ashley overhears and offers up her granite countertops for their ho-down. The house'll be all yours tonight, Ashley explains, 'cause Ashley's gonna be out hiding money at The Olive Garden and Hanna's gonna be on the "abandoned night-time street" set, chasing the Artful Dodger.
After Samara leaves, Emily tells Ashley it's okay, she doesn't have to open up her home to the sinners:
Emily: "That was really nice of you to offer, but we can find somewhere else to go."
Ashley: "Emily, this is your home too. I want you to feel comfortable having your friends over. More importantly, I want you to feel comfortable being yourself. Understand?"
Emily: "Yes, I do."
Although Emily's Mom's turnaround is relatively complete and we've forgiven her the sins of her intolerance, it must be nice for Emily to see not everyone over the age of 40 requires such exhausting transformations. Some people like her just the way she is. Already! (That being said, it's clearly way easier to accept someone else's daughter's gayness than your own. Perhaps it's not even comparable. But still! This convo never would've happened ten years ago.)
Ashley: "The same rules for Hanna apply for you, no girlfriends allowed in the bedroom. Just girl friends." [pause] "Wait. How will I know the difference?"
Emily: "I'll let you know."
The girl friends are all paranoid schizophrenics with giant eyes and wavy shiny hair.
The girlfriends are all psychotic stalkers with shorter hair and/or drug problems and they're never around for more than three episodes. There.


Next gay scene is the aforementioned Lesbian Prayer Circle. Emily, still adorned in that glitterbombed maternity tunic (solidarity with Samara's previous attire), is playing cards, eating popcorn and listening to Debbie Gibson with four other twelve year-olds. From a distance, it almos seems like Naomi & Emily are there.
I thought Kelsey from The Real L Word was in this scene, drinking Sofia Coppala's champagne from that little red can, but it's not Kelsey. It's just another young girl in Los Angeles waiting for her big break in a fedora:
"LET ME GET DESSERT," says Emily, bouncing "into the kitchen" where Samara joins her like this is the set of Our Town and we're just supposed to pretend like there's a mile between the cemetary and the soda counter even though it's only two feet away on the set.
"My friends love you," says Samara. "I knew they would."
Unfortunately, A doesn't believe in love.
See — Jenny Humphrey, oddly referred to in this scene as "Zoey," has a sparkle in her eyelinered eyeball for Emily, maybe, so A texts Em to demand Emily slip Zoey the digits or prepare for A to tell everyone about Emily's Ben-Gay addiction (no really, if you missed it last week or don't read anything but these recaps, A poisoned Emily's Icy Hot which landed her Em in the hospital with an ulcer and a subsequent positive test result for steroids which would kill her swimming career, college scholarship, and whatever's left of her muted sanity).
Emily adjusts her "apathy" facial expression into something resembling "concern" but her cares are quickly submerged by the Lesbosexians incredibly outsized enthusiasm for a plate of cupcakes, which I honestly thought must be pot cupcakes they were so fucking excited about them. Or at least steroid cupcakes.
Emily relocates her mild angst upstairs to conference with Aria, who's like "you can't let A run your life, except the rest of us did so now it's your turn. It'll be fun, we'll all be single together!"
Samara's gotta go home for her "12:30 curfew" and A reminds Emily that time is "tick-tocking" and she's gotta slip the digits ASAP lest this circulate:
"You forgot something," Emily says to Zoey as she's standing in the kitchen for no apparent reason.  Obviously Emily's got her number scrawled on a piece of paper and was just waiting 'til she got the guts to go for it, and when Zoey asks "What?", Emily says, "my number" and hands it to her.
Quinn, with Hija La Vida dangling from her earlobe like a decapitated peacock, is standing at the base of the stairwell with her arms angrily crossed, waiting for Emily to give Zoey her number so she could be pissed off and then run and tell Samara.
This makes perfect sense because the only thing people ever write on pieces of paper is their phone number.

Next up, Emily visits Aria at dawn to talk about her problems before school. Samara keeps calling and Emily's not picking up which is without a doubt the sketchiest and stupidest thing she could possibly do, and Aria tells her so.
I think that the less Aria likes Ezra, the more I like Aria.
Emily: "I must've looked like I was giving Zoey my number."
Aria: "Em. You were giving Zoey your number."
Emily: "I'm better at bluffing at cards."
This would've been a good time for Em to brush up on Papi's Rules of Poker.

Fast forward to the Inevitable Fallout. Dyke drama is brewing, sucking Samara into the lesbian vortex where hopefully she'll be hooking up with the aforementioned Papi.
Samara: "Did you think I wouldn't find out?"
Emily: "Do you want something to drink?"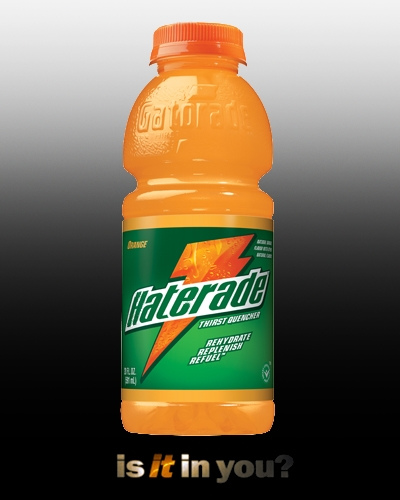 So basically Emily seems so apathetic I'd almost be willing to break up with her for that alone, but Emily's limited range of facial expressions has never been an issue in her other relationships (sometimes I want to shake her and yell FEEL SOMETHING!)
It seems these days like the way Emily has reacted to all this nonsense is by going numb. Everyone's gone some extreme, somewhere, because when shit gets crazy and you can't address the actual crazy issue-at-hand, that doesn't change the fact that the issue-at-hand makes you feel really fucking crazy. So you find your own way to be crazy, to funnel all that WTF into another ozone layer of human behavior.
Spencer's become a Girl Detective, Aria's getting Hypersexual and Hanna was going for "emotional walls" until she finally busted them down and let Caleb in and now she's becoming a bit emo, mega-honest, and also, I think, slightly more private and confident. Hanna actually seems to be holding her shit together better than anyone else right now.
But Emily's just sort of a blank face in the wind, and maybe that's how you have to be when you've completely surrendered control of your life to some secret ghostly remnant of your best friend/first girl-crush's murder. It's like — why stress over a thing you can't change? That just brings you more stress. So she blankly soldiers on, you know? She's happy on the river but scared of being drowned, too.
Anyhow:
Samara: "Is it because at the fashion show I told you I wasn't ready to be exclusive? Did you just do it to spite me?"
Emily: "No, of course not."
Samara: "Look if you want to date other people, just say so, but don't hit on my friends."
Emily: "I don't want to date other people, okay? I'm sorry if it came off that way."
Samara: "Came off that way? You practically asked Zoey out!"
Emily: "I gave her my number so that we could hang out as friends, that's it!"
Seems like she should expound upon that a bit, but maybe she's pulling a Tara Thornton here like "you best get away from me before someone digs their ghost-fangs into your tender lesbian neck, girlfriend." (And by that I mean "girl friend.")
Samara: "You know, she did't even tell me, Quinn did." [SURPRISE!]
Emily: "Can we just pretend this didn't happen and go to the movies?"
Samara: "You slipped her your number what do you expect me to think?"
Emily: "I was caught up in the moment, that was me trying to connect with your friends."
Samara: "You know, until you give me a real answer, I can't do this anymore."
Emily's probably confused as everything she's ever read or seen or heard about lesbians and everything she must know in the deepest depths of her dykey heart suggest that lesbians generally are undaunted by immediate and persistent fighting and betrayal. Some lesbians move in together on the third date because they spent the second date fighting. And then they never move out. You know how that goes. Fight, break up, scream/yell, declare your intent to run away to a farm but never move out. Lesbians in misery, "working it out." Anyhow, I digress.
Jesus Christ can't Emily catch a break/girl? Good thing Mom's not around for a potential I-told-you-so-moment. Also, what's with A's nail-in-the-coffin bargaining with Emily? Sure, A's fucked and screwed with Spencer/Hanna/Aria's relationships so much they've practically become her own, but she's never driven a previously happy couple to break up, has she? Maybe A has a big 'ol lezzie crush on Emily.
Needless to say I fear this'll be the last of Emily's lesbian storyline this season and they'll have to find another 28-year-old actress to play a 17-year-old girlfriend next year.
Thoughts, peaches?