After dealing with Hanna's worries, Emily turns her attention back to Aria, who is making plans to have dinner with Andrew after they k-i-s-s-e-d last week.
Emily: What about Ezra?
Aria: What about him?
Emily: WHOA WHAT. Have you been brainwashed?
Aria: Unbrainwashed, actually. I might still be dating A, though. Andrew might be him.
Emily: Oh, okay, well that's good. Ask Ezra about his "research," will you?
Aria: I kind of like you better when you mind your own beeswax.
Emily: Beeswax! Maybe that's what'll hold my empanadas together!
In London, Colin arrives home with some tickets to see a play at the Royal Shakespeare Company. He's like, "Are you into Hamlet?" And Spencer is like, "Family members murdering each other and ghosts showing up to call out the people who killed them while everybody gets spied on and manipulated and blackmailed by their best friends and moms and the whole time the main guy goes crazier and crazier because he doesn't know who to trust and suddenly he's staging this play within the play like a person tripping balls on a whole bucket of Adderall? You don't even know how into that I am."
After school, Hanna goes to Calebzra's apartment.
Hanna: Well, my ass is going to jail.
Caleb: No, babe, everything's going to be okay.
Hanna: The D.A. said Ali can get half time in jail if she'll just say I killed Mona too.
Caleb: Oh. Well, you've always looked good in orange.
Ashley shows up at Caleb's and she is piiiissssed. She tells Hanna to get in the car right now! They are going home and on the way Hanna is going to explain about the bodies in the barrels and visiting Alison in jail! And weirdly, but awesomely, Hanna does tell her the truth. Kind of. She explains about the storage locker thing. Ashley is like, "Why did you not just tell me that? I know Emily can't talk to Pam about this kind of stuff because Pam is dead. And Aria can't talk to Ella about this kind of stuff because Ella moved to the Galapagos after that Donut Castle chef tried to molest you. And Spencer can't talk to Veronica about this because Veronica is a robot. But I am a regular human mom who has robbed a bank; I'd like to think you can count on me to understand."
Hanna is properly chastised.
I mean, I guess the good thing about Emily is she is so stubborn about righting her wrongs when she realizes she believed the exact wrong thing about the people she loves. She's got a fire in her as she zigs and zags around town getting into everybody's business and trying to crack the case of Mona's murder so Ali doesn't have to stay in jail anymore. She goes to the bookstore to ask Ezra is he knows anything about Varjak. He tells Emily he doesn't know who Varjak is and there was nothing about that guy in his "research" and can they just drop it. So okay, fine. Emily has another idea. She wants Ezra to take his white male ass over to Mona's lawyer's office and find out what the deal is there. Was he working for Mona? Was he working for the person who killed Mona? Is he just another grown man who moved to this town to get his grimy paws on underage girls? Bro-to-bro, Emily wants Ezra to go find out.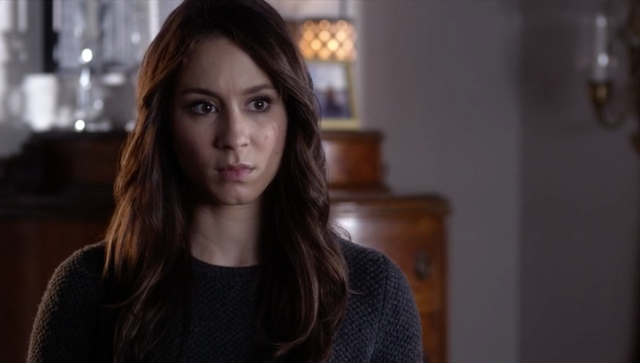 Melissa lends Spencer some clothes to wear to Shakespeare, and they are reminded that they never got to do this stuff when the lived in the same house in America because Melissa was always marrying guys that "researched" Spencer and her friends in their underwear in their bedrooms with video cameras, and Melissa was always having to bury the dead bodies of the people Spencer maybe killed in the yard. They cross their fingers behind their backs and promise never to lie to each other again, but to be Elizabeth/Jane Bennet-levels of awesome to each other, in terms of sisterhood, from now on.
Ezra goes to Mona's lawyer's office like Emily asked him to, pretending to be interested in franchising his coffee/book shop that has been in business for five minutes and employs a single teenager as the chef, barista, checkout clerk, janitor, accountant, inventory manager, CEO, social media technician, book club organizer, structural engineer, and bouncer. Emily is to bookstores what Wren Kingston is to hospitals. The lawyer offers up some terrible advice, and then Ezra turns on him and starts demanding answers about Mona. And so he is summarily escorted from the premises.
Outside, he hides in the bushes with Aria and Emily and watches the lawyer drive away. They decide they should do a stakeout on him.
Pages: 1 2 3See entire article on one page