Previously on Pretty Little Liars, Alison and Jason found out Charles DiLaurentis was Jason's imaginary friend. Wait, no. Their older brother who died and was cremated. Wait, no. Their older brother who died and was buried in Aunt Carole's garden. They believed each new tale from their father about Charles without pause or reason. Spencer remembered the after effects of chopping someone/something to pieces in the dollhouse. Aria remembered dying her hair pink in that same place. Hanna begged Caleb not to turn into Ezra. And Emily took — OUCH! Holy shit! What the hell was that? My brain feels like it just got hit with lighting or something. Sorry. Emily took Sa—donkey balls, man! Is someone scrubbing the inside of my skull with a clothes hanger?! Hem hem. Emily took Sara Harvey to—MARSHMALLOW CHRIST, WHAT THE FUCK.
I'm sorry, I can't access the memory of what happened with Emily last week for some reason.
Spencer mentally teleports herself to the basement of Radley Sanitarium where Alison DiLaurentis once held her close and twirled her around the graveyard of doll skulls, whispering into her ear about how kissing girls for practice is more fun than kissing boys, full stop. But there is to be no such lesbian diversion on this day. Instead, the ghost of Maddie Ziegler modern dances her way from electrocution table to electrocution table, and while Spencer is impressed with this young ghost's artistry, she is also disturbed by the brain fuckery of the whole thing. Also she finds a pair of Charles DiLaurentis' gross old flip-flops down there, and that just creeps her out even worse.
No offense to Ezra (lol jk all offense to Ezra always), but we should never discourage Spencer from doing drugs. The inside of her brain is a horrific marvel.
When Spencer wakes up, she calls Aria to sleuth out her dream and also bitch about how her mother wants her to be the valedictorian of Rosewood High School's graduation, despite the fact that she has only attended approximately two weeks of school since her sophomore year. The whole time she's prattling on, she's stuffing pot brownies in her mouth, for breakfast. She's pretty sure she's been down in that Radley basement before, and not just for Phantom Prom. Aria honestly doesn't have the energy. It's not that she doesn't love Spencer or want to support all her accusatory whims; it's just that she picked up the phone an hour ago before she was even fully awake and Spencer hasn't stopped talking since. Aria also thinks "graduation" is a jibberish word; she's never even heard of it.
Hanna walks into her kitchen to find the glorious presence of Mona Vanderjesus awaiting her, looking like the lovechild of Holly Golightly and Jenna Marshall, which cannot be a coincidence, my darlings. She's been at a spa, and but even though she did not receive a nonconsensual gloved massage from Lucas at said spa, she could not relax. Because of PTSD from what happened in the dollhouse and the omnipresent danger of existing in this town when Charles DiLaurentis is on the loose? No. Mona could not relax because she was worried about Alison coming after her to get revenge for faking her own death and sending Alsion to prison for premeditated murder.
Hanna explains that Ali's main thing these days is getting preyed upon by the new police officer in town at church, but Mona Vandergolightly Mashallbot doesn't believe this is true.
Emily and Sara are taking turns having a hundred showers. When Emily returns from one such scrub-a-dubbing, she finds Sara on the phone hollering at her mom about … whatever things a person yells at an imaginary parent. "Oh my god, Mom, I have a new life now, and a career. I dress like a lesbian and take a hundred bubble baths and make fetch empanadas with my girlfriend. No, that's not a euphemism, Mother. I'm talking about meat-stuffed pastries! Ugh you'll never understand me I hate you!" Anyway, it's such a traumatic phone call that Emily suggests emancipation as the key to Sara's troubles.* She's been watching The Fosters, so she knows all you've got to do is a get a part-time job at any old where and that's how you get emancipated and it only takes a few hours.
(*If these girls are young enough to need to be emancipated to live on their own, they are too young to be making out with GROWN-ASS MEN.)
Aria decides to spend her day at the junkyard with Clark taking photos of spine-chilling dolls in a variety of artistic poses. Doll guts juxtaposed with rusty forks. Doll eyeballs in a bowl of tomatillas. Doll heads as Christmas lights. Doll bodies chopped into halves by a guillotine made of Mason jar lids. Clark is into it. Not just her macabre photographic sensibility and the fact that she has had a complete psychotic break one of the two times he has been in her presence, but also the fact that she's famous from the news for being kidnapped by the guy that kidnapped the girl that faked her own death and pinned it on the other girl who faked her own death. I mean, he doesn't want to freak Aria out that he knows all of that about her, but does she want to get brunch some time?
No, she does not.
Once again, Alison cannot trust the officers of the law who have been hired to protect her. She overhears them talking shit about her, so she steps outside to take some deep breaths, and here comes her shitbird father (whose name, I have been informed, is Kenneth) to tell her to get back inside and shoulder all the slander. It's her own fault that literally every man she has ever interacted with — from her own brother, Jason; to her brother's best friend, Ian; to Teacher of the Year, Ezra Fitz; to the police; to Kenneth himself; to (spoiler alert!) Pastor Police Lorenzo — has abused and exploited her. Kenneth tells her to deal with it, says she was a real bitch was she was a 15-year-old child who was trying to survive while being able to trust exactly no adults on earth. She had it coming.
Mona and Hanna hit up the Brew for some coffee and weed, and guess what psychotic tornado is there? Oh, it's Lesli Stone and she is pissed as noodles at Mona. Tanner has called Lesli in for questioning because of how she committed perjury when she said Alison killed Mona except for Mona wasn't dead, which is hilarious for so many reasons, not the least of which is: Tanner is goddamned determined to arrest someone for something in connection with the original mystery of this show and make the conviction stick. Let's arrest the Liars for killing Ali. Whoops, Ali is alive. Let's arrest the Liars for murdering Wilden. Whoops, Wilden molested all of them and Cece Drake killed that motherfucker. Let's arrest the Liars for murdering Mona. Whoops, she's not dead either. Let's arrest them for putting rat's blood on a trophy. Let's arrest them for holding a shovel. Let's arrest them for owning a parrot without a permit. Let's arrest them for riding their bikes on the sidewalk. Let's arrest them for looking at us weird. No? No? No no no no no? Okay, well, how about that grumpy-faced one with the glasses who helped them without knowing she was helping them? That'll teach 'em to mess with old Detective Tanner!
Lesli yells at Mona and Hanna about whatever Scooby villain thing and how they're going to burn. Mona is a little shaken. Hanna is deeply unimpressed.
At school, Hanna tries to tell Spencer about Lesli showing up and acting crackers, but Spencer doesn't care much about much because she is nibbling on pot brownies from her Mary Poppins-style never-ending sandwich bag stash. Hanna calls her out on being stoned, but Spencer doesn't care about that either. How come there haven't been more alone-time scenes between Troian and Ashley? They play off each other like Serena and Venus. It's like watching a dance!
Lorenzo shows up at Ali's with a brochure for church camp. He would like her to apply to be a counselor. She's a little uneasy about it. And so Lorenzo asks this girl whose best friends were held hostage in a bunker under a national forest; this girl who pulled Hanna from a burning cabin in the forest; this girl who dragged Emily from a carbon monoxide-filled barn in a forest; this girl who was stalked from a motel in a forest; this girl who was abused at the kissing rock in the forest; this girl whose friends have been caught in bear traps and run under by cars in a forest; this girl! This girl! Fucking Pastor Police Lorenzo asks this girl, "You're not scared to be in the woods after dark, are you?" And you know what, she's not, because she's braver than you'll ever be, you mainsplaining ass, but how fucking dare you suggest she'd be weak if she was afraid. AND THEN, Y'ALL. AND THEN. When she expresses worry because the cops are "watching her all the time," he cuts her off and says, "They're watching out for you, Alison."
Are they, Lorenzo? ARE THEY? Let me introduce you to some people I like to call Darren Wilden, Gabriel Holbrook, Garrett Reynolds, and — here's a mirror, buddy — you. Tell me how seducing an underage girl is looking out for her. Also, you patronizing prick, she literally just heard the cops outside her window shit-talking her, but I guess your penis knows best.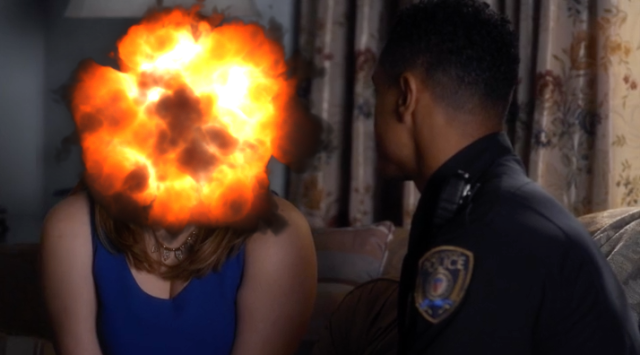 Kenneth comes home and sees Ali talking and yells at her about how she's trying to probably fuck another cop and ruin his life and so Lorenzo better leave.
Emily takes Sarah to Caleb's for some hobo consulting and he rains on their Pride parade. For starters, Sara is almost 18, so she doesn't need to be emancipated, he says. She hasn't lived with her mom since she was kidnapped away in the dollhouse, and she doesn't live with her mom now, and her mom doesn't care, so what's the point? Toby was living above the Brew and making one million dollars per year as a teenage contractor when he was 16. Caleb was hired by the CIA as a black ops hacker when he was camping in the air vents in the library. Summon your chill, lesbians. Emily insists, so Caleb points out that Sara has no skills and no diploma. Emily makes that face she makes that would cause even the sun do her bidding and Caleb hires Sara to be his personal assistant and have unsupervised access to all his surveillance and hacking equipment, and decrypted files.
To celebrate, they stop by Child Protective Services and get one of those drive-thru emancipations, and then hop on across the street to get tattoos to commemorate their hard work. Sara gets a Tippi the Bird tattoo right on her back. Tippi the Bird flying free from her cage of forced cannibalism. I have always known the Summer of Answers was going to revolve around Tippi. Marion Cavanaugh was an "avid bird watcher." To Kill a Mockingbird. Aria's hundred pairs of feather earrings. And get a load of this shit.
Tippi the Bird…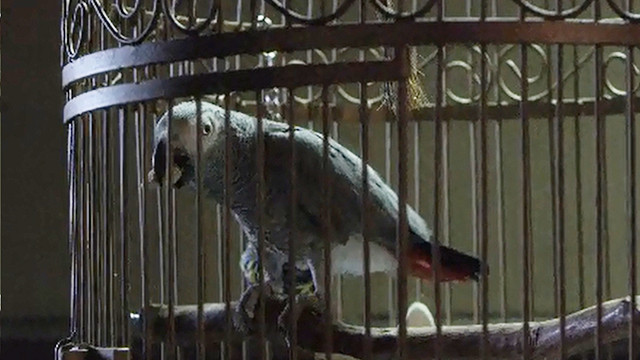 …who was named after Tippi Hedren…
…who owned a lion.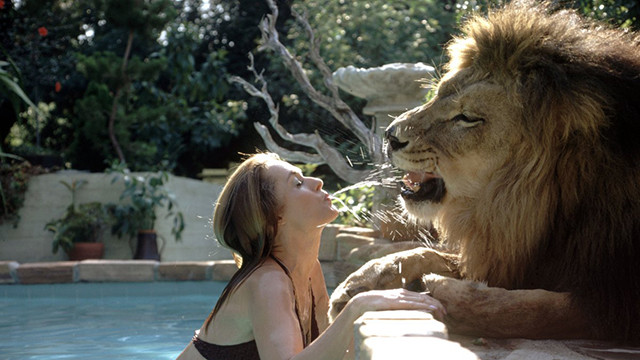 A LION.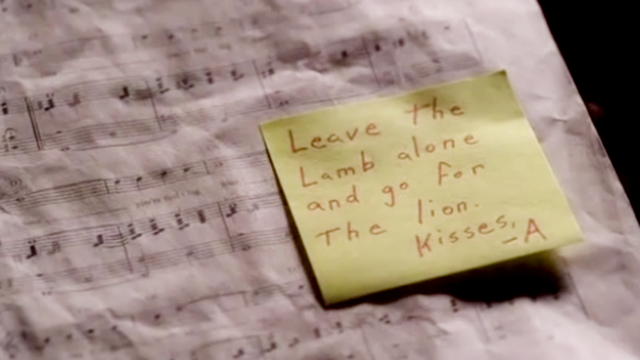 And that's what you get for swimming with someone who isn't Paige, Emily. YOU GET EATEN BY A PARROT WITH THE HEAD OF A LION!
At the junkyard, Aria peeps A peeping her and then peeps Clark peeping in A's general direction with his camera. So when they go to the darkroom and his tiny negatives are hanging up to dry, she grabs her little magnifying glass and finds that hoodie. Aria calls Emily to ask what to do with the negatives, and Emily is like, "Are you actually insane? Pocket them and run!"
After rifling through the Montgomery's rotten garbage last week and mixing weed with her Cheerios this morning, Spencer has decided to hit up Narcotics Anonymous to get some help. It's pretty boring and also she has the munchies, so she grabs some cookies and heads for the door, but the guy who is leading the meeting calls her out and says you can't eat until after it's over. Everyone turns around to look at her and one of those people is her old drug counselor Dean, who slept in the barn and spooned her on the couch until Veronica fired him and threatened to feed him to wolves unless he left the country. Not that she was worried Dean was exploiting Spencer; no, nothing like that. It's just, how would that look on a college application? Not great, Bob.
Dean drives Spencer home and she gives him her neverending bag of weed as thanks. He says it's a good decision, that drugs aren't awesome, because he's never seen "Shadow Play" or the cold open of this very episode, I guess.
Hanna runs into Lesli again in the Brew; she's still pacing back and forth in there and hexing Mona under her breath. Hanna wants to play nice, but Lesli just wants to slander Vanderjesus' name and impugn her character by bringing up Radley. While Lesli is being a butt, Mona is leaving a handwritten card in Ali's mailbox asking forgiveness and speaking of the Reki she'll be doing for Alison each and every morning, forever, to make amends. Or maybe it's a bomb. I don't know. Mona works in mysterious ways. Spencer sees her leaving the note and rushes over to ask if Mona remembers any ghosts doing modern dance in the Radley basement, but Mona does not. She was too busy leaving treasure maps for Spencer's inevitable arrival and devising a verbal acrostic to let the Liars know about Maya's secret website page with her love poems to Emily and her video diaries about living in the walls of Noel Kahn's cabin.
And so, Spencer and Hanna decide to break into Radley's basement. It is creepy as the Jupiter's moons, and they are a couple of cartoon stooges down there! Hanna keeps knocking shit over. Spencer keeps tripping over everything. There's a dead girl in a bathtub full of guts. Just kidding, it's a doll of a dead girl in a bathtub full of guts. Hanna legit goes, "WHAT IS THAT, A BLOW-UP THINGY?!" In between all the rickle-rackle, they find Charles' files. Or, well, a work order for Charles' harvested organs to be delivered to a donor center. So Charles is dead. Or whoever was pretending to be Charles at Radley is dead. Or whoever Charles traded souls with Charles before arriving at Radley is dead. Somebody's organs aren't in their body anymore, and that person is dead.
Hanna and Spencer hear some clanking and go out to investigate, and it is Mona out in the hallway with Lesli's Radley file. Yes, indeed, Lesli was a Radley patient and that's how Mona knows her. (Sidenote: Real good job moving all the Radley files to that warehouse for shredding, Radley employees! I swear only the Rosewood Police Department is a less competent organization than this asylum!)
Back in the dark room, Aria discerns that the A who menaced her at the junkyard today has boobs. She frantically texts this information to Emily, but Emily is getting the Japanese symbol for Fake Cousin tattooed onto her hip, so Sarah scoops up her phone and reads the message and goes screeching into the street. Emily hobbles after her with her freshly tattooed hip and finally finds her squawling in an alley about how could Emily not let her know she's on the prowl for A! Emily's like, "If you wanna be my lover, you gotta get with my disposition to withhold all information from you! Zig-a zig-a!"
The Liars convene a moot to go over today's smorgasbord of clues. One of the A's has boobs. Lesli Stone was in Radley and was Bethany's roommate, and Bethany was one of the blonde girls in a yellow tanktop who got killed and buried in Ali's yard on Endless Labor Day, and Melissa did at least one of the buryings, and Melissa is Spencer's sister, and Spencer is a Liar, and therefore Lesli is after the Liars for revenge. Also, Sara Harvey turned Tippi the Bird into a cannibal.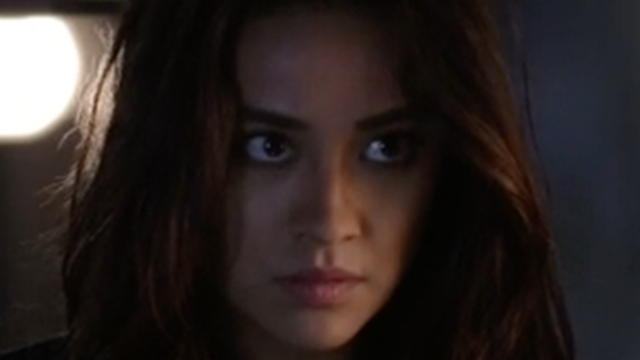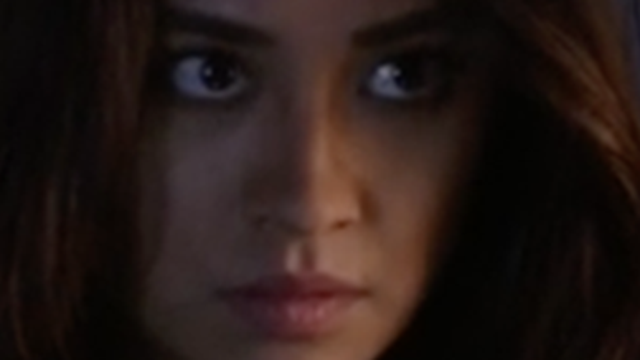 Alison cannot join the moot because her dad won't let her out of the house because he caught her kissing an adult man and he can't victim blame her for it if she's not confined to his home.
Mona calls Leslie to tell her she scooped her file from Radley, and all Lesli does is scream into the phone like an agitated banshee and call Mona rude names, which: let me be real honest with you. I could hear Orphan Black Helena's SKRREEEE-SKRONK music in my head when Lesli started screaming at Mona like that. But like I was Helena and someone had just tried to hurt my science babies.
Don't hurt my bb, Leslie; it will not end well for you. SKRREEEE-SKRONK
Meanwhile, across town, listening to French records and eating taffy, the Risen Mitten gently crafts a new Aria doll.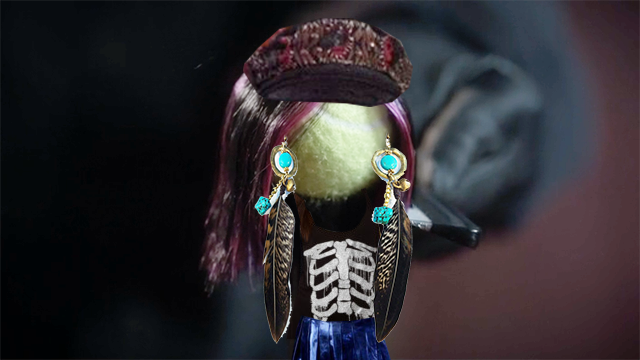 Thank you, as always, to Nicole (@PLLBigA), who in addition to providing us with these amazing screencaps also has taken on the role of talking me off the ledge before and after every season six episode.
Pages: 1 2 3 See entire article on one page