For most of my life, like many people, I've been obsessed with figuring out what "my thing" is. That special passion or interest I could be an expert in, that thing that'd make people say "oh, Beth's the person you want to talk to about that." Something I'd be known for and something I could be confident about.
Since turning 30, that longing has turned into something else. I not only want to pinpoint my expertise and develop a reputation for being good at something — I want to make a living from it too. I want to "follow my passions," whatever that may mean, and build a business doing the things that I love. I want to get up each day and feel I'm doing something special, something the world needs. I want to be in charge of my own time, to put tons of energy into building my own business, to work hard and do things my way.
Does that sound familiar? Do you dream of running your own business? Maybe you've already started? Maybe you've been totally killing it in your niche for many years? Wherever you're at, if you're excited about making a living from your passions, this new Autostraddle series is for you!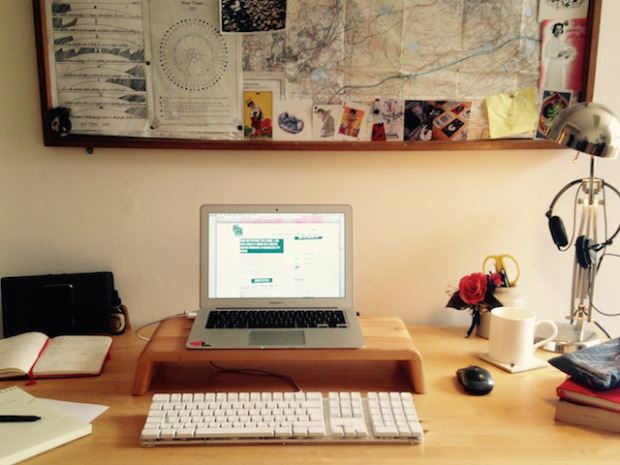 Follow Your Arrow
This will be a regular column featuring interviews with queer and trans women running all kinds of businesses. Coaches, artists, tradeswomen, writers, craftspeople, consultants, retailers, musicians and things you never thought you could make a living from. Some will be solopreneurs, running everything themselves. Some will be heading up teams they've hired, some will be freelancers, some will be side-hustlers, still working a day job whilst building up their business on the side.
We're gonna talk about the challenges, the joys, the reasons why we do what we do, what drives us on through all the hard work setting up solo takes. Self doubt, imposter syndrome and breakthrough moments. Workspaces, pajamas, marketing, networking. Tools and tips and realism and motivation. Every business is different and every entrepreneur faces their own challenges – but there is so much common ground it's time we had a space to talk about it.
My aim with this column will be to show the huge range of approaches queer folks are taking to following their passions, and encourage and inspire you to follow in these entrepreneurial footsteps.
We're gonna start with yours truly. As in, yeah, I'm gonna interview myself. Here goes!
Beth Maiden: Tarot Reader, Writer and Facilitator, Little Red Tarot
Age 33, Manchester, UK
I've been self-employed for two years and am a sole trader (this is the UK term for what's called a sole proprietor in the US) which basically means it's just me. The hub of my business is basically this big sprawling website full of resources to help people learn tarot. There are blog posts throughout the week and archives of spreads and card meanings, plus an online course, and a social network.
The whole thing is about getting people using tarot in their own ways and developing peoples' confidence as tarot readers. It's a niche business, but the people who love it, really love it. I also provide one-to-one tarot readings by email, and run an online shop. So a real mixture of services!
---
How would you describe your approach to business? Are you a planner or do you take a scattergun approach? Are you a lone wolf, or do you look for people to help you out? Do you feel in control of things, or more like you're winging it?
So far, I've been making it up as I go along – though I know it's time to get serious and start building a more solid strategy for the next few years. It's pretty high-octane at the moment and I'd like to calm down a bit and feel like it's all steady. I'm working on that!
Little Red Tarot just kind of 'happened' – one day I was quietly blogging to myself, the next people started asking for readings… then the community started to develop in comments and emails, and I started to realise there was a niche for me to fill, that I could make a living by helping people who wanted to learn tarot in different ways. I started being really intentional about it last October, and as soon as I did that, things just really exploded.
Though I don't have a big five year business plan, I am a planner. I tend to have a big burst of an idea, then brainstorm it, then launch into action. It's all a bit scattergun really, but it's got me this far. I'm trying to learn to do one thing at once, develop one product or service at a time – there was a point a few months ago where I was working on the course, the social network and two books all at once, whilst blogging every day and doing client readings – it was totally ridiculous (but also a lot of fun!)
---
What does a typical day look like for you?
Usually when I get up, I bike straight over to my studio which is just up the road. I'm a morning person and I like to get lots of stuff done before lunch. The first thing I do when I get in is write a list for the day. I juggle a lot of different tasks, so this helps me take stock of what I've got going on and make sure itty-bitty things don't get forgotten and big deadlines don't get missed. Then I spend an hour having breakfast, drinking coffee and reading favourite blogs, catching up with Twitter and the Alternative Tarot Network, before I dive into emails and business-y stuff. If I've got tarot readings to do I'll do these in the morning too, and I'll deal with shop orders and enquiries.
Later, I'll mainly be writing. I'm working on a book, so I try to do some work on this every day, plus I write guest posts, like Fool's Journey. I have my email programme turned completely off when I'm doing this focused work, and my phone stays in my bag. I have a small web design business too, so towards the end of the day I'll usually be working on a client site and doing that side of things.
I keep Mondays completely for me – I tell my clients I'm not available and spend the whole day working on my blog, scheduling in posts for the week and dreaming up new tarot ideas. That makes me really love Mondays and it gives me a chance to breathe and check in with how everything is feeling.
My studio is my haven. I only moved in recently, and I wish I'd done it ages ago. I live on a small boat and working from home is literally cabin fever and backache – having my studio is a big expense for my business, but having it feels like an act of vital self care. I go there, and I'm at work, and that feels so nice – it helps me to switch off when I decide I'm done for the day.
---
When did you know that this was what you wanted to do? And what were your early goals, your first steps?
I didn't intend to create a tarot business – it sort of happened organically. I saw opportunities to help people out, so I started gearing my blog more towards tips for learning tarot, how-tos and helpful posts. After a while it became clear that I could make a living from this, so I designed and wrote an online course. That was my first digital product and I launched it at the start of this year. It felt incredible! People liked it, and I made a bunch of money, I was able to buy a new laptop, invest in my shop and go on a road-trip. That was the point where I really thought 'yeah – I'm good at this. I want to put loads of energy into this and build a really sustainable, awesome business that people love.'
It was a scary thing to do – to create a product and put it out into the world not knowing if it will succeed or fail. Now I've done it, it's given me loads of confidence for pushing things further.
---
What's the best thing about what you do? What makes you spring out of bed in the morning?
The community! I've made so many connections through blogging that it just fills me with joy. People reach out through blog comments or Twitter, or just email me to say they like what I'm doing or it's helped them, and that is basically everything. As long as that's happening, I know I'm doing the right thing, and it feels good.
My favourite part of the whole thing is writing out to my mailing list. I call it my bits and bobs list, and it's a mishmash of personal stuff, what I'm up to, and tarot news and ideas. It's such a privilege for people to give you their email address and say 'yeah. write to me, show me what you've got.' So I put a lot of energy into those emails, and making them feel personal. I want people to feel like they're part of something.
---
And the worst thing?
I'm not a natural multi-tasker, and I have a tendency to overcommit – another thing I'm working on! There are always so many awesome things to do and I find it hard not to leap into everything and then I lie awake worring about getting everything done. So a big part of my learning curve is mastering the art of saying 'no' or 'not now'. Learning to prioritise and focus, to do one thing well and know that I can do the next exciting thing in good time.
Before I quit my day job (I was a community worker) I worried I wouldn't have the self discipline for this. You really have to focus on your goals when you start your own business. But it's not hard if you love what you do, and I've really surprised myself.
---
What are the key challenges you face in your work? What are your tactics for overcoming these?
It's just bloody hard work! It takes years to get a new business all figured out and set up, and you really do have to just cope with being very broke and not having a reliable monthly income. You literally have to go out and get every penny, and then when you do make money, you have to plough it back in to the business. I signed up for this wholeheartedly, but I didn't know how challenging it would be until I was six months in, thinking shit – what if I can't make this work? What if I should just get a reliable job and a mortgage and stop messing around?
But you don't need a strategy for dealing with this. You just need a shedload of self-belief and a passion for what you do. You have to be pretty obsessed with it, and truly love doing it. That makes you keep on going and push through those scary times.
---
What about time management and work-life balance? How has running your own business affected your personal, social and/or family life?
Frankly, it has totally taken over everything…though as time passes I'm getting better at knowing it's okay to stop and switch off. Until recently I would go to sleep thinking about Little Red Tarot, wake up thinking about it, and then think about it all day. Every conversation would somehow link into a project idea, a blog post, a collaboration, and all I wanted to talk about to anyone was marketing, accounting, time management, solopreneurship (yeah – that's why I wanted to start this column!)
I'm really lucky that my partner Emma is also self-employed and is genuinely interested in talking things through with me. We both love getting stuck into a good project and we go out for these epic nachos-and-planning-sessions and get excited about each others' business ideas. It's all become really central to our shared plans for the future too. I deeply value the support and motivation Em gives me – I have no idea what this would be like if she worked a regular job or just wasn't really interested in my work.
I don't have kids or any major life responsibilities, which I think gives me even more freedom to completely immerse myself in all of this. It's become like an obsession – and my social life has definitely taken a hit. A lot of the time I'd rather be writing, creating, working on my business than socialising…it's kinda sad but that's just how I feel! As time goes on though, I am starting to get the balance back, and am making shutting down the computer and seeing friends more of a priority again.
One cool thing is that I drink a lot less now – I didn't care about being hungover when I had an office job, but now I value getting up and having a clear head in the morning.
In terms of time management, despite everything I've said above, I'm pretty good at managing my time and getting all my shit done (it's just that there are always more things you can do!) I don't break promises, and that's a really important principle for me – if I've said I'll do something, I do it. I'm organised, I use lots of lists and post its and an old-fashioned paper planner, and I'm getting much better at saying no. I don't have complex systems – what works for me is making sure I factor every task into my weekly plan so I always know what I've got on.
---
How do you market your business? How does being LGBTQ impact on your business?
I'm answering these two questions together because for me, they're intrinsically linked.
In business speak, my marketing is all 'inbound'. This means I don't place ads or 'sell' my services directly, people find me, most often, through a Google search. I make a big deal out of being queer, because I specifically want to reach and work with other queer people – they're my faves. I've done SEO (search engine optimisation) work on my website to help people find me who are looking for queer tarot resources. It works!
Writing the Fool's Journey column was definitely a turning point for my business – having a regular guest post on a popular LGBTQ website really helped me reach a wider audience – it's probably the best marketing I do…and it doesn't even feel like marketing because I'm doing it for the love of it. I would totally recommend anyone with a niche business try guest writing on a site that helps them reach their target audience.
I also use Twitter all the time – I love how it gives me a chance to share my politics openly and integrate my personal and professional lives, so they're not these two separate versions of me. I want my customers and clients to see the full package, I don't want to pretend to be apolitical or tone down my queerness in order to be more palatable.
In general, though, I don't really use social media. I can't be bothered with having too many things to check. I know if I did Facebook, I'd reach so many more people – lots of solopreneur types do great business this way. But what the hell, I just hate Facebook.
---
Where would you like to see yourself in five, ten years' time?
Right now, I'm making enough to survive – which feels like a major achievement! But I want to make Little Red Tarot totally sustainable – meaning that I can actually save, as well as live – within three years. I'll keep developing the projects I'm planning, keep working to become the go-to resource for people wanting to take an alternative approach to tarot. I want to have books, other courses and a bunch of other things. And then in five years, I'll be able to afford to build the huge queer family co-housing space my partner and I are dreaming of!
---
What's the most valuable tool in your kit?
My tarot cards. And my laptop.
---
What three blogs or books do you rate for business advice or ideas about your work?
Reading Seth Godin's What to do when it's Your Turn (and it's Always Your Turn) changed the way I feel about my business. It really fired me up to give this everything I've got. It's about 'doing your work' because you simply have to, because it's so, so important that you do your thing and put it out there, because the world needs it. It's very encouraging! Plus it has a picture of Annie Kenney (a suffragette from Manchester) on the cover which is awesome.
Mariah Coz is the business blogger talking the most sense out there right now – at least if your business is blog-based. Her blog and webinars are brilliant and really explain how online business works right now, with this focus on community and inbound marketing that's right in line with the stuff that I'm doing. I love her approach.
Alexandra Franzen's blog on writing (and again, 'doing your work') always brings me back to what's important and why I do what I do.
---
What's your hot tip for queer women who want to start their own business?
Begin. Now. With what you have. No-one is gonna do it for you.
Also, turn those damn notifications off on your phone.
---
Beth's website is littleredtarot.com and you can also find her on Twitter @littleredtarot!
Do you run your own business? Or dream of following your passion and setting one up? What do you do, how is it going, what are your fears, what are your goals? Let us know!
If you think your business (or side-hustle) should be featured on Autostraddle, drop a line to beth at autostraddle.com