I took a little break from fashioncapping to bring you this epic boot post while Riese recapped 221 for you, and now I'm back to discuss Episode 222 just in time for Episode 223 to start tonight!
Because I have absolutely no desire to relive that episode moment by moment, I'll just give you what you really want. The lowdown on this outfit:
Emily's outfit is great both indoors and in the confusingly weathered outdoor wilderness of Rosewood. Let's start indoors.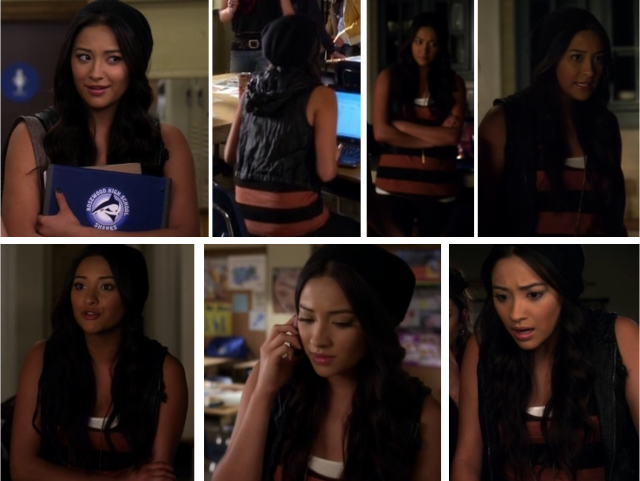 First up we have the layered tank top. As far as I can tell, Emily has not yet repeated a tank top combo, which I suppose is only possible if you own dozens and dozens of tank-tops. I will admit that layering tank-tops is an easy was to make a boring outfit more interesting. The same is true of stripes, which Emily is also utilizing. Normally this is where Emily would stop and maybe throw on a long bronze necklace with a leaf or a dolphin on it, but oh no. Today is vest day. Emily's hooded leather vest is from Forever 21 which means if you leave right now you can probably still buy it.
Cropped vests (or really cropped anything) can be tough, because your proportions can start to get weird. I think the key is to aim to hit right below your elbow and wear a shirt that is just slightly longer than usual. If you layer something too cropped over something too long you will, 100% of the time, look like Hanna Montana.
So this is already a pretty sweet outfit, but it gets really cool when Emily ventures outside.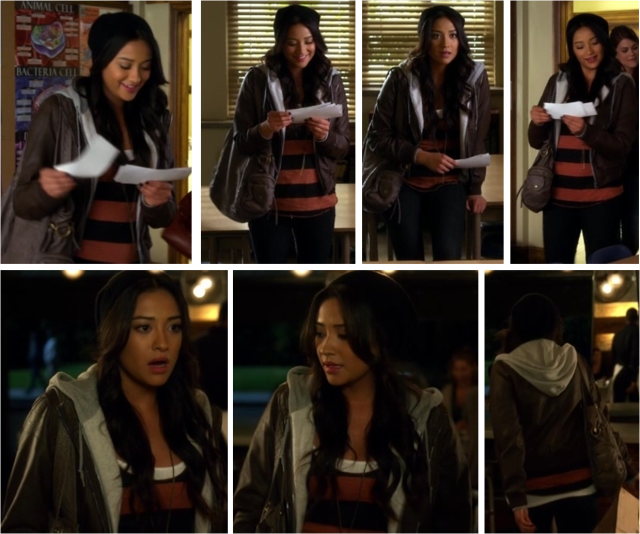 Now I love the way that a hood looks underneath a leather jacket. Unfortunately, Emily's hood is also faux leather and the combo leather-leather can get a bit squeeky. So Emily goes ahead and tucks her leather hooded vest underneath a regular grey hoodie and then puts all that under this cool brown bomber jacket:
Oh I almost forgot! You won't be going anywhere in this stylin' outfit without the boots and indoor hat!

This week on Pretty Little Liars we joined Rosewood just in time for the Annual Father-Daughter's Dance. It was fucking boring and I hate the idea of a father-daughter dance because it reeks of a chastity ball. Obviously then it was a very dad heavy episode. No Maya, no Paige, not even some inappropriate older man-friend. Nothin'.
Emily's dad starts off the father-fest by flying home for the big dance. Never mind that he missed her swim season finals, this is THE FATHER DAUGHTER DANCE. Even though Emily is psyched to see her pops, Maya still won't call her. Nothing can warm Emily's cold cold heart– not even a delicious coffee beverage.
Papa Fields is cool and can tell something is wrong so he helps Emily look all over town for Maya. It's sort of like that book The Missing Piece by Shel Silverstein.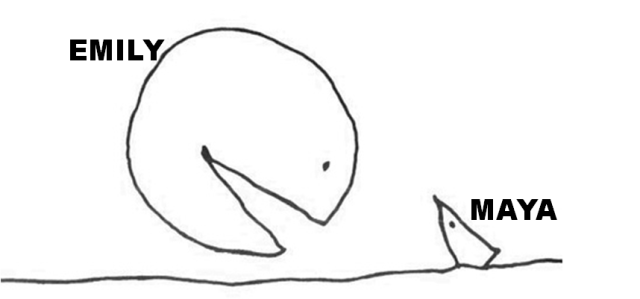 Eventually the two end up at the bus station where it's revealed that Maya bought a ticket but never boarded the bus. Sounds like Garret/Jason/Noel got to her. We know that Emily is really upset and mature because she spends the whole time looking for Maya while wearing a shirt with a sunflower on it. Nothing says maturity like oversize flowers.
I have really mixed feelings about the continuous loose scoop neck shirt thing. On the one hand, that's basically how I dress, so who am I to say that it is an inaccurate representation of a queer girl under 30. On the other hand it feels sort of unfair. Hanna dresses like a race car driver's wife, Spencer looks like she just stepped out of Preppy and Rich 'R Us and I wouldn't be surprised if one day Aria just wore a giant black bird on her head. But Emily? Most of the time, snoozeville. Are the costume designers concerned that if Emily's style was anything other than (as I'm sure they describe it) Relaxed Casual it would cause some sort of controversy about making the big ol' lezzie character dressed overly femme/alternative? Either way, I can't prove it but I'd bet the farm that Emily's shirt is from Forever 21.
Later, Emily wore this thing and it was really uncomfortable for everyone.
Over in Spencerland, Spencer is torn between her father and Melissa. Melissa claims she and Garret are just bffs. Plus, she was only harassing Alison a little. Like just for a second, just to see how it feels. Harassment-lite. Still, Peter Hastings has some sketchy explaining to do about the whole illegitimate son thing. Plus he bought Spencer a big ass diamond necklace. Damn.
So, on the one hand, Daddy Hastings claims he only has a folder full of pictures of Alison because he paid a private detective to see if Melissa was involved in Alison's murder. On the other hand, Melissa says their dad's a lying sack of shit and that she can "protect" Spencer. On the other other hand, Peter Hastings has a motherfucking gun so I think we all know who'll be doing the protecting.
As a side note, I really like Spencer's off the shoulder sweater here. She's doing two things right. The first is that it's nice to mix it up with a brighter/bolder sweater as it gets warmer. In the spring you sort of still need to be wearing sweaters (at least out east) but pastels can get really boring after about five minutes. The bold pattern brightens things up and keeps you from looking like you're still bundling up for winter. Secondly, if you're going to wear something off the shoulder, you need to either wear no bra or a tank top. I don't care if your bra shows underneath the tank top strap, but just having your bra strap hang out looks seriously questionable.
Moving along, Aria and Hanna follow Spencer's lead with the dad hating. Hanna's dad couldn't make it to the dance, but it's okay because Ashley Marin is a supermom who's going to take Hanna to the dance. This doesn't actually happen and is never mentioned again. Aria's dad is being super unfair and won't let her hit it with men in their 30s but that's also sort of okay because Ella is totally ready to be the cool parent who lets her daughter have sex with ALL the people.
I think that a better plan on both mom's parts would be to take both girls shopping at the Gap for some normal clothing.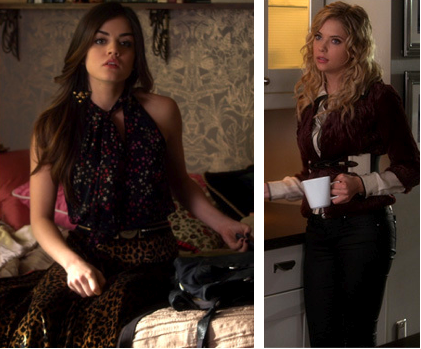 Even though Aria's Marc by Marc Jacobs leopard print skirt is truly tragic, I'm a pretty big fan of her Trina Turk blouse. It looks particularly cute with the DVF tux blazer she pairs it with at school.
The two moms, however, are starting to catch on that someone's been harassing their daughters for a vague unspecified period of time. I want to be clear that these two really don't deserve any sort of parenting award. They probably should have picked this one up months ago.
Either way, Ella questions Aria about the note Byron received and Ashley does the same to Hanna about the police report A sent.
At this point I'd like to point out that there's no reason the girls shouldn't come clean to their moms. Aria could basically just say, "I started receiving these notes from A. She threatened to tell you about dad's affair if I didn't do what she wanted. By the time you found out she was blackmailing me about Ezra." Hanna could basically just explain that A was blackmailing her over shoplifting and her mom's bank theft. Seriously, I don't think A has got anything good on them right now that their moms don't know about. Their biggest secret is A.
Everyone finally meets up at THE FATHER DAUGHTER DANCE where Sergeant Fields tells Emily he's being deployed again and Spencer wears exactly the dress I wore to my 8th grade social.
Emily, on the other hand, is wearing a banging hot Ali Ro with flutter sleeves and a black studded belt. I could only find Emily's dress in blue, but that's okay because blue totally makes my eyes pop.
Aria's dressed like…well…Aria, but I absolutely hate her hair. If you had a shiny swath of luscious brown locks would you rat them in to a side knot thing? I think the real winner here is Mona. Even though she's petite, the fullness of her shirt doesn't overwhelm her. Plus the one shoulder shows off her awesome collarbones and strong shoulders. Also A's attack on Mona and her new found status with the liars totally pushes her straight into the #1 spot for possible A status.
Even though she's so totally not dressed for the party, Hanna rushes to tell the liars that her mom is hot on A's case. No one takes my advice about getting their moms on the job, and instead Mona comes up with "a really big lie." Or so she says. Because being a closeted lesbatron, that's a big lie. Sleeping with your English teacher, that's a big lie. Kissing your sister's fiance, that's a big lie. Telling Ashley that Aria sent the police report to scare Hanna out of shoplifting is not a particularly big lie.
We end the episode without any real plot advancement. Ashley doesn't believe Aria at all, so she and Ella discuss talking to the police. Meanwhile, the Liars get a new call from Jonah McPhonetracker directing them to the other A location that totally just slipped his mind. It's a creepy doll place.
In other news, the Wall Street Journal does a recap of Pretty Little Liars. Yes. The Wall Street Journal.
My absolute apologies for writing this so late this week. I know that you guys count on this oh so serious fashion coverage in a timely fashion. I would love to pretend it was because this post inspired me to spend time with my own dad, but actually I just had a cold. I hope this makes it up to you: