Feature image via the Lesbian Herstory Archives at DCMNY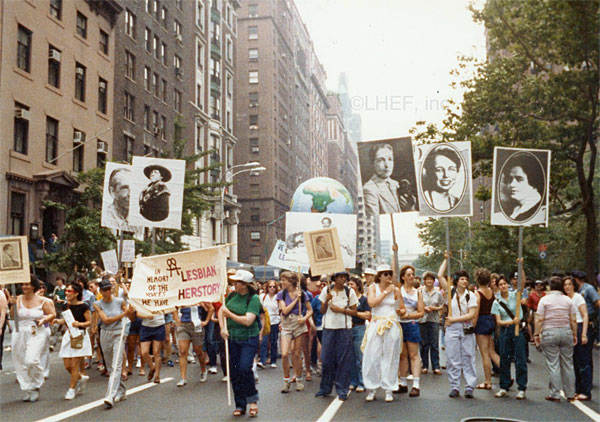 In the coming days a million think pieces will be written about how a fear-mongering, woman-hating, disabled-hating, POC-hating, Muslim-hating con man managed to get elected president of the United States. You already know all the headlines and all the takes, without even reading them. The bottom line is that white Americans showed up to the polls in record numbers yesterday for the sole purpose of stopping the march of progress. We are a country built on misogyny and white supremacy, and the prospect of four years of a woman president after eight years of a black president was too much for an overwhelming majority of white voters to handle. And so they elected Donald Trump to the highest office in the land.
I didn't sleep last night. I threw up more than once. Stacy hasn't stopped crying and has suffered multiple panic attacks. I am heartbroken and terrified and sick about all the big things a Trump presidency will mean and all the gut-stomping little things we haven't even thought of yet. I lay in bed shaking last night at the thought of Melania Trump taking over FLOTUS' Twitter account.
I don't know what the future holds, but here's what I do know: You are loved. You belong here. And we will never, ever, ever stop fighting for you. The country didn't change last night; the white supremacist patriarchy, the hate for minorities, it didn't appear from nowhere. It crawled out of the darkness where we've been fighting it our whole lives. We've always known what was underneath the facade of equality in this country and now we'll move our battle into the light.
There's been a question buzzing around the internet for a while now, a question about whether we still need queer media, women's media, counter culture media. Are gay people not the mainstream now? Has President Obama not moved us into a post-racial world? Well, no and no. And now the whole world knows.
We aren't going anywhere. We are proud to stand beside you, to be here in these trenches with you, to share our stories and our lives with you. You are our family. If you need to rage today, we will rage with you. If you need to cry, we will cry with you. If you need to think out loud, we will listen. If you need to sit quietly while other people carry the conversation, we will honor your silent presence.
Catherine Cortez Masto of Nevada became the first Latina senator of the United States last night. Ilhan Omar is our first Somali-American legislator. They are fighting for us too.
Hear me: We love you. You are not alone. All hope is not lost. We will face this uncertain and terrifying future together. We will never stop fighting. We will never give up. We will take this despair and this rage and we will turn it into action. The march of progress will continue and you are our family and we will never give up.
Let's talk about how you're feeling.