This is your weekly Pop Culture Fix, the best place to read about the gay things happening in the better world that unfolds behind screens.
---
+ Well. Pretty Little Liars is spinning off with a new series about Alison DiLaurentis and Mona Vanderwaal, a concept that would have killed me dead in glory if I'd heard about it sometime before season four of Pretty Little Liars ended. Now, well. You know. This new thing is called Pretty Little Liars: The Perfectionists, and it's based on the Sara Shepherd books of the same name, and it's being adapted by Marlene King. Freeform describes it thus: "Everything about the town of Beacon Heights seems perfect, from their top-tier college to their overachieving residents. But nothing in Beacon Heights is as it appears to be. The stress of needing to be perfect leads to the town's first murder. Behind every Perfectionist is a secret, a lie and a needed alibi." Where do Ali's wife Emily and their twin babies fit into this brave new world? May the goddesses protect us, I honestly have no idea. Hopefully they're just perpetually Out of Town and not dead, but don't bet on it. My main wish is for the whole series to take place inside the Ali's Christmas dream when Mona was a ghost, and also that they make out.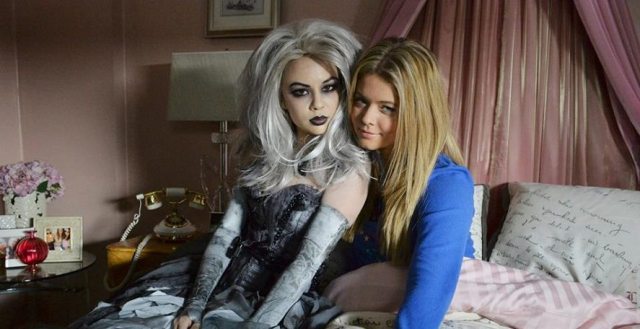 + Shonda Rhimes wants TV to do better with LGBTQ representation. Obviously. She has done more on broadcast network TV than anyone, including the gay showrunners we've hailed as revolutionaries. I really do believe whatever she does with Netflix is going to be gayer than our wildest imaginings.
+ Sexual harasser and domestic abuser Bill O'Reilly returned to Fox News to guest star on Sean Hannity's relocated show last night. He referred to Rachel Maddow, whose consistent destruction of Fox News in ratings prompted the network to move Sean Hannity to 9pm, as "that woman" and insisted that Hannity would "slaughter her." Metaphorically, one assumes, but who can be sure of anything these days? One Fox exec told The Daily Beast that "They're thinking that selling what's left of their souls is worth it to try to generate ratings to beat Maddow." So funny that anyone thinks either of these guys has even a sliver of soul left in tact.
+ The trailer for BBC America's Queers is here. The eight-episode series will air on October 11, which is National Coming Out Day.
+ ICYMI in this week's Sunday Funday, Samira Wiley has a new comedy on the way!
+ Hem hem.
https://twitter.com/hereisgina/status/911711765154603009
+ IndieWire speculates on the hows and whens and wheres of the Sense8 series finale.
+ If I ever need to conjure a Patronus I will close my eyes and remember the transcendent faces Jane Fonda made at Megyn Kelly this morning.
+ Alex is going to "confess a secret to Maggie" in the Supergirl premiere that "involves their impending nuptials" and probably will be the reason Maggie ultimately jets out of town.
+ Conny Perrin and Tara Moore are in love and serving for the win.
+ The Lynx and Sparks are now tied at one game each in the WNBA Finals. It was another nail-biter last night. The Sparks stayed in the locker room for the National Anthem.