feature image via The New York Times
---
Welcome to your weekly pop culture fix, in which I left my wallet on an airplane and Delta claims they're trying to find it but I don't believe them!
---
Lists in Magazines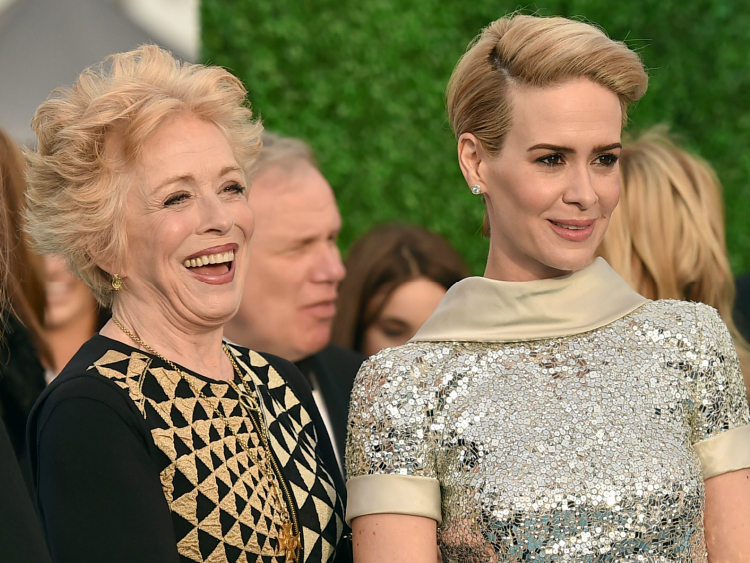 + Janet Mock is in People's Most Beautiful issue, which'll hit newsstands on Friday and feature a lightly airbrushed portrait of Jennifer Aniston on its cover.
+ Out Magazine's 55 Power Couples includes Ellen DeGeneres & Portia DeRossi, Jenna Lyons & Courtney Crangi, Sara Gilbert & Linda Perry, Beth Ditto & Kristin Ogata, Kim Stolz & Lexi Ritsch, Julie Mehretu & Jessica Rankin, Kim Catullo & Christine Quinn, Cynthia Nixon & Christine Marinoni, Annise Parker & Kathy Hubbard (THEY GOT MARRIED IN POWER SUITS), Cara Delevingne & Annie Clark, Chwanda Nixon & Kacey Frierson, Amber Laign & Robin Roberts, Tiq Milan & Kim Katrin Milan, Sarah Paulson & Holland Taylor and Rachel Maddow & Susan Mikula. Also, Janet Mock and her hubby! Big day for Janet Mock in lists, y'all.
---
Teevee
+ Lifetime has became one of the best places in Hollywood for women, and its new slate of upcoming programming reflects that evolution, as it includes:
A movie about the annual dance-off hosted by Venus and Serena Williams produced by Serena Williams
A project about the only female gangster during prohibition, produced by Janet Jackson
A coming-of-age drama adaptation of "None of the Above" written by Liz Maccie and directed by a man I actually like, Stephen Chbosky (The Perks of Being a Wallflower)
Sea Change, a supernatural drama about a 17-year-old girl who moves to a Nantucket-like island after her fathers death to live with her estranged mother, then discovers a local legend is actual fact.
"A film in which R&B singer Michel'le, who dated Dr. Dre and married Suge Knight, will share her side of the story."
Paris Can Wait, a Eleanor Coppola film project about her very own life, which'll come to Lifetime after its theatrical release
An anthology series that "takes a classic Shakespearean tale and twists it into modern-day horror mystery" every season
Deadline, a dark satirical drama centered on a female journalist "who checks her integrity at the door and has to make increasingly deadly moves to keep her story alive."
A show that sounds a lot like Pretty Little Liars written by Vampire Diaries' Holly Brix, executive produced by Eva Longoria and Ben Spector, about " a group of strangers who are brought together by an unknown puppet master who's threatening to expose their past misdeeds and hidden lives."
A REMAKE OF MOTHER MAY I SLEEP WITH DANGER
There'll also be two new unscripted series, one about Olympic athletes and another about the fashion industry, and a 10-episode digital series co-created with Hello Giggles about the personal lives of up-and-coming female comics. NOT TO MENTION the return of UnREAL and the adorable shit currently happening on The Faith Diaries.
+ Brooke Vincent of Coronation Street says she's super-proud of her lesbian role on the show, telling The Huffington Post "There were hardly any lesbians on TV then… I'm so proud to look back and think we did it. We did it for all the girls that couldn't do it."
+ Hello, Season Five of Person of Interest!
https://youtu.be/4wlGQWj1QTo
+ The Harvard Political Review takes on the dead lesbian trope, noting that it's about time to LET US LIVE.
+ These are the five TV shows that made Kat Hamilton queer. Before you click, guess what they are and then come back here and tell me if you were right.
+ Emily Nussbaum talks to Kenya Barris, the creator of black-ish, who would like to collaborate with Lena Waithe.
---
Film
+ So this film Women Who Kill seems to contain literally everything I want in a movie, including female serial killers, lesbians, and New York: "Sewed into the film's hyper-specific lining — one that gently parodies a certain kind of Brooklyn lifestyle à la Portlandia or Girls — is a very universal feeling. As Morgan becomes more and more convinced her girlfriend is a serial killer, she retreats. Like all of us, Jungermann's character is terrified not just of getting murdered, but of letting herself love. And sometimes, those feelings can be one and the same.
+ Variety has a lukewarm review of AWOL, a film which "chronicles a lesbian love affair with heavy odds stacked against it, including socioeconomic realities, an inconvenient husband and eventually military-service commitment."
+ A film series about pre-Stonewall queer cinema asks what makes a movie gay?
---
Etc.
+ It's so weird to have been an Eileen Myles fan for a long time and to be told that now is her moment, now she is the most famous she has ever been, because she has always felt so famous to me. Now she's in The New York Times Style Issue, along with a bunch of feminists who cite her as inspiration — Tavi Gevinson, Beth Ditto, Emily Gould, Porochista Khakpour, Staceyann Chinn, Justin Vivian Bond. Also these are her 10 Favorite Books.
+ "Would you like to see an excellent short, creative film that headlines a bevy of inspirational and badass women, who do inspirational and badass things on the daily, across all inspirational and badass spectrums? WELL THEN."
+ That new song from kd lang, Neko Case and Laura Veirs that you ordered has arrived!
+ This Steven Universe lesbian love story is becoming a children's book which "will reportedly expand on relationship between two Gems named Ruby and Sapphire who fall in love and fuse together (it's a metaphor) to form the Steven Universe character known as Garnet."
+ Bitch Planet is nominated for a 1016 Eisner Award.
+ Brandi Carlile talks to Torres about topics including "being gay."