Upfronts
+ An untitled single-camera sitcom about "a rougish lesbian and her best friend, a neurotic straight white male," which starred butch lesbian comedian Julie Goldman, has not been ordered to series by ABC. This makes me really sad in my soul because I was really looking forward to it. ABC also passed on a new Wanda Sykes project called "Dream Team."
+ The new Nancy Drew series Drew, starring Sarah Shahi as Nancy Drew has also been passed over, apparently for being "too female." CBS President Glenn Geller has denied this assessment, adding, "We are the network that has Madam Secretary, 2 Broke Girls and Mom — we have lots of female leads, we have a great balance. Actually, our new series are more diverse this year than last year."
+ A seven-part miniseries about the rise of the LGBT movement, When We Rise, will air on ABC, directed by Gus Van Sant, and involved parties include Whoopi Goldberg, Rosie O'Donnell, David Hyde Pierce, Mary Louise-Parker and Rachel Griffiths.
+ Queen Latifah will star in the Lee Daniels Project Star, about three girls who come together to form a band in Atlanta.
+ AND Kate McKinnon showed up at the NBC Upfronts with her selfie stick and her Ellen imitation and made selfie stick history.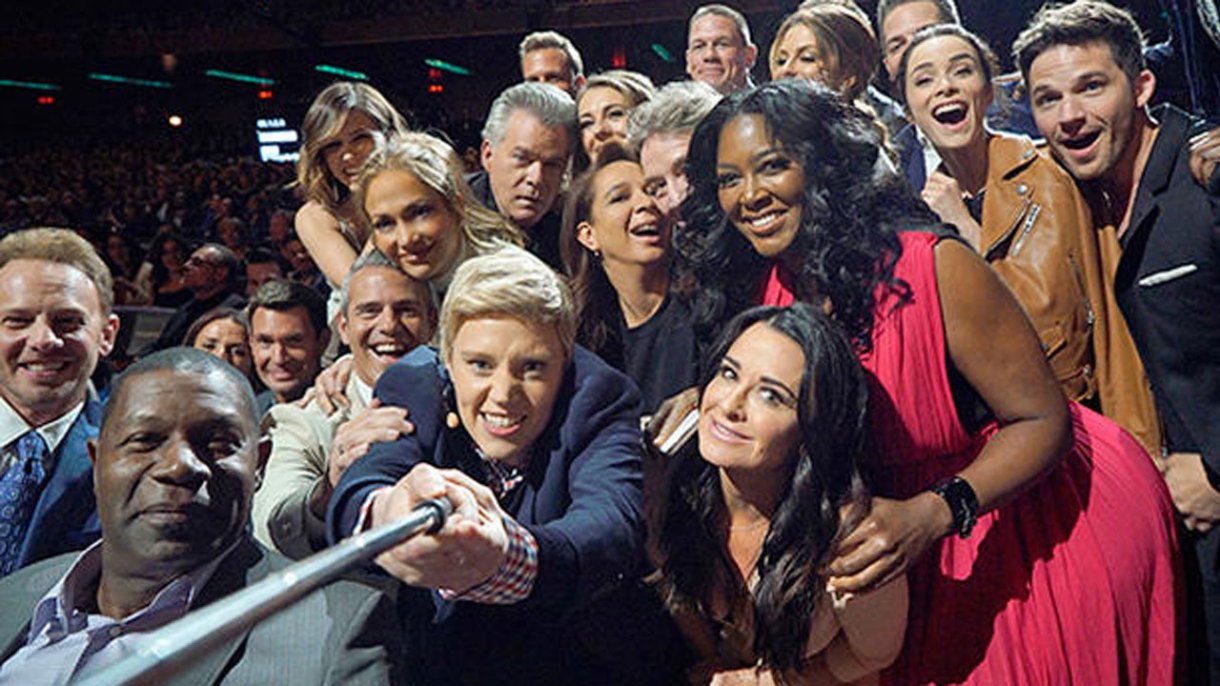 Women On Your Teevee
Well, here is a picture one might consider "easy on the eyes":
This picture comes to us along with words, specifically a roundtable with these ladies about being ladies in Hollywood and the joy of working with other women (and for Shonda Rhimes specifically). Apparently, Sarah Paulson always has to dye her hair blonde if she wants to play a romantic lead.
Faking It
Carter Convington tells The Hollywood Reporter how he would've ended Faking It if it hadn't been cancelled — it's mostly about Karmy, so if that's your bag, go check it out! And read my very last Faking It recap ever of all time. Or maybe also my first. Were we ever so young?
Kristen Stewart
Kristen Stewart's film Personal Shopping was booed at Cannes even though it was actually very good and she was very good in it.
Tegan & Sara
Out Magazine talks to Tegan & Sara about their new album and also the many times the two sisters were at odds with each other, dishing out the silent treatment and nearly breaking up after 2007's The Con.
Also. Also. Also.
+ My favorite comedian Julie Goldman is on the cover of GO Magazine which means there's a nice meaty interview for you there too.
+ WILL WE EVER SEE MORE LGBT CHARACTERS IN GENRE FILMS? WELL, WILL WE?
+ New Ghostbusters trailer and why so many assholes can't handle it.
+ A new Rocky Horror Picture Show trailer has debuted, but many in the LGBT and particularly the trans community are not excited about it.
+ On queer Goddard.