Carmen's Team Pick: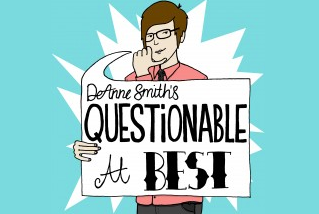 Remember that super amazing podcast, Questionable at Best, by DeAnne Smith? I actually find myself thinking about it all the time, which works out because in the latest episode, DeAnne talks to Autostraddle's NSFW Editor and Springsteenian-in-Residence Carolyn about the worst sex she's ever had, her zine Lesbian Sexting, and where she goes to consume information on the Internet.
During her interview, Carolyn gave some sex toy recommendations, regaled us with tales from the crypt bedroom, and analyzed why DeAnne didn't enjoy sex these few times. Many times, DeAnne was noticeably quiet or laughing at loud, which I think is a sign of a good fucking podcast.
"I want you to lead me through vanilla sex ramping up through some kind of kinkiness. Extreme kinkiness."
Have you ever wanted to hear a lot of actual, real lesbian sex stories? Have you ever wondered who's writing some of those Anonymous Sex Toy Reviews? Have you ever wondered if Saran Wrap was a suitable alternative to a dental dam? Have you ever wanted step-by-step fisting instructions? Every question you've ever wanted to ask and desire you've secretly harbored will be satiated by this interview. I guarantee it.
Okay, y'all. Put on your latex gloves and tune in.