Jamie's Team Pick:
Maybe you shave your pits. Maybe you don't shave your pits. Probably you do one or the other, and maybe sometimes you do one and sometimes you do the other. Whatever the case, society has feelings about your armpit hair and those feelings are incredibly gendered right along with so many other body policing stereotypes and standards. Last year Ms. Magazine published a piece about #noshavenovember highlighting this double standard pulling from the trending tweets gems like this one from toiletBowlB aka Brandon Hinton:

Author Deborah Aronin explains Brandon is not alone with his aversion or disgust at the thought of lesbian, hippie, feminist women not shaving their pits:
Love it or hate it no one can deny that a lady with a pitstache gets a double-take.   Why is that? Why is it that men are not expected to shave, but women are?  Why is it that men who do shave must either be swimmers or gay (or gay swimmers)?   Why do women stop shaving and how does the world react to them?
While it may seem silly, making this film is also very important work: Society's demands for how women "have to look" changes over time, and affects millions of women, girls, and men! Is there a connection between obsession with hair removal and self-esteem or eating disorders? Does society's norms affect women's health and opportunities, both for those who follow those norms and those who ignore them?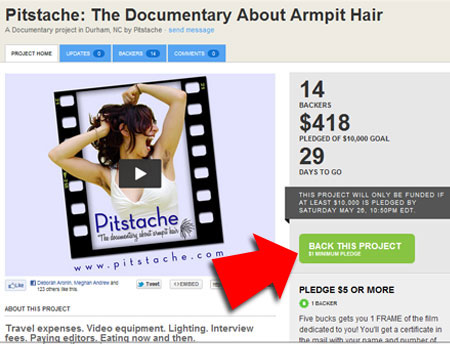 The Pitstache kickstarter project sorely needs funds to reach their $10,000 goal  with less than one day left to donate and get the country talking about their pits.
UPDATE FROM DEBORAH OF PITSTACHE: 
As you probably know, the Kickstarter campaign is both over, and didn't reach its goal, though we did raise $3,000 — that we can't keep. Ugh. So, since that pretty much sucks, we started our own fundraising site, http://PITSTARTER.com where we get to keep everything people pledge, regardless of how much we raise how fast. (Please consider becoming a sponsor, folks!) [O]ur film site is http://pitstache.com for anyone who wants to keep up on it.Thanks to everyone for their support and comments.