I got this Facebook message a couple of days ago, which made me nervous because whenever I have something new in my inbox I get irrationally nervous.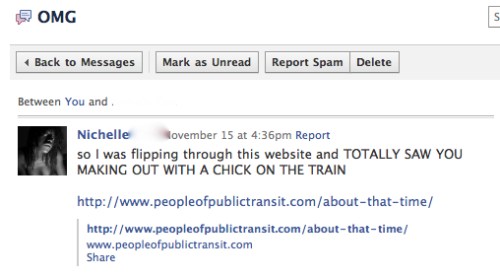 The message directed me to this photo of me on People of Public Transit. My immediate reaction was:

Two Lesbos shamelessly making out on the train? LOLOLOL.
Some stranger snapped a picture of me at four in the morning taking a girl home on the subway last summer. I felt that flattered voyeuristic feeling that you get when you see a picture of yourself that you didn't know existed.
And then I read the caption and saw the tag and I started to have lots of feelings. Ensuing thoughts:
a) "Holy shit, my Dad is going to come across this somehow."
b) "I should not have been kissing a girl on the subway, how drunk WAS I, what was I thinking?"
I'm still half-closeted back in my hometown for irritating but understandable reasons. The fact that I'm doing gay writing is problematic enough, but it's also surmountable because I'm able to remain semi-anonymous by only using my first name or going by "M.J."
There's a bizarrely significant number of photographs of me kissing cute girls floating about the internets, which is fine because I'm super vain and secretly love it. However, those photographs were all taken in queer and "safe" spaces.
If this happened to a fellow lesbian prior to this week, I probably would've said, "Then don't kiss on the subway, dumbass, what do you expect?" Sometimes a pervyoldman/super-brazen teenage boy will likely laugh at you or make a comment about turning you straight if a girl holds your hand on the subway. But PDA is annoying, straight or gay. And we all know that it's sort of tricky to be a homo on public transit — occasionally people smirk at your alternative lifestyle haircut.  We've learned to keep a lid on it.
Part of me is feeling guilty for being stupid enough to be so, as they put it in the caption, "public" about kissing this girl. But another part of me is like, "WTF" right back. Straight people get to do this all the time! Boyfriends can hump their girlfriends right up against the subway doors that you're not supposed to lean on. Cute hetero couples drunkenly make out on the subway at four in the morning in plain view and it's never notable enough to take a camera phone picture of and then post on a blog with a "WTF" tag. It's awkward but it's just life and people shrug or sometimes smile or sometimes roll their eyes over it.
I can't change the world and make it not weird for gay people to practice PDA when they're drunk and wanting to flirt in — god forbid — PUBLIC. And I sincerely can't figure out is if it's worth it to abide by the expectation that we don't "flaunt it," or if it's better for us in the long-run to brave the stares, snickers, and camera phones and just live until people just get used to seeing gay sexuality right in front of their very eyes. I really don't know.
I do remember when two guys in Atlanta were photographed on the train cuddling after a long night out, and everyone was up in arms, and I wanted to write them a thank-you note.